Estimated read time: 7-8 minutes
This archived news story is available only for your personal, non-commercial use. Information in the story may be outdated or superseded by additional information. Reading or replaying the story in its archived form does not constitute a republication of the story.
SALT LAKE CITY — As Matt Gunn hiked the 12,000 feet to the top of Mount Deleno while marking the course for his upcoming race series, he gazed out at the Tushar Mountain Range and Fishlake National Forest.
He wiped his brow, closed his eyes and imagined the first time he went hiking with his dad.
He wishes his dad were around to see him today.
It was nearly 35 years earlier when Spencer Gunn took his oldest two sons, Matt, 5, and Josh, 7, for a hike to Havasupai Falls in the Grand Canyon. Matt's little legs ached as he watched mule trains pass by carrying other hikers' gear and helicopters bringing in groups of tourists.
Young Matt looked to his dad to help him carry his pack, which consisted of his own sleeping bag, pads, clothes and dishes. While his dad allowed his sons to take breaks and eat and drink when they needed to, he offered no relief, insisting that they carry their own packs the entire way.
Once at the top, Matt recalled a feeling of relief and accomplishment. He could do hard things, something his dad did his best to instill in each of his eight children.
Adventures like these were the norm for the Gunn family, and continued on into adulthood.
One trip, however was noticeably different.
It was 2003 — 22 years after his first backpacking trip, that Matt and his brothers went on their usual late season elk hunt deep into the backcountry. They noticed that not only was their dad not leading the group as well as he usually did, he was having a hard time keeping up.
"My brothers and I noticed that dad was having a hard time keeping up as we were packing the elk meat out to our vehicles," Matt recalled. "After we got home, he called in sick for the first time in his career and ended up missing a few weeks with what we thought was pneumonia."
It was far worse than they had expected.
When the results came back, it was found that the father of eight had renal cell cancer that had already metastasized to his lungs.
---
In the back of my mind, I'd always wanted to run an Ironman someday, mainly to make Dad proud. One of Dad's close friends ran in the first Ironman events in the late '70s, and my dad had crewed him during some of his long cycling races. I had noticed how impressed dad was by this guy and the feat of the Ironman itself.
–Matt Gunn
---
The news of his dad's diagnosis was extremely difficult for Matt. In an effort to cope with the grief, he signed up to compete in an Olympic distance Ironman.
"In the back of my mind, I'd always wanted to run an Ironman someday, mainly to make Dad proud," he said. "One of Dad's close friends ran in the first Ironman events in the late '70s, and my dad had crewed him during some of his long cycling races. I had noticed how impressed dad was by this guy and the feat of the Ironman itself."
This wasn't the ideal time for Matt to take on such a challenge, however. At the time, he had just started grad school, he and his wife, Danika, were expecting their second child, and they were struggling financially. He put the steep registration fee and plane ticket on a credit card and then delivered newspapers, cleaned horse corrals and even donated plasma to pay it off. He would build the bike he planned to use, one part at a time.
Training for the Ironman was extremely challenging, but Matt felt like he connected with his dad during that time. "While training for the Ironman, I noticed how it was therapeutic for dealing with my dad's struggle," he said. "I was helpless to help him in his battle, but I could empathize in a small way with his pain as I pushed myself, and I could feel him there with me as I trained. I could feel how proud he'd be of me when I finished the race."
Matt's dad was never able to see him race. He passed away just two months after being diagnosed.
The loss of his dad was almost more than Matt could bear, but he knew that he had to complete the Ironman for his dad in order to move on with his life.
"The race itself was a very moving experience for me," he said. "I knew this was my only shot to do this, and when I made it to the marathon leg of the triathlon, I broke down and started bawling because I knew that nothing could get in my way of finishing the race, even if I had to crawl to the finish line."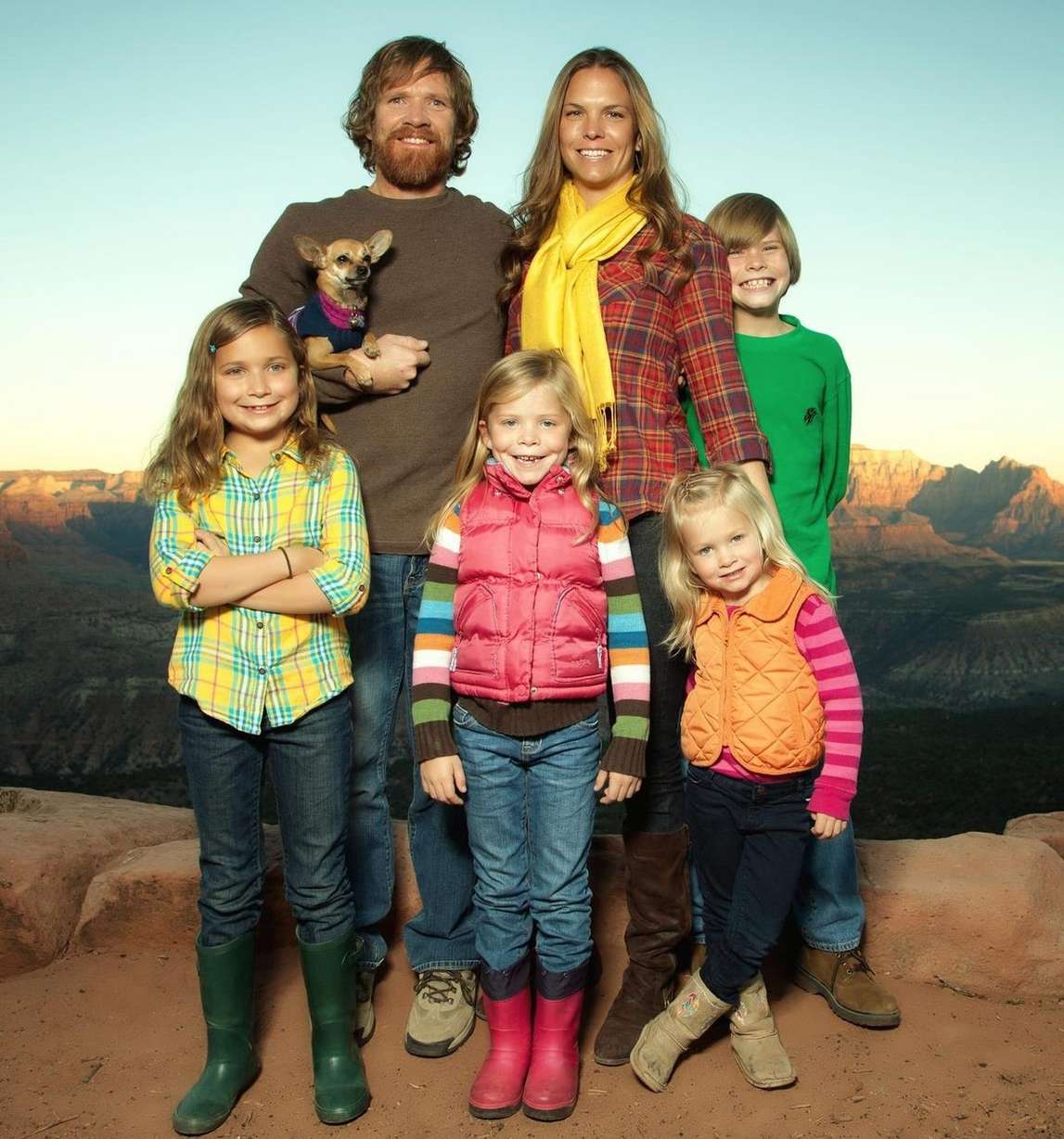 With his wife at home with their son, Matt had nobody there cheering for him, but he said he still felt as if she and his dad were right there next to him in spirit. He described it as a very powerful experience.
"I collapsed at the finish line and felt a huge sense of accomplishment similar to what I'd felt when I topped out on the rim of the Grand Canyon when I was 5 years old."
After the race, Matt had to sell his bike to help pay for his growing family. Having taken a teaching job in Ogden, he began running with his dog on the Bonneville Shoreline Trail. It was there where he discovered trail running.
Matt recalled a time when he was out running and had gone over 35 miles. He thought he had broken a record for the most miles run on trail. It wasn't long after when he was introduced to the sport of ultrarunning by Leland Barker, who is the race director of the Bear 100-mile trail run.
It was then that Matt knew he wanted to become an ultrarunner.
That goal would have to wait. In 2010, he was offered a job doing humanitarian work in Haiti after the devastating earthquake that crippled that country. He was charged with the task of building sustainable schools for a group of abandoned and orphaned children near the epicenter of the earthquake in Leogane.
"It was a big sacrifice for our family, but it felt like the right thing to do," he said.
While there, he was able to help the people in many ways, including teaching entrepreneurial skills to young adults. His experience there was not without its challenges, and much of what he witnessed turned his world upside down.
"I didn't know how to process all of the suffering on so many levels that I had witnessed and experienced myself during that year."
The project he was working on lost funding and came to an abrupt halt. Matt was forced to leave Haiti, not having completed what he and so many others set out to do.
Just as he had done before, Matt turned to running to help cope with the suffering of people that he loved — this time the kids in Haiti.
"I began running again to deal with the pain, often running late into the night," Matt said. "I felt helpless in being able to fix the situation in Haiti, but somehow beating myself up while running the rugged trails played an important part in coming to terms with a difficult situation in my life."
Related:
While running, Matt thought often about the times he spent hiking the Grand Circle with his dad. He longed to be back home in southern Utah, and when he was offered a job teaching for the Washington County School District, he and his family jumped at the chance to move back.
"After I returned from Haiti I had a strong desire to become an entrepreneur, hoping that I could someday earn enough money to be able to fund projects that I felt could make a difference in the world," he said. "I naturally gravitated toward what I was most passionate about and identified a need in that area. Southern Utah needed a 100-miler so I started the Zion 100 in 2011."
Since then, he has added more events, including races in Bryce Canyon, Antelope Canyon, Monument Valley, the Tushar Mountain Range and Grand Canyon.
And as Matt makes the treacherous climb to the top of Antelope Canyon, Capitol Reef or the Tushar Mountain Range, his thoughts are not far from those he left behind in Haiti. And when he reaches the top of the north rim of the Grand Canyon, he thinks of the first time he hiked with his dad.
He hopes he has made him proud.
---
![](http://media.bonnint.net/slc/2505/250517/25051768\.jpg)

About the Author: Arianne Brown -------------------------------

Arianne is a mother to six young children. Her down time is spent running the mountain trails of the Wasatch Mountains and beyond. Contact her at ariannebrown1@gmail.com, follow her on Twitter @arimom6 or search her Facebook page, "A Mother's Write."

×
Photos
Related links
Related stories
Most recent Lifestyle stories