Estimated read time: 4-5 minutes
This archived news story is available only for your personal, non-commercial use. Information in the story may be outdated or superseded by additional information. Reading or replaying the story in its archived form does not constitute a republication of the story.
SALT LAKE CITY — A Utah couple with dreams of traveling quit their jobs, sold their belongings and spent two years driving from the tip of North America to the bottom of South America.
Salt Lake City native Sam Christiansen and his wife, Erica, said they both had dreams of traveling. Both had successful careers and enjoyed what they did for work but said they didn't want to spend their money on expensive cars or a home. They realized "that the majority of our life was spent working."
"With only two weeks of vacation each year, it was hard to see all the things we wanted to see," Erica said. "Time is what we craved, and it was the one thing money could not buy."
The Christiansens made plans to save money, quit their jobs and travel. They considered buying plane tickets and traveling around the world for a year. Then they found a blog that gave them the idea to drive the length of the Pan-American Highway from Alaska to Argentina.
"The benefits of this type of travel were immediately apparent to us — you get to see a lot more and you can spend a lot less," Sam said. "We spent another year prepping for our trip — saving money and finding a vehicle we were ready to live in for the next two years. And then, we took the leap of faith. Not knowing if we'd have careers to return to, we quit our jobs to seek after our dream."
The couple bought an XPCamper truck and in June 2013, they drove through Montana and Canada to Alaska where they began their Pan-American journey. They drove through 14 different countries and slept in their camper the majority of the time during their almost 30,000-mile, two-year trip.
"One of the unique parts about this trip is that we have the ability to get off the beaten path," Erica said. "Some of our favorite experiences have been exploring hard-to-get-to places where there are very few tourists and we just kind of stumble into these amazing adventures and meet lovely people who are not used to tourists."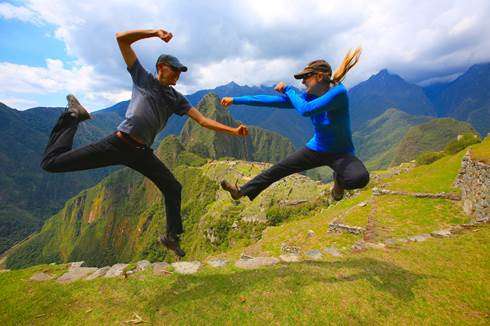 The Christiansens were able to drive the entire trip except for when they reached the Darien Gap, a large swath of undeveloped swampland and forest in Panama, where they had to ship their truck around. Sam said they also felt safe the majority of their trip except when their GPS led them onto a hiking trail that they thought was a road in Guatemala.
"The road kept getting narrower and narrower," he said. "We continually asked those we passed by if this was the road to Acul and they all said 'Yes.' Well, eventually the road was (a) single track. We couldn't turn around so we kept going. The road got narrower and then the switchbacks started as the road started going straight up a mountain. Finally, we got to a point where the mountain was just too steep, the road too narrow, and the switchbacks too sharp. … I ended up reversing down the road for about two miles before we found a place to turn around."
The Christiansens said they have had amazing experiences during their trip, including swimming with whale sharks, taking "intensive" Spanish lessons in Mexico and Guatemala, hiking to glaciers in Argentina, visiting gorgeous beaches and ancient ruins and watching the Baja 1000 race.
The couple said they hope their trip will inspire others to fulfill their dreams.
"I think we live in a culture that can sometimes make us feel like we are frivolous, irresponsible or selfish for living our dreams if they don't fall into societal norms," Erica said. "It is difficult to have the courage to do something 'crazy' like leave your career and comfortable life to travel the world in a truck camper.
"Everyone has dreams, and I think slowly finding a way to make them happen is the most terrifying and empowering thing we can do. I have never been happier in my life."
The couple will finish their trip back home in May 2015.
×
Photos
Related Links
Related Stories