Estimated read time: 2-3 minutes
This archived news story is available only for your personal, non-commercial use. Information in the story may be outdated or superseded by additional information. Reading or replaying the story in its archived form does not constitute a republication of the story.
OMAHA, Neb. — A father started illustrating his toddler's absurd and hilarious ramblings, delighting thousands around the world with his creative pictures.
It all started as a Mother's Day present for Martin Bruckner's wife, Michelle. He noticed their 2-year-old daughter, Harper Grace, had some interesting commentary on life.
"Every time she's said something, or we've said something to her, I've just kind of jotted it down in the Notes section of my iPhone," Bruckner told today.com.
Bruckner started illustrating topics ranging from makeup and bad guys to spaghetti toes and compiled a book for his wife.
The prints were a hit with his wife and his Facebook friends, so Bruckner decided to start a Tumblr and Facebook page titled "Spaghetti Toes," based on his first Harper Grace illustration. The pictures first gained traction on the website Pleated Jeans and has gone viral since then, garnering over 10,000 likes on Facebook in just a few weeks.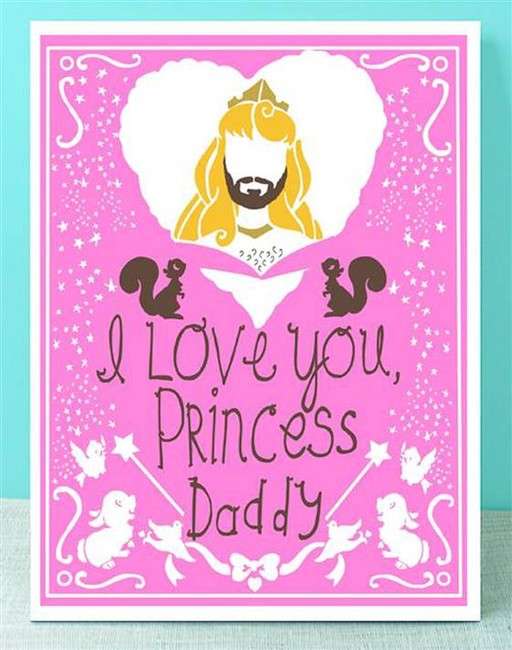 Harper, now 3, continues to talk the ears off her parents with her impressive vocabulary and stories.
"She's a big complimenter. She's constantly telling me she likes my arm, or my ear, or my hair (when I'm wearing a hat)," Bruckner told KSL.com in an email. "She asks me how my day at work was every single day. She loves to come up, gaze in your eyes and say, 'I love you daddy.' We got very lucky with this one."
After much demand, Bruckner has opened an Etsy shop to sell the prints at $25 each. One of the most popular prints is "I like makeup and I like bad guys," but Bruckner said his favorite is "Princess Daddy."
"That was actually only said once, but it remains my favorite," Bruckner told KSL.com.
Bruckner said he has about 15 more illustrations to make, but told today.com there's a tentative plan in place if Harper ever slows down.
"My wife's like, 'We're going to have another (kid) to keep this going, because we're going to run out (of quotes) someday.' "
To see the latest pictures, view the gallery above or visit Spaghetti Toes Facebook or Tumblr.
×
Photos
Most recent Family stories