Estimated read time: 5-6 minutes
This archived news story is available only for your personal, non-commercial use. Information in the story may be outdated or superseded by additional information. Reading or replaying the story in its archived form does not constitute a republication of the story.
SALT LAKE CITY — The Utah Department of Environmental Quality issued its year-end report Monday, offering a retrospective of the varied accomplishments — and challenges — it encountered during 2014.
There were simple activities it monitored, such as the collection of tire waste and used oil to help prevent contamination of the land, and the promotion of radon detection and education in schools, businesses and homes.
Recognizing the heightened public awareness over air pollution, the agency worked with partners to develop a popular Utah air quality app to give interested residents real-time information on pollution conditions.
The agency weathered criticism over its regional haze pollution plan, braced for new ozone limits imposed by the Environmental Protection Agency, and monitored a number of water contamination cases, from a turkey spill into Deer Creek Reservoir to a release of some oil residue into the Green River from malfunctioning equipment on a well.
In the meantime, the department continued work in several key areas that will remain a focus for years to come.
Remediation
The agency has been working on the 700 South/1600 East PCE Plume, which added to the EPA's list of cleanups in 2013. It is involved in a cooperative effort with the Veterans Medical center and the federal government to adopt a plan to address contamination concerns.
The department hosted a meeting in March that was attended by more than 100 residents who had concerns about groundwater contamination or vapors getting into their homes. A plan has been adopted and will provide critical information on the cleanup, which is attempting to get the hazardous, cancer-causing plume from getting into groundwater supplies.
Air pollution
The Division of Air Quality continued to tackle multiple nagging pollution problems under the glare of public scrutiny and political pressure.
Thanks to funding from the Utah Legislature, the division added four new employees to carry out compliance inspections and process permits related to activity in the Uinta Basin, particularly focused on air quality concerns.
As part of a collaborative effort that includes multiple government agencies, universities, and the oil and gas industry, the division is continuing its work on what has been billed as the most expansive air quality study in Utah to date, trying to get at what drives the high levels of basin ozone formation in the winter.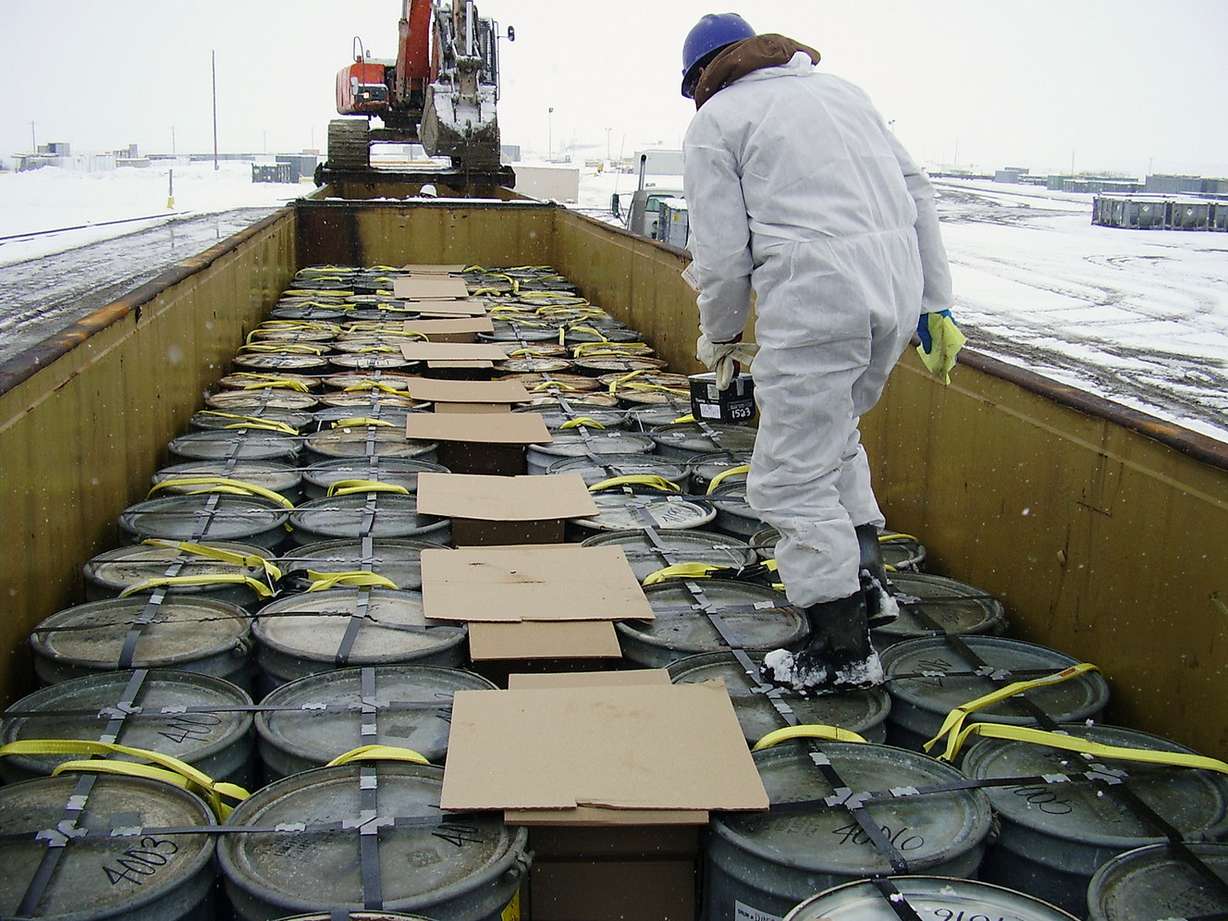 Closer to home, the division continued its work to come into compliance with EPA standards set for fine particulate pollution, or PM2.5.
A seven-county area that includes the Wasatch Front and Cache Valley has episodic spikes that drives pollution above the 24-hour standard when temperature inversions set in.
More than two dozen new rules and regulations were adopted to try to rein in pollution, including a new vehicle emissions program for Cache Valley and changes to product formulas that include auto body paint and hair spray.
Depleted uranium
State regulators have been in the midst of an intensive review of an EnergySolutions' proposal to dispose of significant quantities of depleted uranium at its Clive facility in Tooele County.
The Salt Lake-based company first made the proposal in 2009, and three years ago submitted a site-specific plan for the disposal of the waste. While still classified as low-level radioactive waste, depleted uranium poses unique challenges because it becomes more radioactive as it decays.
Critics say the inherent complexities of depleted uranium make it unsuitable for burial at the shallow disposal site, but EnergySolutions believes it can bury the waste in a manner that is protective of public health and the environment.
The Division of Radiation Control is anticipated to begin holding public hearings on a scientific-based analysis of the company's plan in the spring.
Protecting water
In one of the most ambitious but expensive undertakings Utah regulators have launched in the 42 years since the passage of the Clean Water Act, the state wrote new rules this year for phosphorus.
Naturally occurring but harmful in excess, phosphorus pollution gets into streams, rivers, creeks, reservoirs and lakes through agricultural runoff and wastewater discharge.
By establishing discharge limits at a cost of about $2.50 per household, the Division of Water Quality believes significant reductions in the nutrient pollution will occur, leaving cleaner waterways and healthier aquatic life.
Also this year, the division released a plan to assess and ultimately improve the water quality at the Great Salt Lake, which serves a vital ecological role with its wetlands and migratory birds and its support of a diversity of industries, including salt extraction, brine shrimp and unique fertilizer production.
The division is attempting to develop a numeric limit on certain pollutants known to pose risks to the Great Salt Lake, the largest saltwater lake in the Western Hemisphere.
Taking action
The Utah Department of Environmental Quality exercised its regulatory muscle and oversight in 2014 on key environmental concerns in affecting Willard Bay in Box Elder County and North Salt Lake in Davis County.
In the first instance, the division reached a nearly $4.5 million settlement agreement with Chevron over a diesel fuel spill that impacted Willard Bay, money that paid for an ambitious collection of cleanup mitigation projects.
The money is being used to pay for improvements at Willard Bay State Park, carry out restoration along the Logan and Jordan rivers, and restore wetlands at the Ogden Nature Center.
After more than a year of controversy that included protest marches, rallies, and sit-ins at the state Capitol, resolution of the Stericycle issue — at least in North Salt Lake — appears to be at hand.
Regulators hammered out a closed-door settlement agreement invoking a fine that is the state Division of Air Quality's largest in its history — $2.3 million — after the medical waste incineration company was deemed in violation of pollution limits set by its permit.
Regulators had smoke stack tests performed after observing operational irregularities at the company's North Salt Lake plant, finding logs that had been deliberately altered and significant exceedences of its permit.
Utah lawmakers signed off on the company's planned moved to Tooele County, which is a condition of the settlement agreement and the company getting its new operational permits.
Southern Davis County critics would have preferred the plant be booted from Utah entirely but take some solace that the company will someday no longer coexist with their homes and schools. The new location requires a 2-mile residential buffer.
Email: amyjoi@deseretnews.com Twitter: amyjoi16
×
Photos
Related stories
Most recent Utah stories