Estimated read time: 3-4 minutes
This archived news story is available only for your personal, non-commercial use. Information in the story may be outdated or superseded by additional information. Reading or replaying the story in its archived form does not constitute a republication of the story.
WEST JORDAN — Seventy years ago Friday, the Bing Crosby song "White Christmas" meant salvation for a Utah prisoner of war. It climaxed his miraculous escape from a brutal POW massacre in the closing months of World War II.
Now Eugene Nielsen's daughter is using her father's incredible experience to help high school students define what heroes are made of. The fact that he survived led to the rescue of 500 other prisoners of war.
A Hollywood film called "The Great Raid" opens with a brutal massacre at a prisoner-of-war camp on the Philippine island of Palawan. American soldiers scramble into air-raid shelters, questioning each other as to what was going on.
Nielsen was in one of those bunkers on Dec. 14, 1944.
"Then they started pouring gas into the holes. I couldn't believe they were doing it," he said in a 1994 interview with KSL News.
"I know a lot of this here is hard to believe. I don't know why so much of it happened to me," he told us in a similar interview 10 years later.
"It was really the worst day of his life — and the worst event that could happen to anyone," said Lorna Murray, Nielsen's daughter and a teacher at Copper Hills High School.
Murray's class recently watched KSL's two previous stories about her father's astonishing escape.
---
They was firing rifles down in the hole, throwing hand grenades; a machine gun every now and then. I realized I had to make a break some way or another.
–Eugene Nielsen, WWII POW escapee
---
"They was firing rifles down in the hole, throwing hand grenades; a machine gun every now and then," Nielsen said. "I realized I had to make a break some way or another."
Somehow, Nielsen climbed out of the bunker, through barbed-wire, and jumped off a 50-foot cliff, catching a tree branch on the way down.
"It was just enough to break my fall. I just rode it down," he said.
Nielsen hid for hours on the beach and heard Japanese guards cheering as they killed, or tortured, American prisoners.
"There was guys up there begging to be shot," he recalled.
When he decided to jump in the ocean and swim, guards fired hundreds of shots at him.
"I got hit in my leg and a bullet went up into my hip. I got hit right under my arm," Neilsen said. "I was in bad shape. I didn't think I had a chance."
Wounded three times, he just kept swimming — for 13 hours, until he reached another part of Palawan Island. For the first two days of his 12 days of Christmas, he hid out in a swamp.
"(There were) lots of animals in there — mosquitoes, snakes, crocodiles," he said.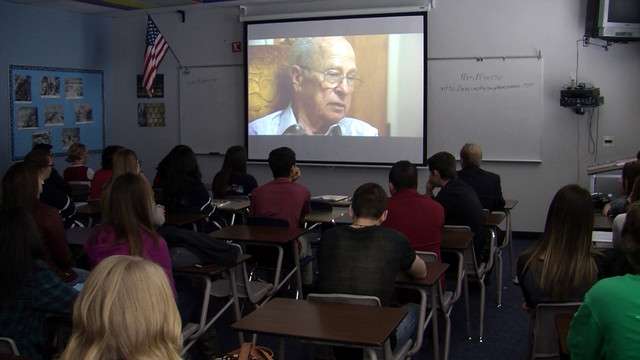 For 10 more days he marched through jungles, hooking up with anti-Japanese guerillas. On Dec. 26, 1944, they walked into a camp where he met two American military advisers. They reported Nielsen's survival by radio, and the voice of Bing Crosby came back over the airwaves.
"He sang the first two lines of 'White Christmas.' I never heard it before," Neilsen said, voice breaking. "I never did forget it."
Nielsen's report of the massacre triggered one of the most daring rescues of World War II. Realizing the Japanese intended kill all prisoners, Army Rangers mounted "The Great Raid." Sneaking 30 miles behind Japanese lines, they attacked another POW camp, killed the guards,and rescued 500 American prisoners.
It might never have happened if Nielsen had just given up and died.
"He survived what a lot of people could not have survived," said Sage Martinez, a student in Murray's class.
Neilsen's daughter shares her father's story to teach that heroes usually don't look and act like Captain America. They are ordinary people who rise to extraordinary circumstances.
"We have to promise them, and we have to promise ourselves, that we will remember what they gave us," Murray told the students.
Eugene Nielsen lived 67 years beyond that terrible day in 1944. He died in 2011, at the ripe old age of 95.
×
Photos
Related stories
Most recent Utah stories