Estimated read time: 3-4 minutes
This archived news story is available only for your personal, non-commercial use. Information in the story may be outdated or superseded by additional information. Reading or replaying the story in its archived form does not constitute a republication of the story.
EAGLE MOUNTAIN — A 9-year-old girl's sympathy for tired firefighters has turned into 12 meaningful days of Christmas for Eagle Mountain emergency responders.
During a recent drive from an afternoon doctor's appointment, Tina Sterzer pointed out to her daughter how tired firefighters looked after responding to several emergency calls. Her 9-year-old daughter's sympathetic and thoughtful response surprised her. Hannah Sterzer told her mother they should take them some lunch or some cookies.
"I just saw those firefighters and they just looked really stressed while they were going," Hannah said. "And they're so, like, willing to help and to serve other people. So I just thought that was amazing. I thought we should do something nice for them, since they do lots of stuff for us and they never get anything in return. So we should do nice things for them."
That spurred an idea, which Tina Sterzer posted to the Eagle Mountain City Citizens Facebook page.
"This really touched my heart and thought it would be a good idea for everyone to come together and deliver a goody, lunch or dinner to the firehouse every day until Christmas to show our appreciation for their hard work," she wrote.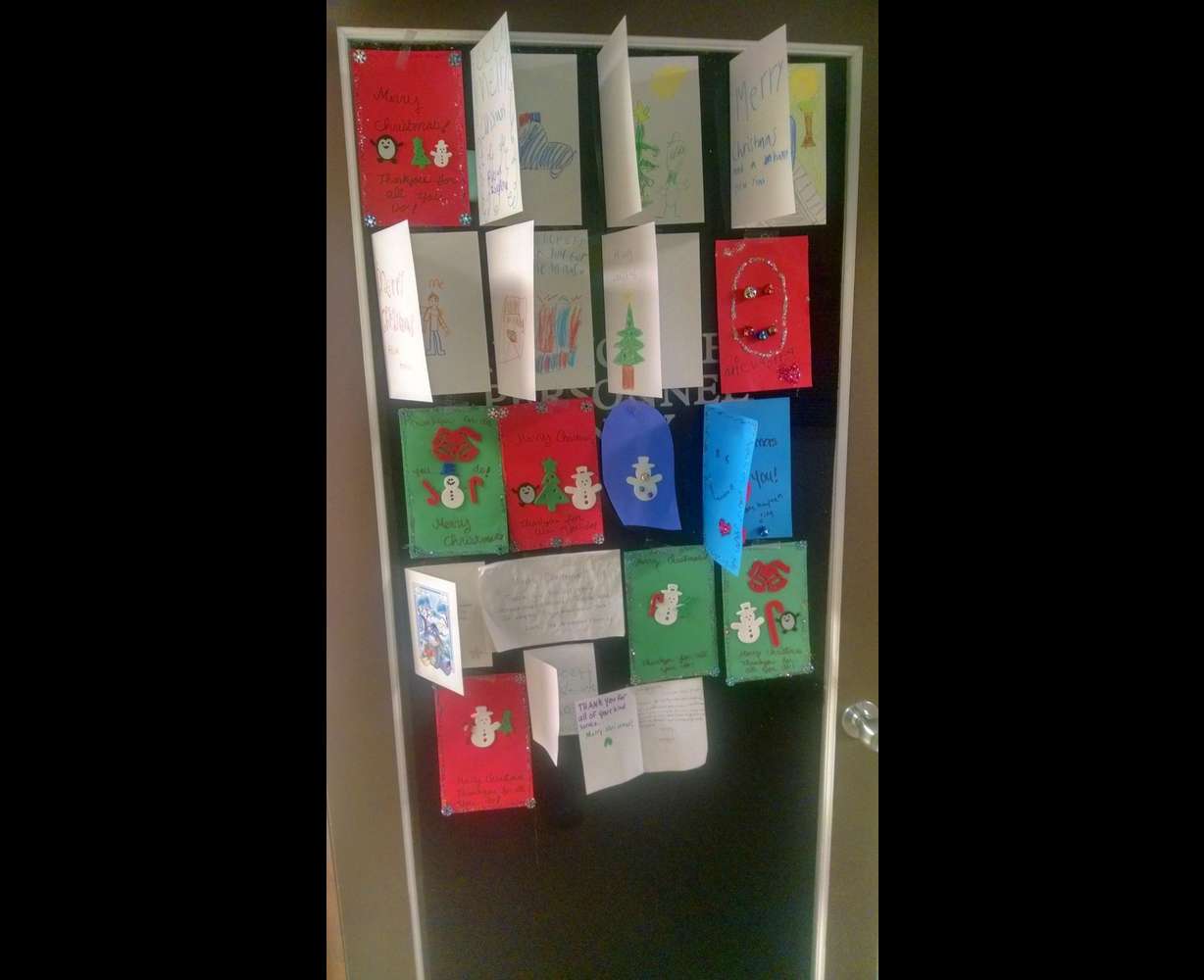 Residents responded, quickly filling up the sign-up sheet covering the deliveries to the Sheriff's office in the City Center and the firehouse in the Ranches for the 12 days before Christmas.
"I've cried a lot because this is really what Christmas is all about. It's about giving back and I've tried to instill that in my kids. So to see something like this and the community come together from a comment that my daughter made, my heart is just beyond full of gratitude and thanks."
Utah County Sheriff's Office Sgt. Cole Christensen said they have been overwhelmed by the unprompted kindness from the community.
"It's so humbling for us who are working in Eagle Mountain to have the citizens reach out," Christensen said. "You almost feel like somebody's putting their arm around you and saying, 'I know you're doing a good job. Thanks for everything you're doing for the community.' To have that come from the citizens, that's awesome."
Christensen said the handmade cards from children have been a special treat that the deputies have displayed with pride. The office has received enough treats to share with other deputies in nearby divisions who come by for the extra.
"We're so grateful to see that the citizens recognize that a lot of the officers are dads and husbands," Christensen said.
"We've had days where we're just swamped running from call to call to call. And that's why Eagle Mountain is so cool, because it's little girls, it's families who recognize that (need)."
Tina Sterzer said she hopes members of other communities will reach out to those charged with keeping their homes and cities safe.
"I'm just thankful for everyone that is participating and has participated," she said. "All I ask is that if people are inspired to do it in their community — to make sure that the police officers and the firefighters in their community are shown appreciation — that if they're inspired to do it, to take them a thank you or a Christmas card just to make their season a little brighter."
×
Photos
Most recent Utah stories