This archived news story is available only for your personal, non-commercial use. Information in the story may be outdated or superseded by additional information. Reading or replaying the story in its archived form does not constitute a republication of the story.
SPRINGVILLE — A "goodbye" note written by a young teenage member of a Springville family found dead together in the master bedroom hints that he knew he would suffer an untimely death.
Relatives of that family said they hope others can learn lessons from the tragedy and prevent something similar from happening to someone else. They hope others will see signs that were missed with Benjamin and Kristi Strack.
On Sept. 27, the couple, along with three of their children— Benson, 14, Emery, 12, and Zion, 11 — were discovered dead behind the locked door of the parents' bedroom. According to investigators, cups filled with red liquid were also found in the room, suggesting possible poisoning.
Police noted in a search warrant affidavit: "It is probable that these deaths were not accidental or natural in any way."
The children's bodies were "covered in bedding up to their necks" and appeared to have been "positioned" after their deaths, police said. Investigators do not believe anyone else was involved in the family's deaths outside of those found in the room.
Springville police have not yet released their final report from their investigation. Detectives are still waiting for autopsy reports for all five family members and said it will likely be after Thanksgiving before any new information is released.
Notebooks, cellphones, iPods and laptops were all collected and sent to the Utah State Crime Lab for analysis as detectives continue to look for information pointing to a possible motive.
Thursday, Issac and Jake Strack confirmed that one of notes that was found was written by 14-year-old Benson to a friend.
"Essentially, yes, it was a goodbye letter to a friend. And it basically mentioned that he would no longer exist on this Earth. Just saying goodbye, and he had an inkling he would be found dead," Jake Strack said.
Suicide prevention resources
If you or someone you know is struggling with thoughts of suicide, KSL encourages you to call the suicide prevention hotline at 1-800-273-TALK.

Crisis Hotlines
Utah County Crisis Line: 801-226-4433
Wasatch Mental Health Crisis Line: 801-373-7393
National Crisis Line: 1-800-784-2433
Trevor Project Hotline for LGBTQ teens: 1-866-488-7386
Online resources
"We really don't know what was going through their minds, per se. The only thing that we do know, that specific letter, he had a suspicion he might be found dead some day," Issac Strack added.
He did not know, nor did he want to speculate, whether all the children knew that their end was coming.
"We just hope they died peacefully and not in fear," Isaac Strack said.
But while there are still many questions about what exactly happened and why, the Strack brothers said those are no longer the most important issues for them.
"It curbs your curiosity. You kind of want to know what happened. You kind of want to know why they did it. But really, ultimately that doesn't matter. What really matters is how do we prevent it," Jake Strack said.
To that end, the brothers and other family members have become advocates for mental health awareness.
"We have done a lot of soul searching and it's obviously been something that has been very difficult for our family," Issac Strack said.
People make regular appointments with their doctors for physicals, their dentists for teeth cleaning, or even with their mechanic for oil changes for their cars. But very few get regular checkups for their mental health.
"It's just like having a personal trainer. We have personal trainers for our bodies. We can have personal trainers for our minds as well," said Issac Strack. "But when it comes to having regular checkups for our mental health, there's a stigma. There's a problem with accessibility, and there's a problem with affordability for that. So there's a lot of barriers for people maintaining their mental health."
One of the things that has helped them get through the difficult weeks since the devastating deaths is helping others get the help they need so other potential tragedies might be prevented.
---
It curbs your curiosity. You kind of want to know what happened. You kind of want to know why they did it. But really, ultimately that doesn't matter. What really matters is how do we prevent it.
–Jake Strack
---
"We're hoping that people are this interested in the details before something happens, not after. So in their own lives, in the lives of their loved ones, in the lives of their friends, that they'll take the curiosity over what happened in this situation and apply it (to their own loved ones)," Issac Strack said.
Even if a person doesn't exhibit any warning signs of being mentally ill, the Stracks said it's still a good idea just to talk to a therapist every once in a while. They believe parents should take their children to see a mental health expert just to get a baseline of what's happening with them.
"Essentially, that's what could have prevented this from happening, is if Ben and Kristi had been screened at a young age and the early warning signs were there and they got the treatment that they so desperately needed," Jake Strack said.
Neither his brother nor sister-in-law were officially diagnosed with a mental illness. And while family members can't say if a mental illness alone caused the tragedy, they do believe the combination of mental illness and self medication — something people with untreated mental illnesses often turn to, they said — played key roles.
"The warning signs that are now apparent to us, we didn't know about then," Issac Strack said.
Methadone was found in the Stracks' Springville home. The family was also isolated from others.
"They were home schooling their kids. With some exceptions, the neighbors didn't know them. So they were quite isolated from what you would think a normally functioning person would be," Issac Strack said.
"Ben had basically been out of our lives for the last four years," Jake Strack added.
He said when they were all kids, Ben was very active with his brothers and his family.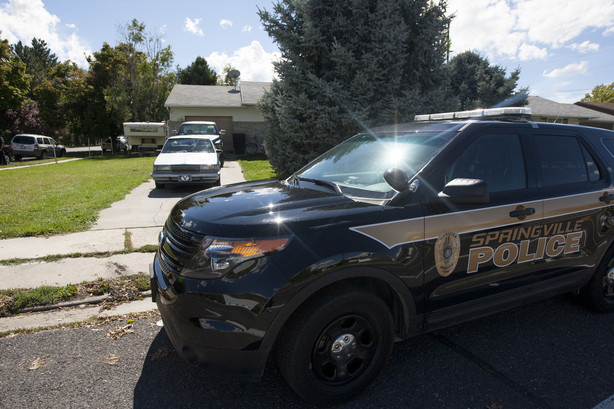 Furthermore, they said Kristi Strack battled depression.
"I think the biggest sign that we missed as a family was depression in Kristi. I mean, she would sleep all the time. And she was always in bed," Jake Strack said. "It's not laziness, it's just they lose all hope and just lay there."
"And it's not a choice, it's an illness. … This one action does not define the Ben and Kristi that we knew. Ultimately they were victims, too. They were victims of their own minds," Isaac Strack said.
"You don't blame somebody for having cancer. But it's a lot more difficult when someone has a mental illness."
That's why by bringing the family's tragedy to light and having open discussions about it, the Strack brothers hope they can erase the stigma that is typically associated with being diagnosed with a mental illness.
"We believe that everybody should have their mental health checked," Issac Strack said. "If our arm hurts, we go to the doctor. It's just regular maintenance and it should be perceived that way. But unfortunately it's not. So it's not always just about the very severe signs. What we're advocating for is mental health so that everybody has maintenance."
Since the incident, Jake Strack said he has learned that 4 million Americans currently have a mental illness and are receiving no treatment at all.
Locally, residents can find out more information about mental health and how to get help at the National Alliance on Mental Health website, or by calling 801-323-9900, or toll free at 877-230-6264.
More help can also be found by calling the National Suicide Prevention Lifeline at 1-800-273-8255 (TALK).
×
Photos
Related Stories