This archived news story is available only for your personal, non-commercial use. Information in the story may be outdated or superseded by additional information. Reading or replaying the story in its archived form does not constitute a republication of the story.
SALT LAKE CITY — Utah will implement a strategy designed to strengthen the state's economy for decades to come through education under a new plan.
The plan is a collaborative effort of Utah groups Education First and Prosperity 2020 — the business-led movement aimed at enhancing education statewide.
On Tuesday, about 300 business, civic and education leaders unveiled the proposed five-year plan for innovation, investment and accountability in education. The long-term objective is to elevate Utah into the top 10 in U.S. educational systems, explained Richard Kendell with Prosperity 2020.
Kendell noted that Utah ranks No. 3 among all states in CNBC's "America's Top States for Business," while tallying a ranking of No. 46 for education. He said that while the Beehive State is among the strongest in the nation economically, Utah's education performance is definitely below average.
"You cannot build and sustain a robust economy long-term without a robust education system," Kendell said. "We'd like to see Utah become more of an economic powerhouse."
Getting children engaged early on is key to establishing a pathway to sustained educational improvement, he said.
"We're talking about a preschool initiative, full-day kindergarten, (and) we're hoping that all children by the end of the third grade are reading at a fairly high level of proficiency," Kendell said.
---
"You cannot build and sustain a robust economy long-term without a robust education system." - Richard Kendell, Prosperity 2020
---
The plan includes goals of 90 percent of elementary students achieving proficiency in reading and math; a 90 percent graduation rate from high school; 66 percent of Utahns with postsecondary certificates or degrees; along with Utah becoming a top 10 center for technology jobs and businesses in science, technology, engineering and math, or STEM.
Utah is trending in the wrong direction on key metrics such as reading, math, high school completion and post-high school certificates and degrees, Kendell said.
Data showed that young people who graduate high school and go on to achieve degrees and certifications are more likely to become leaders, innovators and achievers, and are better prepared to support the growth of crucial business sectors in Utah including technology, science, health and medicine, he said.
The key to economic improvement is to get Utahns better educated starting at the earliest possible levels, Kendell added.
"There are no miracles here, no gimmicks, no magic," he said.
The state has a good business environment and the potential to become even better, but there are problems, Kendell acknowledged.
He noted that much of the state's forecasted job growth is for low-wage positions, and that of the state's 20 largest employers, most are government or other public entities. Only four are private sector companies.
The report stated that Utah's gross domestic product has grown only modestly in recent years and Utah's household income has remained relatively flat for the past 15 years. For income to increase in the years to come, more Utahns will have to complete degrees in college and graduate school, Kendell said.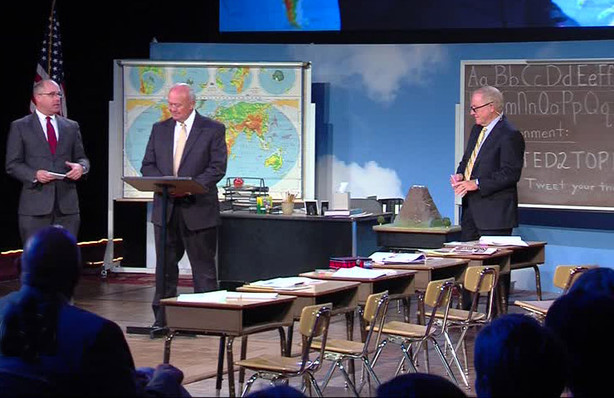 Currently, three Utah metro areas are on the list of cities nationally with the highest percentage of students over 25 years of age who have some college education but have not completed their degree.
"It's Provo-Orem, Salt Lake City and Ogden-Clearfield," Kendell said. "That's a pretty dubious distinction."
One of the major challenges, he said, is to get more people to finish at least an associate degree, but preferably a bachelor's degree or higher. Doing so would attract more private industry to the state, resulting in more and better paying private sector jobs for future generations, Kendell said.
The report is the result of conversations involving the Governor's Commission on Education Excellence, Legislative Education Task Force, Legislative Interim, along with other input. The plan was derived from extensive collaboration with educators and policymakers.
Utah's business leaders admit that education of Utah's children is crucial for the state's economic growth, and its present and future quality of life.
"When you look at the earning power of education, you need to have that training," said Lane Beattie, president and chief executive officer of the Salt Lake Chamber. "That's what is lacking right now (in Utah)."
Funding
Beattie said lawmakers need to help by making available the financial resources necessary to get educators the tools required to teach students what they will need to know to become the workforce of tomorrow.
---
We can't continue to have a strong economy if we lag further and further behind in education.
–Tami Pyfer, education advisor
---
"Now is the time," he said. "The economy is starting to recover, and we're starting to have some surpluses because our economy is so strong. With that strength, we ought to invest a larger portion of that back into education."
While the Prosperity 2020 initiative is a five-year plan, Utah Gov. Gary Herbert has announced a 10-year plan to enhance education.
"The governor's plan will be much broader than this plan," explained Tami Pyfer, Herbert's education adviser. "We have common goals, but how local districts utilize resources is going to vary across districts."
Kendell estimated that an adequate plan would cost as much as $175 million annually to implement. While the governor realizes achieving educational goals will require additional budget funding, how much is still to be determined.
Pyfer said those discussions are already underway, and all involved are well aware of what's at stake.
"Funding education is a top priority in (the governor's) budget," she said. "We can't continue to have a strong economy if we lag further and further behind in education."
×
Photos
Related Stories