Estimated read time: 2-3 minutes
This archived news story is available only for your personal, non-commercial use. Information in the story may be outdated or superseded by additional information. Reading or replaying the story in its archived form does not constitute a republication of the story.
MILDURA, Australia — A radio host filmed her attempts at deterring swooping magpie attacks, and the results are beyond hysterical.
First it must be said that magpie attacks in Australia are no laughing matter. Attacks have been known to cause serious injuries as the birds bear down on pedestrians and bikers as they travel through nesting areas.
The Queensland government's Department of Environment and Heritage Protection's website says that only about nine percent of magpies are aggressive towards humans, but the site also states that it's important to protect yourself. Additionally, there are websites and apps where people report magpie swoops in an effort to warn others of especially dangerous areas.
Like I said, no laughing matter. That is until the situation is in the hands of a radio host from 99.5 Star FM's morning show in Mildura.
Amber decided to test two ways to stop a magpie from attacking her head from behind while riding her bike. Her first attempt involved cramming branches into her helmet, and it actually worked quite well. The magpie swooped, but it didn't make contact.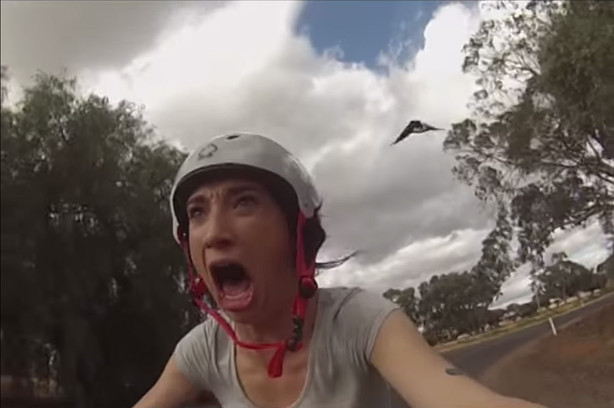 The second attempt was a pair of crudely drawn "eyes" on the back of the helmet that in no way resemble eyes. It's inevitable that the magpie will swoop, but it's Amber's reaction coupled with the dramatic and pagan backdrop of "O Fortuna," part of composer Carl Orff's "Carmina Burana," that really raises the video to roll-on-the-floor laughing status.
Amber's face and repeated cries of "The eyes didn't work!" and "Get mum!" are pure gold as the magpie swoops again and again, clipping her helmet.
To be fair, the situation is truly terrifying and straight out of Alfred Hitchcock's The Birds, especially considering that the bird is attacking from behind and Amber can't see it coming. But what is terrifying to her is entertaining for us.
×
Related Links