Estimated read time: 4-5 minutes
This archived news story is available only for your personal, non-commercial use. Information in the story may be outdated or superseded by additional information. Reading or replaying the story in its archived form does not constitute a republication of the story.
PROVO — A trial began Wednesday on the two-year anniversary of the shooting death of Heidy Wagner Truman.
A Utah County jury is being asked to decide whether her death was an accident or whether her husband of three-and-a-half years murdered her.
About 11 p.m. on Sept. 30, 2012, police arrived at 220 S. 1180 West in Orem and saw Conrad Mark Truman "waving his arms and screaming in a high-pitched voice," Orem Police Sgt. William Crook testified Wednesday.
Inside, Crook said he found Heidy Truman, 25, lying naked, face-down in a pool of blood at the top of a staircase. Conrad Truman then ran to the top of the stairs and attempted to perform CPR on his wife, who still appeared to be breathing, Crook said.
"He was yelling, he was screaming. Several times he said, 'Come on, baby,'" the sergeant said.
Two officers had to pull Truman away from his wife's body while paramedics attended to her. Police attempted to calm Truman down in order to understand what had happened, but he threatened to kill police if his wife died, according to Crook.
Truman, 32, was "very agitated, out of control, threatening," he testified. "He didn't try to hit me, but I felt like he was going to put his hands on me. I told him, 'Dont' touch me.' He had so much blood" on him.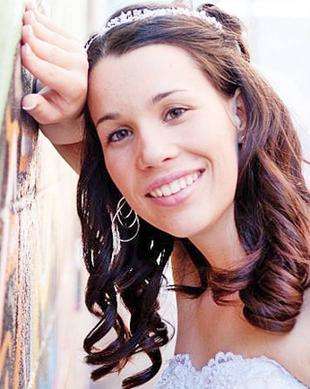 Among several confusing explanations, Truman told investigators that he and his wife had been drinking and got into an argument that evening. She went into the bathroom to take a bath and locked the door. Truman told police he picked the lock and went into the bathroom, but left after she told him to leave.
Truman said he later heard yelling outside the home and left the house with a handgun and his dog to investigate. When he came back inside, he said he heard a pop.
Investigators say he told them that his wife was not suicidal and that a bullet must have hit her through the bathroom wall, though police found no physical evidence to support that theory.
Officers found two handguns in the residence that night. While talking with police, Truman picked up one of the guns, yelled at it and threw it against a cabinet, Crook testified.
"He was angry at the gun," the sergeant said. "He threw it, it hit the edge of the cabinet and fell into a chair. It left a blood stain mark on the wall."
Heidy Truman died hours later at Utah Valley Regional Medical Center.
Police determined the home to be a crime scene, and Conrad Truman was eventually taken into custody. He is charged with murder, a first-degree felony, and obstructing justice, a second-degree felony.
A medical examiner determined Heidy Truman's cause of death was a contact wound from close range and that it was either a homicide or a suicide.
Police contend that Truman's primary motive in killing his wife was to collect insurance funds amounting to $878,767 from the several policies that had been taken out on her. Prosecutors also argue against suicide as being the cause of Truman's death, and the defense agrees.
"Heidy was not suicidal," prosecutor Ryan Peters said during his opening statement. "She was sassy, stood up for herself. She had plans that were to take place in the future."
---
She came out of the shower and I heard a pop. … She's in a pool of blood. … She's choking. … You better help her.
–911 recording
---
A recording of the 911 call that Conrad Truman made before officers arrived was played in court. In the recording, he is heard crying and yelling at the emergency dispatcher. Amid his jumbled, high-pitched sobs, he can be heard saying, "She came out of the shower and I heard a pop. … She's in a pool of blood. … She's choking. … You better help her."
Defense attorney Ron Yengich says Truman's confusing statements and emotional desperation are not evidence that he killed his wife.
"They don't show consciousness of guilt. They show pain," Yengich told jurors Wednesday. "This is a fairly hyper young man, not greatly educated, kind of a country boy who's drunk, who's trying to react to what he sees."
Yengich offered an explanation that Heidy Truman had retrieved a gun after hearing yelling outside her home, and when she came out of the bathroom, she slipped and the gun went off.
"We submit the evidence is most likely to show that this is an accidental death," Yengich told the eight-men, three-women jury.
Truman's defense also points to evidence that he and his wife got along well. John and Linda Maddox, who live in the duplex adjoining the Truman home, testified Wednesday about what they observed of the Trumans' relationship.
"They appeared to get along famously," John Maddox said.
"They were always together, always holding hands," Linda Maddox said. "They were friends. They loved each other. If you were to go in their house, there (were) love notes everywhere."
Truman is being held in the Utah County Jail on $1 million bail. His 14-day jury trial is scheduled to last through Oct. 22. Email: mjacobsen@deseretnews.com Twitter: MorganEJacobsen; DNewsCrimeTeam
×
Photos
Related stories
Most recent Utah stories