Estimated read time: 4-5 minutes
This archived news story is available only for your personal, non-commercial use. Information in the story may be outdated or superseded by additional information. Reading or replaying the story in its archived form does not constitute a republication of the story.
SOUTH SALT LAKE — The image is quite clear.
The X-ray quality picture showed that hidden inside the inmate's body was a knife. It's something that likely would have gone undetected if not for a new body imaging machine.
The picture, from another jail, was just one example Salt Lake County Sheriff Jim Winder used Wednesday as he unveiled the county jail's two new body scanning machines, called SecurPASS.
Starting later this week, every inmate booked into the Salt Lake County Jail who will be changing into a jail jumpsuit instead of being immediately released will be put through the body scanning machine. In addition, all inmates who are transported out of the jail, such as to court or the hospital, will be scanned both when they leave and when they return.
Jail officials estimate they will be scanning several hundred prisoners a day.
The reason for adding the machines to the jail, Winder said, is because inmates have been getting more clever about sneaking in drugs and other contraband.
---
Believe it or not, we do have individuals arriving at our facility with loaded firearms.
–Jim Winder, Salt Lake County sheriff
---
"We know that contraband is being introduced into our facility," he said. "We tried to secure it every other way we could. But when someone has it inserted into their body, that makes it extremely difficult for us. This solves that problem.
"Believe it or not, we do have individuals arriving at our facility with loaded firearms," the sheriff said.
On average, the jail admits one or two people a day who are carrying contraband on them at the time of their booking, he said. So far in 2014, there have been more than 500 cases of contraband being recovered from inmates. In one case, Winder said an inmate was still hiding 25 balloons of heroin on his body when he was processed into the jail.
"If they are hiding those items somewhere internal or areas we have missed, they can introduce it into our facility," Winder said.
The SecurPASS machines are "state of the art," he said, and "significantly more in-depth" than an airport scanning machine. The Salt Lake County Jail is the first facility in Utah to use SecurPASS. The two machines cost about $300,000 total. Winder noted that both were paid for using funds collected from inmates purchasing items from the commissary and not a dime came from taxpayer money.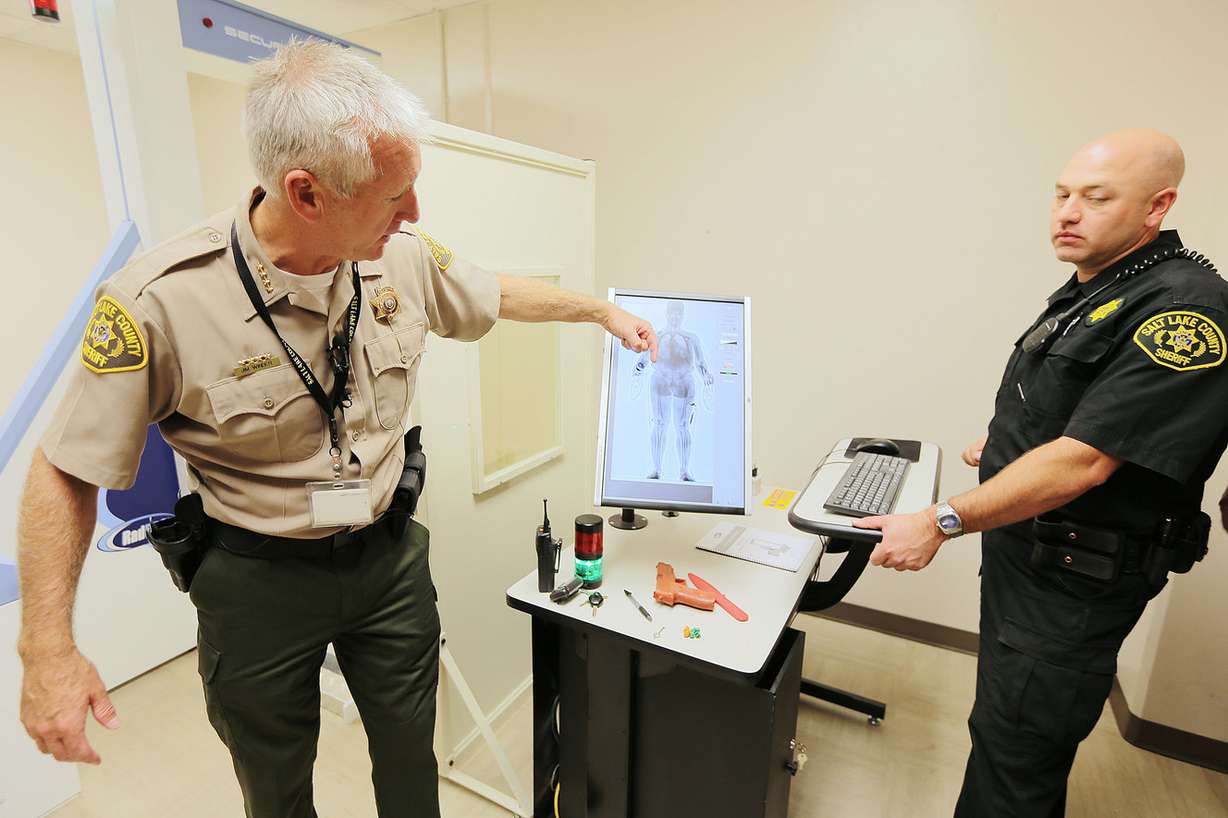 The two biggest concerns for jail staffers are people who bring balloons filled with heroin, methamphetamine or cocaine into the jail, and those who bring in keys that could be used to unlock handcuffs. Either can be hidden in a cheek or under a tongue.
Once an arrested person realizes they're going to be booked into jail, they can quickly swallow those items. Winder says sometimes the inmate retrieves those items later, and sometimes the balloons burst while in the inmate's stomach and the inmate suffers an overdose. Some of the overdoses are fatal.
"If this gets into our facility, this represents a significant security risk to our staff and the general public," he said.
But because of changes to the strip search laws, Winder said the jail isn't conducting many of them, and inmates were getting away with sneaking contraband behind bars.
"There has been a significant change in the strip search legal requirements, and it's very restrictive. So here at the Salt Lake County Jail, we were not engaging in widespread strip searches for a variety of reasons. For that reason, we were having contraband introduced," he said.
Now, Winder said the jail will be able to detect contraband located both on — or inside — an inmate in a way that isn't intrusive.
During a demonstration on Wednesday, a member of the jail administration was put through the scanner, which took only 10 seconds. On a screen, an X-ray-like image appeared, and items such as his badge, a pen in his pocket, a belt buckle, and small balloons, which he placed in his pocket for demonstration, could clearly be seen.
In examples from other inmates shown to the media on Wednesday, pictures of drug balloons that filled an inmate's stomach would be seen clearly.
Winder said the sheriff's office has been working with state regulators for nine months in preparation of the new scanners to make sure all privacy rules are followed as well as health codes. Despite the X-ray like image, Winder said the machines use a very low level of radiation. It would take about 4,000 pictures using SecurPRESS to equal one X-ray from a doctor's office, he said.
Still, jail staffers are placed behind a small barricade as they take the pictures. Pregnant women and most inmates with pacemakers will not be required to go through the imaging machine.
×
Photos
Most recent Utah stories