Estimated read time: 2-3 minutes
This archived news story is available only for your personal, non-commercial use. Information in the story may be outdated or superseded by additional information. Reading or replaying the story in its archived form does not constitute a republication of the story.
SALT LAKE CITY — A "smart" sprinkler system developed in Utah not only turns itself on and off when it rains, but also keeps an eye on the weather forecast.
Other devices sense rain and keep sprinklers from turning on, but the Skydrop program actually hooks into a Wi-Fi system to keep lawns green and healthy.
"Essentially, I didn't know how to water my own lawn," said Clark Endrizzi — and he is far from being the only one.
The Utah Division of Water Resources says the typical Utah household uses twice as much water on their yards as is necessary.
"Some landscapers were telling me to water every day and just do less watering," Endrizzi said. "Some told me I should be watering as little as possible, just watering enough to reach the roots."
Endrizzi, a software engineer, said he started thinking about how weak automated sprinkler systems like his really are. Come torrential rain or blistering sunshine, they keep watering and watering — through torrential rain or blistering sunshine — because that is what they're programmed to do.
So Endrizzi set out to create a smart sprinkler system. Skydrop replaces old sprinkler controllers. It connects to a home's wireless network and then starts pulling real-time weather data from the Internet. This stops sprinklers from running when they're not needed, for example, during a rain storm. It measures humidity, temperature, wind, even the slope of the yard, to create a schedule Endrizzi said will save water.
"This year is a good example," he said. "It's been really rainy, especially at the end of August. A landscape like this one, you had to water once or twice in three weeks because it rained enough it knew it didn't need to run the sprinklers."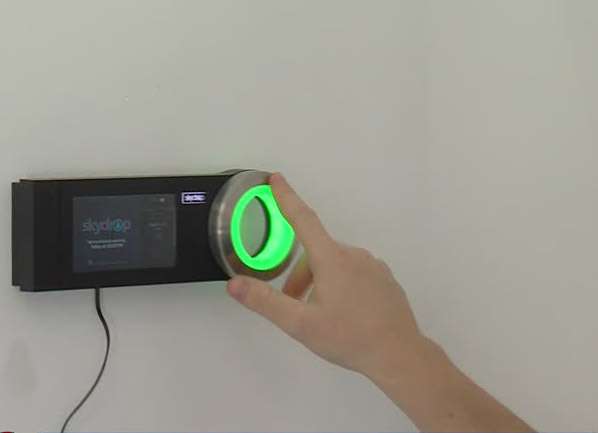 Skydrop also lets homeowners control the watering of their lawn through a smartphone or a computer. They can turn on and off sprinklers from their device.
Endrizzi and his team worked with water and agricultural experts from Utah State University to come up with Skydrop's algorithm. He said the system can help homeowners cut their water usage by as much as half in some cases.
"We've talked to people in other states. It's not uncommon to be spending $400 a month. So when you're looking at that, it saves you a lot of money," he said.
Skydrop isn't the only smart sprinkler controller for sale. Systems like RainMachine and i-Ro also connect to a home's Wi-Fi to pull real-time weather information. The average cost for such a controller is around $250 to $300.
For a low-tech solution, a lawn-watering guide is updated weekly on the weather page of KSL.com.
×
Photos
Related links
Related stories
Most recent Utah stories