Estimated read time: 4-5 minutes
This archived news story is available only for your personal, non-commercial use. Information in the story may be outdated or superseded by additional information. Reading or replaying the story in its archived form does not constitute a republication of the story.
SALT LAKE CITY — Some trends you hope to see continue, while others you can't wait to get your next shot at redemption.
The Utes have started out conference play each season with a loss since joining the Pac-12 in 2011, a trend that Utah head coach Kyle Whittingham hopes to see come to an end Saturday evening as the Utes host Washington State in Rice-Eccles Stadium.
"I think we're faster," Whittingham said Monday afternoon at his weekly press conference in regards to this year's team, which is now 3-0 on the season with the latest win coming on the road against Michigan.
In the 2011 conference opener, the Utes lost a heartbreaker to USC as the Trojans blocked and returned a potential game tying field goal as time expired. In 2012, the Utes were taken to the woodshed in a 37-7 loss to Arizona State in Tempe, one week after beating a ranked BYU team. In 2013, the Utes took Oregon State to overtime, only to see Sean Mannion throw a game-winning touchdown pass to win 51-48.
"I think we're better on the perimeters with the wide receivers and the secondary," Whittingham added. "We're getting good quarterback play right now. That's got to continue. Keep Travis healthy."
Seeing current starting quarterback Travis Wilson spun around last week as he tried to hurdle a Michigan defender on the sideline, only to land on his head in a frightening fall must have brought a collective gasp of "Oh no, here we go again" among Ute Nation.
"It was definitely scary," Wilson recalled.
For Whittingham and the Utes, not only is keeping Wilson healthy this season important, it might be the first, second and third most important key in bucking the Utes' recent conference struggles. One of the glaring deficiencies for the Utes in Pac-12 play has been at quarterback, having lost their starting quarterback each and every season due to an injury since their 2008 perfect season. Utah has yet to eclipse 3,000 yards passing since 2011, a mark it had hit two of the three seasons before joining the league.
After seeing how the rest of the Michigan game turned out, no one can further question that not only is Travis Wilson a leader of this team, he also provides the team the best chance to win. Wilson received some stiches to a cut under his nose, returned to the game in the second half and promptly lead the Utes down the field in an impressive drive that was capped with a 28-yard touchdown pass to Dres Anderson.
Utah Football Yearly Statistics (per game average)
| | Passing | Rushing | Total Offense |
| --- | --- | --- | --- |
| <b>2008</b> | 3178 (244) | 2034 (156) | 5212 (400) |
| <b>2009</b> | 2980 (229) | 2084 (160) | 5064 (389) |
| <b>2010</b> | 3069 (236) | 1988 (153) | 5057 (389) |
| <b>2011</b> | 2252 (173) | 1789 (138) | 4041 (311) |
| <b>2012</b> | 2288 (191) | 1605 (134) | 3893 (325) |
| <b>2013</b> | 2835 (236) | 1924 (160) | 4759 (396) |
| <b>2014 so far</b> | 824 (275) | 577 (192) | 1401 (467) |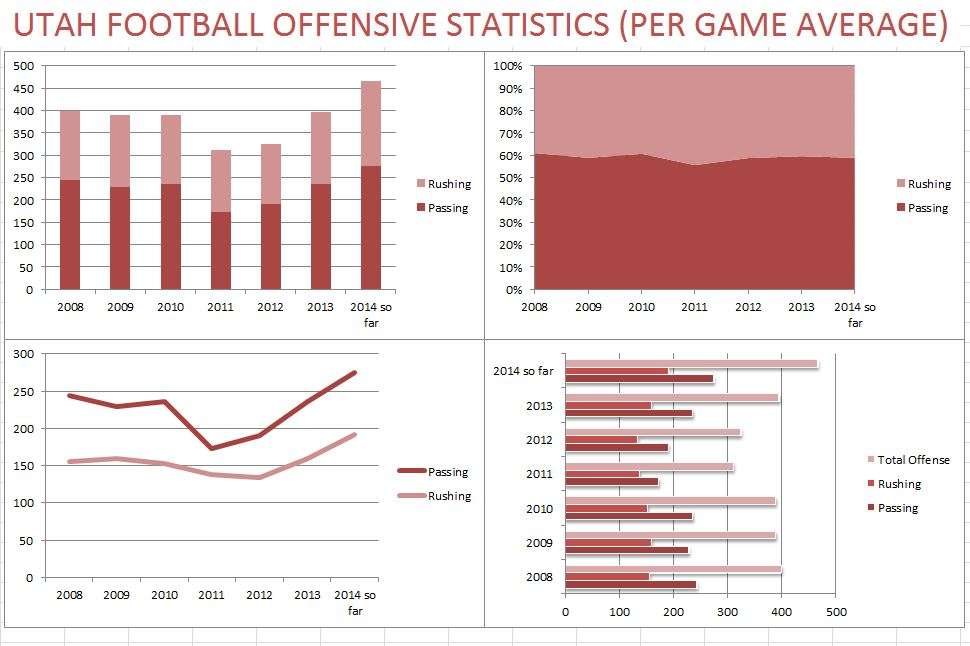 Whittingham was quick to praise Wilson's toughness following the win.
"He's a tough kid. He'll be the first to tell you that he needs to use better judgment in some cases. He's a tremendous competitor, exceptionally tough and very smart, he just didn't use the best judgment on that one isolated play."
"I'm glad my body held up and everything and like I've said, just happy I was healthy enough to finish the game," Wilson said. "I definitely need to be smarter about that situation."
As far as rotating quarterbacks go, the Utes still plan to use quarterback Kendal Thompson in different situations throughout the season, but it won't be a set rotation based on the game clock.
"[Kendal] brings enough to the table that when Dave [Christensen] and I feel the time is right, he can take some reps and help the team," Whittingham said. "That's not to take anything away from Travis, because Travis is playing exceptionally well. It's not a case of Travis not getting it done, it's trying to utilize all of our weapons."
In either case, improved quarterback play will be a key in ending the Utes' three game conference opener losing streak, as well as helping the Utes be more competitive throughout the conference schedule, with only five wins during the last two seasons.
"I think we're improved across the board, but probably everyone else in the conference is as well," Whittingham said. "I think that we have some things going for us right now, but it's a tough conference. Every week will be a challenge." Robert Jackson is the cross platform sports and weather producer for ksl.com and KSL-TV. He has covered the Utes for KSL since 2008. You can catch him and co-host Brian Swinney Tuesdays and Thursdays from 7-9 p.m. on the Ute Sports Report 1320 KFAN.
×
Related stories
Most recent Utah stories