Estimated read time: 3-4 minutes
This archived news story is available only for your personal, non-commercial use. Information in the story may be outdated or superseded by additional information. Reading or replaying the story in its archived form does not constitute a republication of the story.
SALT LAKE CITY — Physical therapists are hoping to draw attention to a serious health problem that is often preventable. As parents and grandparents get older, their risk of falling rises right along with their age.
Those falls injure and often kill thousands of Americans each year.
Ann Petersen is 77 years old. Last November, her life took a tumble. The retired nurse led an active lifestyle until she lost her balance and fell coming down some steps at her daughter's home.
"I just went face forward, smacked my head, broke my elbow and broke my hip," she said. "It's balance, and that's what we're trying to work on. You've got to strengthen your core muscles and mine aren't good."
Rehabilitation and therapy for Petersen's injuries has been painful and grueling.
Unfortunately, she's not alone. Each year, one out of three adults age 65 and older falls. In fact, falls are the leading cause of both fatal and non-fatal injuries among older adults. In 2010, falls in the elderly population added up to $30 billion in medical costs.
At Performance West in Bountiful, therapists are rehabilitating the injured and educating healthy older adults on how to avoid falls.
"You don't have to fall. We can predict it and we can prevent it," said Dr. Amanda Thompson. "We don't want people to fall and have hip fractures and just have that downward spiral of immobility and health issues."
Thompson and her staff routinely assess the chances a patient will fall or fall again if they're recovering from an injury. This week Performance West will conduct free risk screenings to check balance, vision and hearing.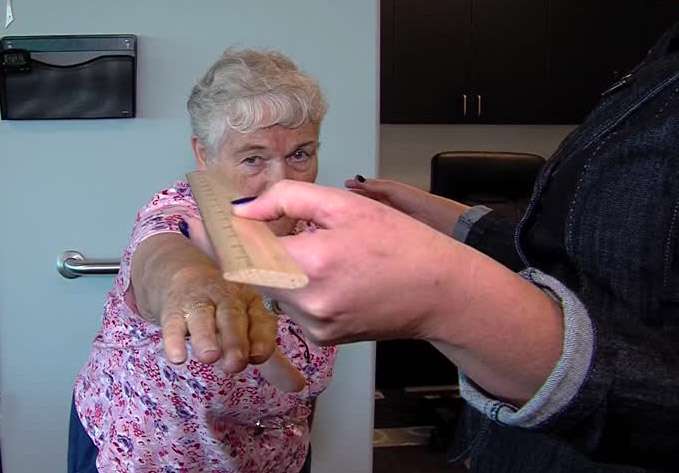 Virginia Shepherd got high marks on her screening that put her at a low risk of falling. She grew up on a farm and raised her family on one. Even in retirement, she isn't slowing down.
"Eat well, get the exercise, stay busy," the 77-year-old said. "I don't do a lot of sitting. I love to read but it's hard to get time to do it."
Her husband, Reed, also performed well on the risk assessment and has no fear of falling, even at age 82.
"I feel confident. It's not as stable as it used to be. I quit jumping the fences and the ditches and all that on the farm," he said.
He left the farm but continued to stay fit. An older person who fears falling will actually limit their activity.
"If we're fearful of falling, we are likely to fall more," Thompson said.
Petersen is fearful but willing to take the necessary steps to work her way back to full strength. She also has some advice for other seniors.
"The exercise is extremely important, extremely important. And that would be my advice because I didn't do it well enough," she said.
Screenings
Physical therapists will offer free fall-risk screenings throughout the week at Performance West's Bountiful and Clearfield offices. For more information, call 801-295-3553.
The Golden Years Activity Center in Bountiful has a free workshop on preventing falls called "Stepping On." For more information, call 801-295-3479.
Contributing: Dave McCann
×
Photos
Most recent Utah stories