Estimated read time: 3-4 minutes
This archived news story is available only for your personal, non-commercial use. Information in the story may be outdated or superseded by additional information. Reading or replaying the story in its archived form does not constitute a republication of the story.
LOGAN — Utah State linebacker and senior captain Zach Vigil had his first career interception return for a touchdown Saturday night against Wake Forest.
The Mountain West Conference took notice.
Vigil, who hauled in an errant throw by Wake Forest quarterback John Wolford for a 37-yard score, was named Mountain West defensive player of the week Monday.
The senior from Clearfield also had four tackles for loss, four quarterback hurries and a pass breakup for the Aggies, who beat the Demon Deacons, 36-24.
Nevada's Cody Fajardo was named the league's offensive player of the week after the Wolf Pack's 35-28 loss at Arizona. The senior from Brea, California, completed 29 of 39 passes for 321 yards and three touchdowns in the loss. Hawaii punter Scott Harding of Brisbane, Australia, was named Mountain West special teams player of the week.
Keeton out for Arkansas State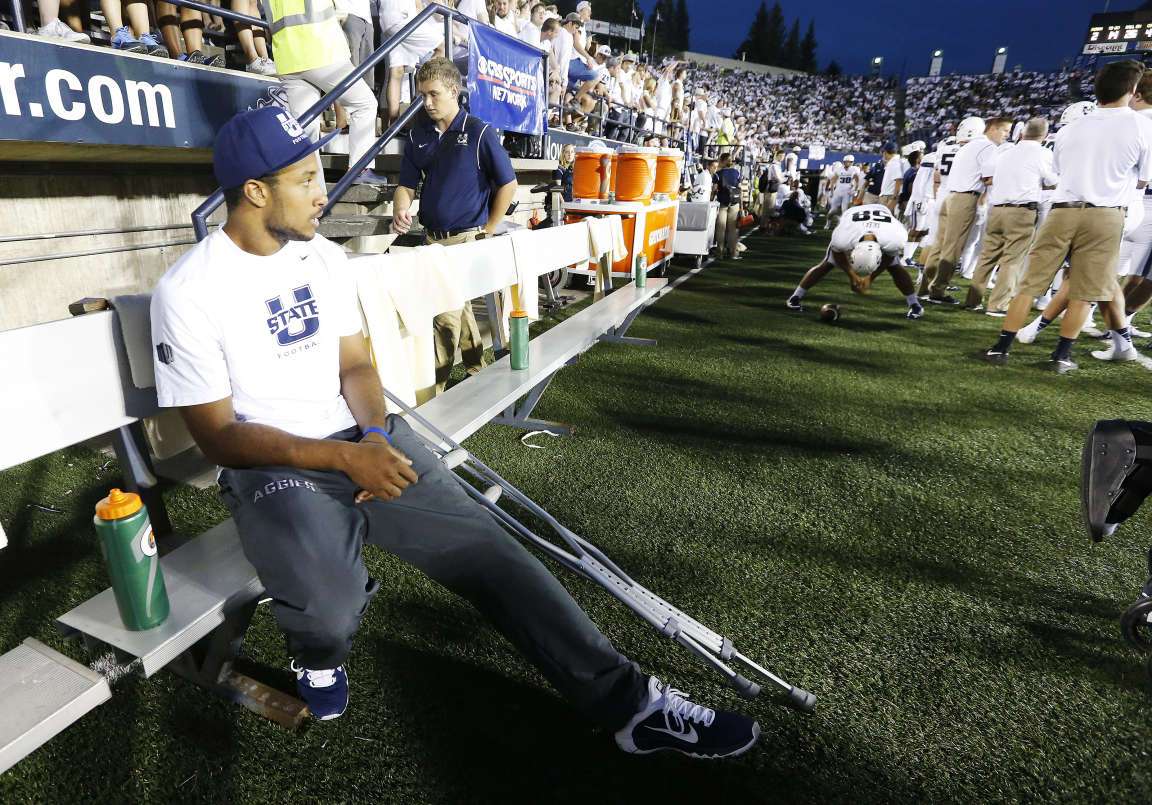 Utah State head coach Matt Wells announced Monday morning in his weekly press conference that sophomore quarterback Darell Garretson will start for the Aggies' road game against Arkansas State on Saturday.
Chuckie Keeton, the Aggies' senior all-everything signal caller, will sit out against the Red Wolves and be re-evaluated before the game at BYU on Oct. 3. No structural damage was detected in Keeton's knee after he took a game-ending hit in the first half on Saturday, but Wells admitted Keeton was "a little banged up" after the game.
"Chuckie can't go next week, and we need to rest him," Wells said. "(Garretson) is the next best quarterback in the program."
The second-year head coach told Garretson he would be starting early Monday morning, and he expressed confidence in the team for the young pocket passer who led the team to a 6-1 record as a freshman starter.
"The confidence he has in himself, the confidence the players have in him, and I know how to game plan a little better for him," Wells said when asked how he feels Garretson is prepared for the start. "He was a little bit of a wild card to game plan for going into a few games last year. But the offense believes in him."
Wells' homecoming
Arkansas State's campus in Jonesboro, Arkansas, is a five-hour drive from Sallislaw, Oklahoma, Wells' hometown.
The Utah State coach joked that half of the town's 8,800 residents would be at Centennial Bank Stadium on Saturday wearing Aggie blue, based on his family and friends in the area.
"I'll have some high school coaches there, some family and friends, and it'll be a good deal," Wells said.
Wells met Arkansas State coach Blake Anderson from their rotations together at various summer workout camps when the two got into the coaching profession. Anderson, the former offensive coordinator at North Carolina who took the Arkansas State job in 2013, grew up in Texas and also called plays at Southern Mississippi.
"We've been very good friends for a long time," Wells said. "He's a Texas guy, and he's worked his way up."
×
Photos
Related stories
Most recent Sports stories