Estimated read time: 2-3 minutes
This archived news story is available only for your personal, non-commercial use. Information in the story may be outdated or superseded by additional information. Reading or replaying the story in its archived form does not constitute a republication of the story.
WENDOVER — During World War II everyone made sacrifices, and female pilots proved they were up to the task.
Roughly 1,000 Women Airforce Service Pilots, or WASP, flew during World War II, including Salt Lake resident Nell Bright.
For Bright, now 93, flying has always been a passion. She dreamed of flying since she was 8 years old and got her private pilot's license before the war.
"To be paid to fly these beautiful military airplanes was a joy," Bright recalled Tuesday as she walked on the tarmac and inspected the plane she once flew in training: the B-25.
"I can't believe I really flew this thing, but I guess I did," she said while the B-25 "Mitchell," currently on display at Wendover Airport.
"We were the first women to fly military aircraft (as part of WASP)" she said.
The WASPs flew planes from the factory to the military bases. Other women were test pilots, weather pilots and training pilots.
"We did everything that the Air Force had to do," she said. "Our mission was to relieve the men so they could go overseas for combat."
Bright flew anti-aircraft training missions at Fort Bliss, Texas. She pulled targets behind the B-25 while soldiers on the ground shot at them.
"They were learning to shoot, but fortunately never did have one go through the plane," Bright said with a laugh.
When it comes to combat, she said most WASPs didn't push the issue. "It was enough that they would even train women to fly military airplanes," she said.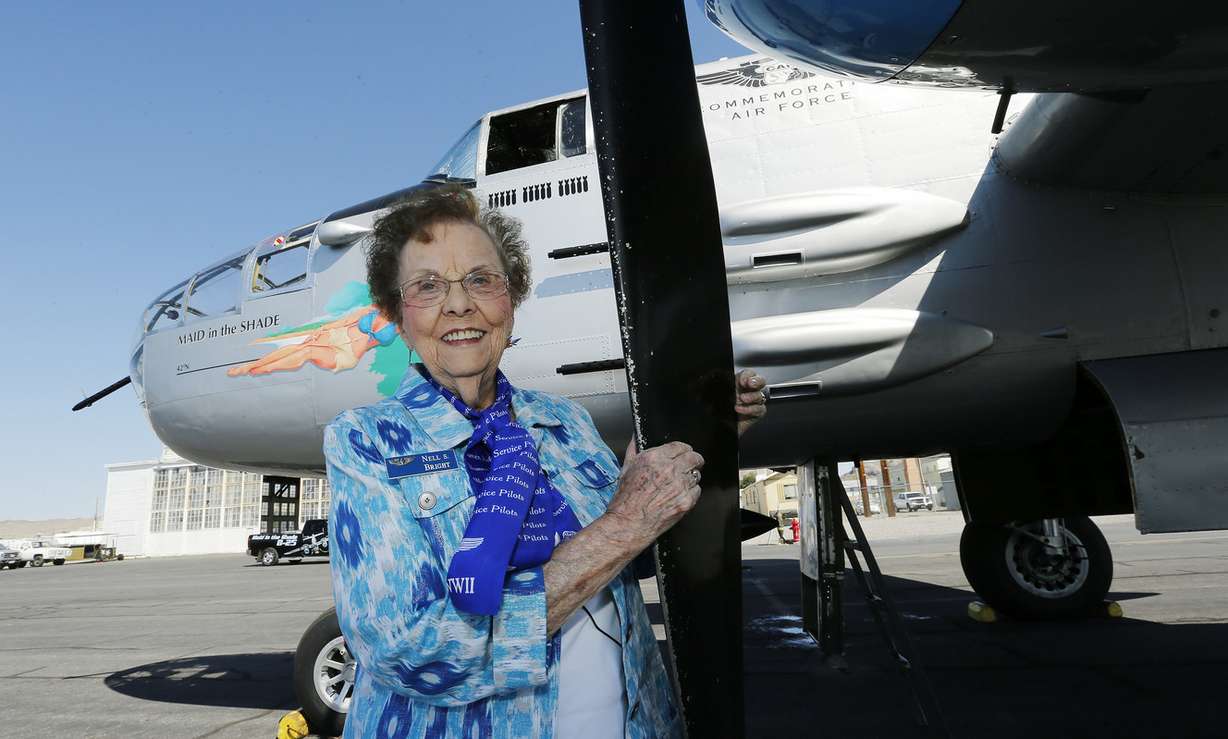 However, if women had been ordered into combat, she believes most of them would have gone.
Bright flew 800 hours in 18 months of service, but after the war there was no place for women in aviation. The airlines were not interested and very few corporations wanted to hire female pilots. So most of the WASPs, including Bright, gave up flying.
Bright went on to be a trailblazer in another field. She became one of the first women stockbrokers in Phoenix and did that for 50 years.
In 1977, members of WASP received veteran status and in 2010 received the Congressional Gold Medal. About 300 members were living at the time and 175 made it to the ceremony in Washington, D.C.
The B-25 "Mitchell" will be on display through Sept. 6 at the Wendover Airport as part of the 2014 Historic Wendover Air Show Saturday. The aircraft was restored by the Arizona Commemorative Air Force.
"Most of us didn't really know much about them (WASP) until recent years," said David Baker, with the Arizona Commemorative Air Force. "They were always there and always there to serve us."
Contributing: Viviane Vo-Duc
×
Photos
Related links
Related stories
Most recent Utah stories