Estimated read time: 2-3 minutes
This archived news story is available only for your personal, non-commercial use. Information in the story may be outdated or superseded by additional information. Reading or replaying the story in its archived form does not constitute a republication of the story.
Amanda Butterfield reportingA boy at Primary Children's Medical Center has touched the lives of hundreds of people, including family locally and strangers from around the country.
He's known because of his blog. We found that Web sites can be a new way for patients and their families to heal.
A steady pat on the bottom is the only thing that calms 12-month-old Charlie Cooper Christensen. His father, Rob Christensen, says if the patting stops, there's "a lot of crying, moaning, groaning-type stuff."
Hundreds of people already know this from Charlie's blog.
His mother, Angel Christensen, explained, "We started the blog to keep family updated in critical periods. Then it started to develop as an easy way to get info out to our friends and family."
Once a healthy baby just starting to crawl, Charlie is now deaf, likely blind, and has severe brain damage. "He contracted bacterial meningitis three months ago. It was from the strep-pneumo infection that got in his brain through an ear infection," Angel said.
Through the blog, Rob and Angel only had to tell that story once, and the support came pouring in from people they'd never met.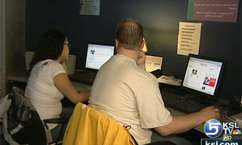 Leah Malone, a social worker at the hospital, says writing in a journal has always been encouraged by health professionals. But blogging has the added benefit of updating friends and family. Intermountain Healthcare offers care pages: a comment board to give updates. There are even computer labs in the hospitals for patients to use.
Malone said, "I think a lot of people have a lot to say, and externalizing those thoughts and emotions is really helpful."
Through blogging, the Christensens found Charlie is not the first to go through this. "When we first came here, Charlie was real bad," Rob said. "I stumbled onto someone else's blog."
It was the blog of a family from Idaho whose little girl had also contracted bacterial meningitis. The Christensens didn't feel so alone anymore.
Hopefully the next big news on the blog will be that Charlie will get to go home. When he finally does, the family says, yes, the blog will go on. The family says the blog gets about 1,000 hits a day. You can check out it out at the link on this page.
E-mail: abutterfield@ksl.com
×
Related links
Most recent Utah stories