This archived news story is available only for your personal, non-commercial use. Information in the story may be outdated or superseded by additional information. Reading or replaying the story in its archived form does not constitute a republication of the story.
WOODS CROSS — In planning the new Odyssey Elementary School, school district officials looked to nature.
Awed parents and excited children flooded the colorful, open-concept elementary for a back-to-school night, taking in the building's unique layout. Classrooms are distributed between four wings, called "habitats," that branch off the building's central area and are named to inspire students to swim, run, jump and fly.
Full of natural light thanks to banks of big windows, Odyssey will be powered by the sun thanks to more than 1,200 solar panels and will use less energy than any other school in Utah, making it the "greenest" school in the state, according to the Davis School District.
"I like the doors," said 8-year-old Kera Keeler, investigating a large, roll-up door that connects her new classroom in the "fly" habitat to a communal center.
Bryan and Eva Keeler, Kera's parents, said they believe the new school will jumpstart the year for Kera and her 7-year-old sister, Leslie.
"I think it's a school for the times. It's something that wouldn't have have existed back when I was a kid," Bryan Keeler said. "I think for kids these days, it's probably just the ticket. It's technologically advanced and just kind of cool."
Tucker Farris, who starts fourth grade in the "swim" habitat Monday, is especially excited about the open and active feel of his new school.
"It's different than other schools," Tucker said. "I like unusual things."
Tucker's mom, April Farris, said she likes the new technology available at the school and the way her son's classroom (complete with rolling desks and chairs, fun shaped stools and countless customizable white board surfaces) fits with his active personality.
"Kids like to move and so, in some ways, I think it could help them focus if they have some leeway," Farris said. "He'll either thrive or get distracted."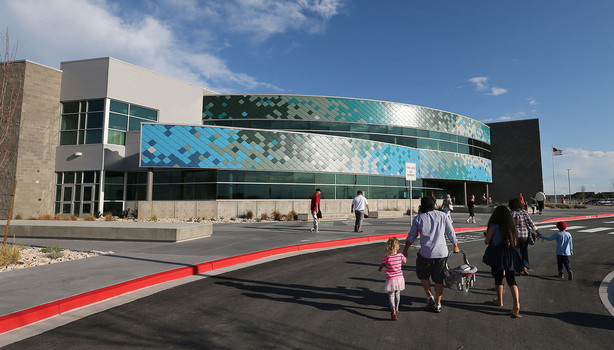 Farris has two older children now in junior high. In the nine years her family has lived in Woods Cross, her kids have attended three elementary schools.
"We're the neighborhood that always gets moved," she said. "We're hoping we're good for a while."
Farris said the school's open design and large windows on the classrooms could be a security concern. District officials assured that entrances to each of the four habitats can be locked down in an instant from the main office, and all outer doors will remain locked throughout the day, opening only with secure faculty and staff key cards.
The walls in an open cafeteria and auditorium area are decorated with large, colorful photos of hikers, rock climbers, hang gliders and surfers, while inspirational quotes ranging from Lao-Tzu to J.K. Rowling to Thomas Jefferson line the balconies and doorways.
Rachel Wright and Didier Chanel were anxious to show off their classrooms in the "fly" habitat as they welcomed their class of second-graders and their parents Thursday. Both first-year teachers, Wright and Chanel will tag-team the group of French-immersion students.
Wright, who worked for the Discovery Gateway museum before making the switch to teaching, told students and parents that Odyssey feels like a perfect fit for her education philosophy.
"It's a taste of the energy that's going to come during the year," said Wright as she watched the group file out. "I think it's this awesome trifecta of being a first-year teacher and having students be new to the school in a brand new school. It's just a perfect combination of exciting opportunities."
There are still a few missing pieces, however. Classrooms still need desks (the table tops have arrived but not the legs, a district official said) and teachers are waiting on computers and printers.
Wright told parents those things will be delivered as school gets underway Monday.
Odyssey's unique floor plan and philosophy incorporates the needs of parents, students and teachers, Wright said.
"They thought of everything when they made this school," she said.
×
Photos