Estimated read time: 3-4 minutes
This archived news story is available only for your personal, non-commercial use. Information in the story may be outdated or superseded by additional information. Reading or replaying the story in its archived form does not constitute a republication of the story.
BOUNTIFUL — There was a time when you could tell Jared Auger was coming down the road in Bountiful.
You could hear him.
One step at a time he walked, with his head between steps on his ladder balanced on his shoulders. Auger didn't mind doing the hard work because it meant providing for his family.
"I get to get out here and create my own paycheck. I get to work really hard and provide a service nobody else does," said Auger.
Auger started his own company, Wasatch Dish and Disposal. It's a one-man company in which Auger knocks on doors, asking homeowners if they want him to take down a satellite dish they no longer need. He then takes the dishes to a recycling facility.
"There are so many people who have one, two, sometimes three dishes on their roof and it's just unsightly," said Auger. "I get up there, take it down, unscrew the bolts, take out the cables, and then I patch up the hole real nice so you'll never know there was a dish there."
But one thing limited Auger to carrying only a couple of dishes back to his Bountiful house at a time. He didn't have a car.
That all changed last week when Auger met Richard Uhl. Uhl, who lives in Bountiful, watched Auger work and decided to talk to him.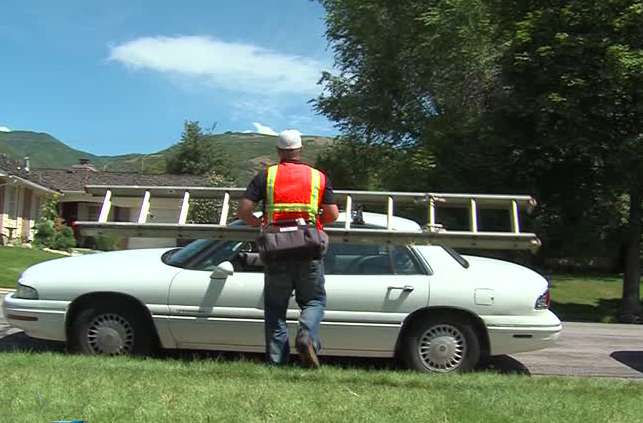 "He said, 'I've seen you walking up and down. What are you doing? I see you carrying this ladder and your vest,'" said Auger.
Auger told Uhl about his company and how he was doing the work to provide for his family. Uhl was impressed with his work ethic.
"What a nice stranger. Gosh. He's out there doing everything he could do to support his wife and his child," said Uhl.
Auger remembers Uhl smiling after hearing his story.
"Five minutes later, he comes pulling up in his Prius, and he's like, 'Come get in,' and I'm like, 'What?'" said Auger.
Auger got in Uhl's car, and the two went to Uhl's house, where Uhl showed the business owner an older Buick LeSabre.
"He's like, 'Well, do you want it?' I did like it, especially since I didn't have a car, but I asked him how much he wanted for it because I don't have a lot going on here. And he's like, 'No, no, no. If you can use it, you can have it.'"
Just like that, Auger had a car to carry his tools, ladder and satellite dishes.
"He's working hard, not complaining, and it was pretty obvious. I had a car and I wanted to do something with it. He wasn't really a stranger anymore since I had just met him," said Uhl with a laugh. "I love this neighborhood. It's full of good things."
---
I knew him for maybe seven minutes and he helped me. It's amazing. It's unreal to see there are still people like that left.
–Jared Auger
---
Now this Bountiful neighborhood has another good story to go along with its history: a story about a young man trying to make a living and an elderly man who helped him without question.
"It means the world to me. I was in a position with my business where I wasn't quite there. I knew him for maybe seven minutes and he helped me. It's amazing. It's unreal to see there are still people like that left," said Auger.
Auger and his wife took Uhl to dinner to thank him. Auger also promised to keep in touch.
"I'll drop in to say hi from time to time," he said.
Uhl said Auger was actually doing him a favor.
"Now I don't have to put a 'for sale' on it and do all those things to sell it," Uhl said.
×
Photos
Most recent Utah stories