This archived news story is available only for your personal, non-commercial use. Information in the story may be outdated or superseded by additional information. Reading or replaying the story in its archived form does not constitute a republication of the story.
SALT LAKE CITY — A Lehi mother is getting international attention for her twin daughters' impressive hairdos.
Jill Ehat has always done her daughters' hair. Ehat has given the 6-year-old girls, Hallie and Brighton, dozens of different hairstyles, from ringlets or buns to Easter egg braids or patriotic 'dos. Since February, Ehat has been sharing the styles online and interacting with the hairstyling world on Instagram.
Ehat started the themed hair sometime in February, incorporating hearts into the designs and posting them alongside the hashtag #cutegirlshairstyles, a hashtag connected to an app that features 5-minute hair tutorials. The girls' hairstyles became popular on her Instagram profile @JEhat and on Cute Girls Hairstyles shortly after.
Since then, the twins have participated in "twinning" — when two or more people will coordinate hairstyles on a particular day and tag each other in Instagram pictures of the matching hairstyles. The girls have partnered up with people from all over the world, including Brazil, Spain and Israel.
Hallie and Brighton love to see the hairstyles on different people, especially when they get to choose the style.
"That's fun for my girls to go, 'OK, who are we twinning with today and where are they from?' We look it up on the map and see what language they speak," Ehat said.
Ehat said letting the young girls choose their hairstyle is key to getting their hair done quickly each day. She said she only spends between 20 and 30 minutes total on the twins' hair every day and only chooses hairstyles that fit into that time limit, as well as the day's activities. The girls don't always choose matching hair styles, but when they do, she documents it.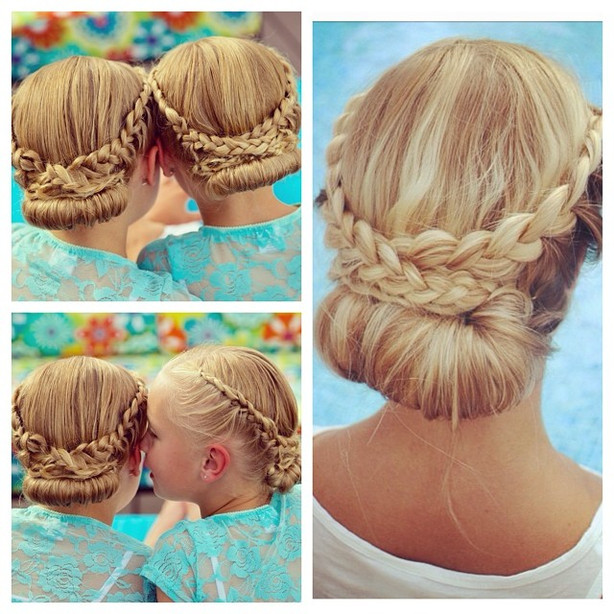 "People ask me how I get them to sit still, and I say, when they choose their hairstyle, they're invested in it and they want their hair done and they want it done exactly how they chose," Ehat said. "So if I need a comb or a bobby pin or something, they're willing to hand me things if they've chosen it. If it's something I want to do for the day, they're not as cooperative."
The daily ritual has piqued Hallie and Brighton's interests in learning to do their own hair, which Ehat said is an interesting result of twinning and doing their hair regularly.
"Now that they're old enough to choose, they're involved in it, they're getting where they want to learn," Ehat said. "They want to put in their own ponytails. ... It's kind of fun seeing them want to learn different braids, different twists and stuff. It's kind of fun. We'll see how that evolves, too."
For people who want to learn to do these fun updos on their own children, Ehat said it is helpful to offer three or four hairstyle options each day within a specific time limit. From there, she suggests looking on YouTube for little girls' hairstyles and following along. She said she also gets ideas from Instagram, and often modifies styles to suit her needs.
"They are super-duper quick hairstyles just because we don't have a lot of time," Ehat said. "Even (on Sundays), if it's going to take more than 20 minutes per kid I won't do it because my attention doesn't last that long and theirs definitely doesn't."
×
Photos
Related Links