This story is sponsored by Harmons. Want to talk to us in person? Stop by your local Harmons today for fun, friendly food advice.
Late summer heralds some of Utah's sweetest treasures; none more celebrated than the onset of peach season. One of my favorite memories as a child was gorging myself on tree ripened peaches.
Peach season may be short, but it's easier than you may think to enjoy delicious local peaches any time of year. Here are a few suggestions on how to stock up on these summer gems and preserve them for use year-round.
The easiest way to preserve peaches is by freezing them. Before you begin this process you want to blanch your peaches. Blanching helps neutralize enzymes that will spoil peaches even in freezing temperatures. Blanching will also allow you to remove the skin from your peaches with little effort.


What culinary questions do you have? Let us know! Email our Harmons chefs at askachef@harmonsgrocery.com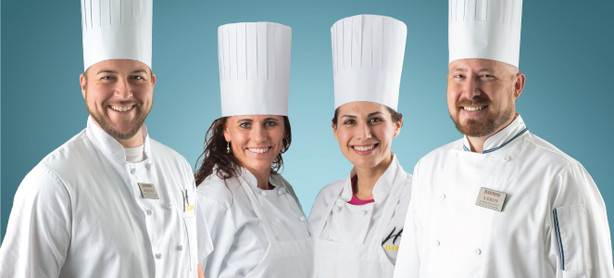 The first step to blanching is to remove any stem from the crown of the peach, followed by slicing a shallow X into the bottom. Place the peach into lightly boiling water for roughly 40 seconds or until the X in the bottom starts to peel away.
Be careful not to leave your peaches in the water for too long. If you do, the peaches will begin to cook and the flesh will become mushy.
Remove the peaches from the blanching water and place them in an ice water bath or run them under cold water to stop the blanching process.
Once the peaches are cool to the touch, wash your hands well and begin working the skin off of each peach. Next, cut the peaches in half and remove the stone, then slice the peach to your desired thickness.
If you are using a vacuum sealer, place the peaches into the bag in a single layer and vacuum, seal, label and freeze. If you are using regular freezer bags and don't want the peaches to clump together, place a piece of wax paper or parchment onto a sheet pan and lay your peach slices in a single layer, then par freeze for several hours.
Now your peaches will not stick to each other when you put them into a freezer bag. Load your freezer bag and gently remove as much air as possible. Label your bag and place in the freezer. Now you have delicious local peaches ready to use any time of year!
Now that you know how to properly save your peaches for later in the year, take advantage of peach season now and make this delicious no-churn peach ice cream for your next summer barbecue or dinner party:
No-Churn Peaches and Crème Ice Cream (makes approx. 1.5 pints)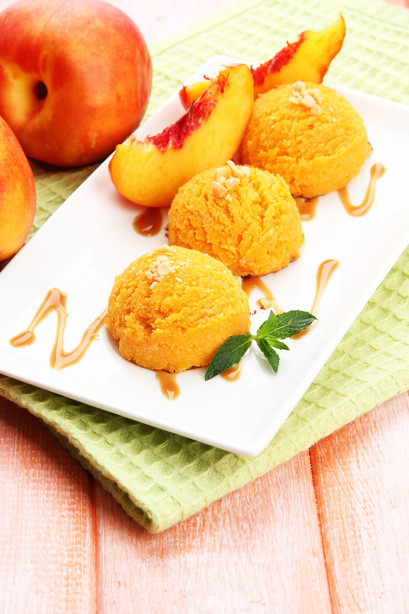 Ingredients
1 can sweetened condensed milk (14oz. can)
1/2 cup heavy whipping cream (16oz.)
1/4 cup fresh sliced peaches
1 tablespoon baker's sugar
1/2 teaspoon vanilla
Directions
1. Cut peaches into a 1/2 into to 1/4 inch dice.
2. Place into a bowl and sprinkle with sugar.
3. Allow to macerate for 30 minutes until peaches have softened and given up some juice.
4. Mix juice with sweetened condensed milk and vanilla and set aside.
5. Whip cream to stiff peaks and gently fold into condensed milk mixture just until incorporated.
6. Place into a freezer safe container (such as a Ball freezer jar) and freeze until set.
Did you know that fresh Utah peaches make some of the best jam? Try this simple freezer jam recipe and you'll have a little taste of summer all year long.
Spiced Peach Freezer Jam
Ingredients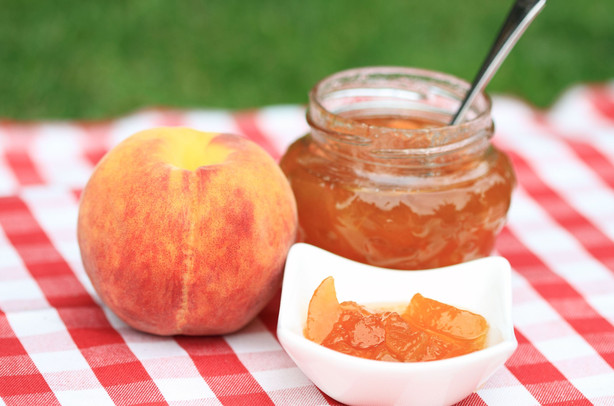 2 lbs. fresh peaches
5 cups of sugar
2 teaspoons cardamom
2 teaspoons Chinese five spice
1 teaspoon Allspice
2 oz. of dried pectin
Directions
1. Blanch and skin peaches.
2. Cut into smaller pieces and quickly puree, leaving a few chunks.
3. Place peach puree in saucepan with sugar and spices and start to cook down.
4. Cook until it thickens and becomes dark and gooey.
5. Sprinkle powder on the top of the cooked puree and stir in to avoid clumps.
6. Cook for another few minutes and place into pint size freezer jars.
7. Leave about an inch from the top to allow for space when freezing.
8. Label with the date. Your jam will keep for up to a year in the freezer.
Buying locally and supporting local growers, farmers, and artisans has been a top priority for Harmons for 82 years. Visit any of our 16 locations for a wide selection of fresh, local produce and other products! You can also learn even more delicious peach recipes in our upcoming cooking class featuring "All Things Peaches."
Take a gander at other Ask a Chef articles.
×