Estimated read time: 7-8 minutes
This archived news story is available only for your personal, non-commercial use. Information in the story may be outdated or superseded by additional information. Reading or replaying the story in its archived form does not constitute a republication of the story.
NORTH SALT LAKE — Familes in homes along a hillside here remained displaced following a massive landslide that crushed one house, damaged a tennis and swim club, and placed other homes directly in harm's way Tuesday morning.
Evacuations for three families could be in place for a week or longer as daylong emergency work began Tuesday. A total of 27 homes had been evacuated throughout the day.
Many residents were allowed to return to their homes Tuesday evening but were cautioned the earth may continue to move. Crews must wait for the area to dry out from persistent rain storms that battered the area Monday and Tuesday before a more permanent solution is found.
"They're welcome to come back in, but they need to understand there still are risks out there, that it could move," said Barry Edwards, North Salt Lake city manager. "We didn't anticipate last night that we would be here today, and though the weather may be a little more predictable today, just be aware that if they come back in to be careful, be vigilant."
Four houses, one of which is vacant, remained particularly at risk — three alongside the badly damaged home on Parkway Drive, and a fourth house on Parkway Circle, Edwards said.
The slide buckled and crushed a home near 739 Parkway Drive. Next door to the home, the Eagleridge Tennis and Swim Club was also damaged. Officials shut down access to Eagleridge Drive leading up to the scene.
The family whose home was destroyed declined to comment Tuesday.
The top of the hill where the landslide occurred is about 200 yards above the base of the tennis court, where a portion of rock and soil about 500 feet wide sloughed off the hill and came to rest behind the home and the tennis club.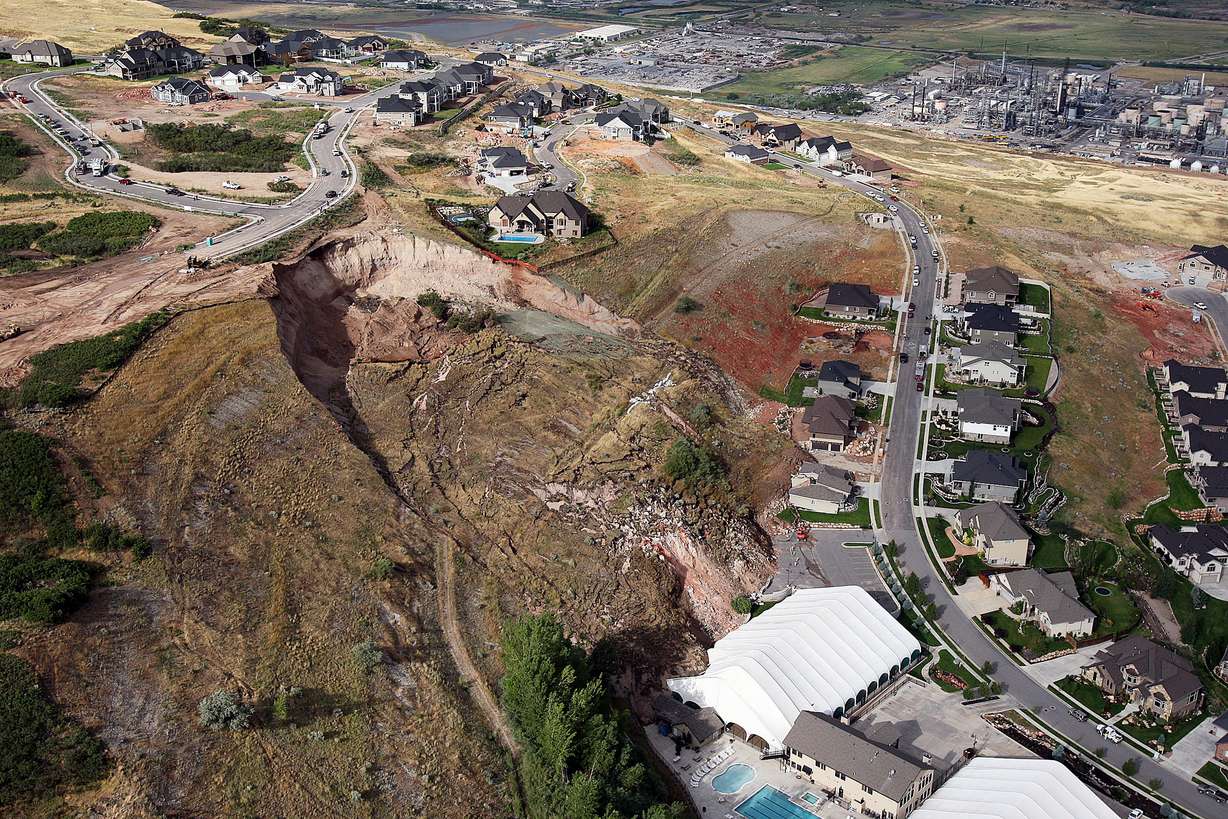 Julie Chapman, who lives across the street from the Eagleridge Tennis and Swim Club where she works, described what she saw about 6:15 a.m. when the earth moved.
"It was really loud," Chapman said. "It would come in sections. Then it came and hit the house, then it would hit the court, then it would slow down and just a few rocks were coming down. And then, all of a sudden, another big section just would come down.
"It was really scary," she said. "I was thinking, 'Please don't let it go across the street to my house.' I felt really bad. It's where I work. It's the community I live in. It was sad to watch."
Power and water was available as residents returned to their homes Tuesday, but gas lines in the neighborhood are expected to remain shut off for three to seven days. Crews can't get in to the damaged home to shut off gas flow to a line that was broken when the house was ripped from its foundation, requiring a shutoff for the surrounding area.
"No one is willing to get in there and dig around it. That could set off another set of events," Edwards explained to the North Salt Lake City Council in a work session Tuesday.
The area has been a concern for officials since last fall when there was cracking in the soil below Pace Lane, according to Paul Ottoson, city engineer for North Salt Lake. The cracking started again in the early summer, and a few weeks ago "we got very concerned about it," he said.
Developers began removing soil material from the top of the hill last week in an attempt to alleviate the downward pressure and to lessen the angle of the slope.
City officials warned residents in the development Monday to move their belongings out of their basements. A rock wall was already damaged Monday, and the moving soil was audible, Edwards said.
"Unfortunately, because of the rains we've had recently, especially last night, we had a very serious event," Ottoson said.
The cause
North Salt Lake Mayor Len Arave said the slide was largely caused by moisture permeating the soil and causing it to slide down across an underlying layer of bedrock.
"Although it's been going on for some time, we're still doing studies and trying to research problems and causes and solutions," Arave said.
Residents such as Dawn Perreault said they have been concerned about the possibility of a slide for months.
"It's a totally unstable hill. There's springs and rivers running through that hill," she said.
Perreault said she doesn't believe developers should have been permitted to build in the area.
"I've been having this nightmare for years," she said.
Crews from Sky Properties, the developers of the area, were on the scene Monday evening pushing soil against the rock wall next to the home that was later crushed. Their efforts were no match for the massive slide that followed about 10 hours later.
Monday's rain "was the final triggering mechanism," according to Kim Harty, deputy director for the Utah Geological Survey.
Scott Kjar, a co-owner of Sky and developer of Eaglepointe Estates, issued a statement Tuesday in response to the damage and criticism from area residents.
---
There is some shifting in the ground that we're concerned about. So for the safety of the residents, we're asking them to leave the residence.
–Thomas DeCarlo, North Salt Lake police
---
Geologists from Harty's office said they do not believe the landslide will continue to move down the slope. North Salt Lake police, however, remained concerned that other homes may be impacted and asked residents not to approach the area.
By late afternoon, rain again began falling and area residents and public officials kept a sharp eye on the hillside.
"There is some shifting in the ground that we're concerned about," said North Salt Lake Police Cpl. Thomas DeCarlo. "So for the safety of the residents, we're asking them to leave the residence."
Soil removal
Crews used earth-moving equipment Tuesday to remove soil from the top of the hill as they tried to alleviate the pressure and prevent future landslides. They were on the scene above the tennis club at 711 Parkway Drive to slow the slide.
"Right now, today, we're trying to move earth. Right now, we're trying to save houses," Edwards said. "Right now, we have one (home) that's been damaged and nobody else's has been, and we're trying to keep it in that spot."
Utilities on the street were shut off as a precaution. Fire officials had worked with Questar and Kern River to shut off and blow out gas pipelines in the area.
Swimming pools at the tennis club and at a home near the slide were drained to reduce weight on the hillside and so the water wouldn't accelerate the slide should it continue, according to South Davis Metro Fire Chief Jeff Basset.
"We're just planning ahead for the next phase," Basset said. "What we're doing is we're building a berm above the slide area. In the event that we have a large amount of rain, we don't want the rain to go over and down into the slide. So the heavy equipment up top is building a berm to try and guide that water down Parkway Drive."
Porter Weston, 10, said he lives near the tennis and swim club. He woke up and was told by his mother that they needed to evacuate. When he went outside to look at the damage, he saw a home collapse.
"As I was out there, I saw the front of someone's house collapse, and it was just kind of scary," he said. "I was thankful that that wasn't our house."
An evacuation center was established at the LDS Church building at 351 E. Lofty Lane, officials said. The Red Cross is providing food, shelter and clothing for evacuees. Two families were in the evacuation center Tuesday afternoon.
Contributing: McKenzie Romero, Mary Richards, Tracie Snowder, Nkoyo Iyamba
View Eagleridge Tennis & Swim Club in a larger map
×
Photos
Related links
Most recent Utah stories