This archived news story is available only for your personal, non-commercial use. Information in the story may be outdated or superseded by additional information. Reading or replaying the story in its archived form does not constitute a republication of the story.
MOAB — One of the most influential East Coast Democrats in Congress took a whirlwind two-day tour of Grand County, cruising the Colorado to a Sons of the Pioneers tune and taking in the splendor of the northern Window Arch at Arches National Park.
Rep. Elijah Cummings, D-Md., the ranking Democrat on the House Oversight and Government Reform committee, said folks back home would still think he was crazy if he donned cowboy boots and a hat, but he acknowledged he gained a greater appreciation for Western issues. And that was the point.
"It has meant a lot to me to hear the concerns, see the landscape," he said, sporting a pair of loafers. "I cannot imagine hearing about these kind of issues in the future and not having a picture in my mind."
Cummings was in Utah Sunday and Monday at the invitation of Rep. Jason Chaffetz, R-Utah, who also sits on the committee with Cummings. Chaffetz toured Cummings' home district in early July, visiting an AIDS clinic and an urban center aimed at getting troubled young adults back on track.
Chaffetz said the two decided to "trade" visits to home districts to gain a better understanding of challenges that dominate the vastly different regions — and to build political bridges that seem rare in today's Washington.
"We have a number of issues that are uniquely Western, and to see, feel and touch them in person is critical," Chaffetz said. "I think we shared a wide array of issues, from the Endangered Species Act, to public lands to designation of a national monument, to economic development issues."
---
It has meant a lot to me to hear the concerns, see the landscape. I cannot imagine hearing about these kind of issues in the future and not having a picture in my mind.
–Rep. Elijah Cummings, D-Md.
---
On Sunday, Cummings flew over coal country in Carbon and Emery counties, got a close-up look at Scofield Reservoir where a cabin ownership dispute is playing out with the U.S. Bureau of Reclamation, and touched down in Moab, where he took an evening cruise on the Colorado River, not far from a federal removal site of 16 million tons of uranium tailings.
On Monday morning, he got an earful from a collection of rural county commissioners who detailed the critical nature of land-use decisions because of how much acreage in Utah is held by the federal government. And that was followed by an hourlong town hall meeting in Salt Lake City on "The Doug Wright Show" on KSL NewsRadio.
Emery County Commissioner JR Nelson said the Antiquities Act — which gives the president the power to declare national parks and monuments — may have been a good idea in 1906, but not anymore.
"I have to tell you, don't let a president, by the stroke of a pen, create a monument and tie up this land," he said.
Lynn Jackson, Grand County Commission chairman, said revenue from a recent uptick in oil drilling has generated funds that paid for the building hosting the roundtable discussion Monday morning, and kept the hospital across the street from closing its doors.
The area, he said, was nearly crippled when the market fell out of uranium in the 1950s, and the county wants to ensure that its recreation economy is diversified, bolstered by mineral development.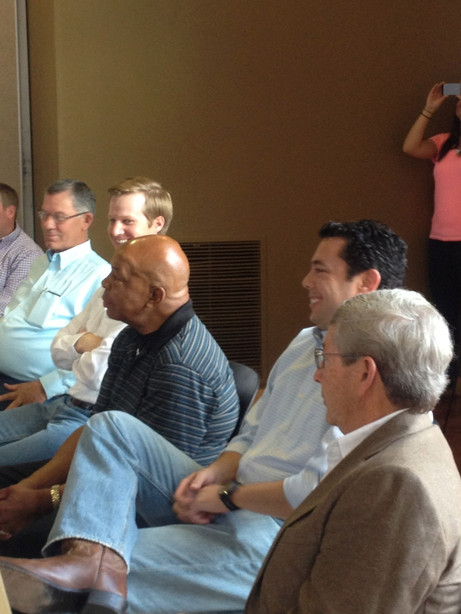 "I don't believe the 1906 Antiquities Act was ever intended to do what is now being done," he said. "So when 14 senators from nowhere near Utah write letters to tell the president what to do with our county, we are very resentful of that."
Utah's top political leaders and rural county officials across the state are vigorously fighting an effort led by environmentalists that calls for the creation of the Greater Canyonlands National Monument. The active campaign seeks the use of the Antiquities Act to set aside 1.8 million of acres around Canyonlands National Park to protect landscapes from any more oil and gas development or potash mining.
Last week, a collection of Democratic senators wrote a letter to President Barack Obama, urging him to create a conservation "legacy" through the monument designation in Utah.
Such a move would upend a process led by Rep. Rob Bishop, R-Utah, and Chaffetz to introduce legislation that would designate new wilderness, create recreation zones and carve out places that are appropriate for energy development in Utah. The so-called "Grand Bargain" has involved meetings and field trips with hundreds of stakeholders across Utah, with the idea of hammering out a compromise that would put a lid on litigation over land use.
Bishop has said he believes that as long as the process is moving forward, the Obama administration is not as likely to create a new monument in Utah given the amount of consensus reached among divergent groups.
Chaffetz told Cummings in the roundtable discussion that it is vital Utah begin to have certainty over land use decisions involving the federal government.
"One of the things I want to help drive home is this issue about certainty," he said. "The people here love this land, they care about it. They are not just here to use it and move on. … They live in this world of uncertainty and with the federal government you don't know if you are coming or going. That is what I think is so unsettling. If somehow we can get to a place where they have certainty in their lives, we will have accomplished a lot."
Chaffetz also noted that Obama's declaration of the Harriet Tubman Underground Railroad National Monument in 2013 in Cummings' home state of Maryland may have involved some land — but the proposed Greater Canyonlands National Monument is 122 times larger.
Afterward, Cummings would not say if he agreed with the premise of the letter sent by his colleagues or if he thought it ill-advised — he said he hadn't seen the letter — but he noted his own understanding of the issue had increased greatly.
"Maybe, just maybe, a visit by a few of them would afford a different perspective and maybe more importantly lead to more balance and a compromise on some of these issues" he said. "It is very difficult to make decisions when you do not have sufficient information."
The pair finished up the day with a visit to Welfare Square to view the humanitarian operations of The Church of Jesus Christ of Latter-day Saints.
×
Photos