SALT LAKE CITY — In a recent article published in the Wall Street Journal, Orem-based running shoe company, Altra, was mentioned among heavy-hitters Nike, Saucony and Adidas.
Altra was credited as an innovative company merging the two extremes in running shoes: no shoes at all and conventional "chunky, cushioned heel tapering to a low, narrow toe" running shoes.
"Runners are steering away from shoes with bells and whistles," notes author Rachel Bachman in the article.
Citing recent data from market research at NPD Group, Buchman noted that "so-called stability shoes fell to 45 percent of total sales from about 58 percent in 2008, and 'motion-control' shoes declined to 4 percent from 11 percent. … By contrast, the share of road-running shoes that fall into the so-called neutral category, which doesn't include stabilizing features, has grown to 51 percent from 31 percent in the same period."
In response to the article, Altra head ambassador Leslie Howlett credited the design of the shoes.
"The biggest reason I think Altra has grown so much is a foot-shaped toe box," Howlett said. "People are so used to a shoe that is pointed. Watching people try the shoes on for the first time never gets old. Their eyes open to the idea and feeling of a shoe that doesn't squeeze their toes. It's amazing.
"The zero-drop has helped people feel and run better from better body alignment and the lack of heel striking. Leaving cushion in our shoes is essential for most people too. We really did marry the benefits of barefoot and cushioning."
To read more, visit the Wall Street Journal or Altra's website.
---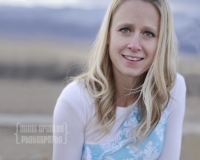 About the Author: Arianne Brown
Arianne Brown is a mother of six who loves running the beautiful trails around Utah. For more articles by Arianne, "like" her Facebook page, follow her on Twitter @arimom5, or visit her blog, timetofititin.com. If you have a story to share, contact her at ariannebrown1@gmail.com.
×
Photos
Related Links
Related Stories