This archived news story is available only for your personal, non-commercial use. Information in the story may be outdated or superseded by additional information. Reading or replaying the story in its archived form does not constitute a republication of the story.
SALT LAKE CITY — The Beehive State remains among the best states in the country to find a job.
The Utah Department of Workforce Services reported Friday that Utah is tied for the second lowest unemployment rate in the nation, as the state's jobless rate dropped slightly to 3.5 percent from 3.6 percent last month.
Utah's current employment level registered at 1,335,900. Approximately 51,100 Utahns were unemployed in the month and actively seeking work, according to the department.
Nationally, the U.S. unemployment rate registered at 6.1 percent with job growth at 1.9 percent for the most recent 12-month period.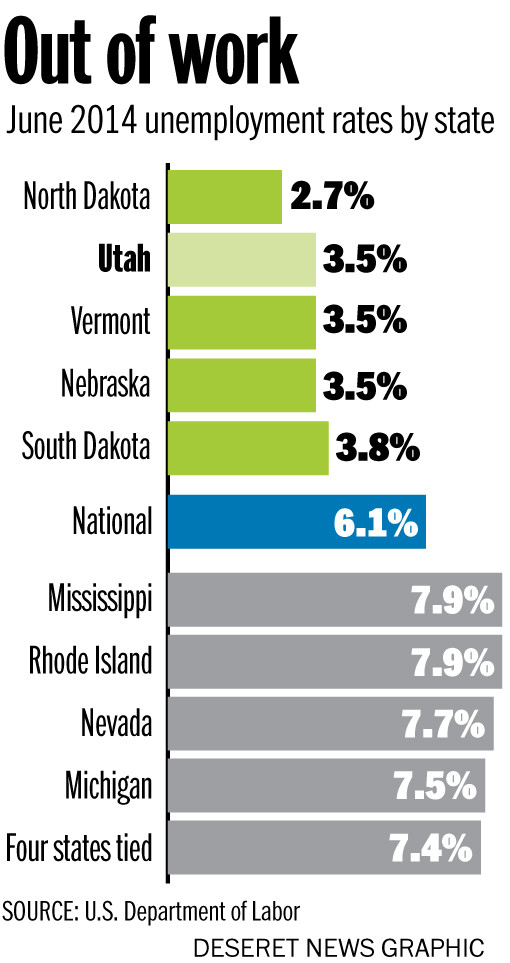 The state's economy has added 44,600 jobs to its rolls since June 2013. The Department of Workforce Services reported that all of Utah's private sector industries registered job increases in July with the largest increases occurring in trade, transportation and utilities — which added 9,100 jobs — followed by the construction sector which added 6,900 jobs year-over-year.
"It's great news that our unemployment rate continues to drop and we continue to see more Utahns back at work," Gov. Gary Herbert said in a prepared statement. "We are third in the nation in both overall job growth (3.5 percent) and private sector job growth (3.7 percent)."
Job growth in June was the highest thus far this year, the report states, both in terms of rate and numerical change compared to the same period last year.
"Seeing such a significant jump in our job growth numbers speaks volumes to the health of our expanding economy," said Juliette Tennert, chief economist for the Governor's Office of Management and Budget.
×
Photos
Related Stories