Estimated read time: 2-3 minutes
This archived news story is available only for your personal, non-commercial use. Information in the story may be outdated or superseded by additional information. Reading or replaying the story in its archived form does not constitute a republication of the story.
AUSTRALIA — People who love electric guitars and classic cars are in luck.
Dave Gartland draws inspiration from classic cars when designing his Ali Kat handcrafted aluminum guitars — he has even incorporated elements of the old vehicles, like working tail lights, into the instruments.
"I'm never going to be able to afford one of these cars, but I thought if I could build myself a '57 Chevy guitar, that would be pretty cool," he told Hoon TV. "Then I decided to make a Cadillac guitar and add the lights and it sort of went from there."
The guitars are available for custom order and can take up to 165 hours of manual labor to create, according to the Ali Kat website. He often makes guitars that match cars his clients own. One of the guitars he designed was based on the classic Batmobile.
Actual parts from the cars have been known to end up on the guitars. The second classic car-inspired guitar Gartland built, based on a 1959 Cadillac, included an original dash script emblem.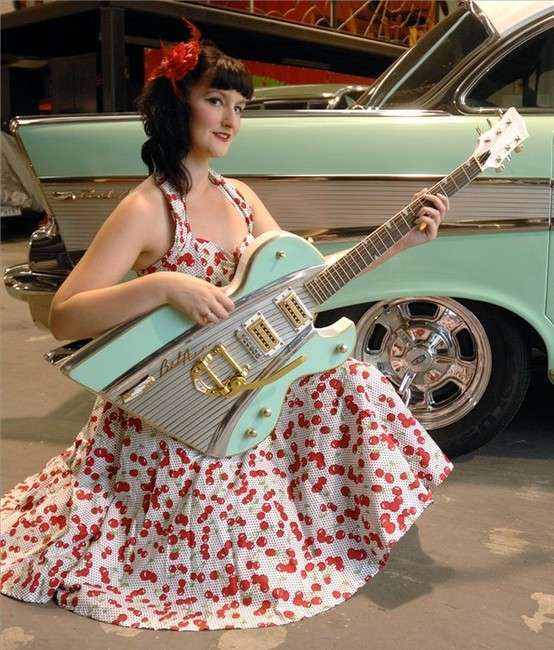 Gartland, who is a sheet metal worker by trade, said he had always been interested in making a double bass out of metal because of his passion for rockabilly music. He made his first bass of out of aluminum in 2010 and then started building original guitars influenced by 1950s designs as a hobby.
In addition to the classic car guitars, Gartland has also designed guitars and basses inspired by motorcycles and his love of American kenpo karate. All of his creations are welded, polished, painted and assembled by hand.
The name "Ali Kat" is derived from the material the guitars are made out of, aluminum, and the phrase "kool kat." A debut Ali Kat CD featuring blues artist Chris Finnen playing a '57 Chevy Delux was recently recorded.
×
Photos
Related links
Most recent Features stories