Estimated read time: 7-8 minutes
This archived news story is available only for your personal, non-commercial use. Information in the story may be outdated or superseded by additional information. Reading or replaying the story in its archived form does not constitute a republication of the story.
HOLLADAY — A Utah man suffering from the heartbreaking illness known as Lou Gehrig's disease has launched an Internet radio show and is hoping it will give an extra push to a scientific effort to understand the baffling ailment.
Seth Christensen and his wife, Amy, are spearheading the effort and believe it will open lines of communication between scientists, victims, doctors and the public.
"To share their information, to move this disease forward as quickly as possible so that we can crack the code, so we can find the cure" is the goal, Amy Christensen said.
There is real hope of a breakthrough someday, perhaps in Seth Christensen's remaining lifetime. Some of those hopes revolve around a unique tool that researchers have in Utah: a database that combines genealogical records with health and population data.
"We do hope that we are on the cusp of understanding this diagnosis better," Seth Christensen said in a halting voice, noticeably weakened by the ravages of the disease.
The victims: An American family
The illness, formally called amyotrophic lateral sclerosis, or ALS, often robs children of their father in the prime of his life. Seth is 39 and started experiencing ALS symptoms at age 34. He and Amy have four children, ranging in age from 4 to 13.
When the Christensen kids get rambunctious, as they did in a recent game of backyard lacrosse, their dad is with them in spirit, even if his body keeps him out of the game.
Seth doesn't know how many years he has left, so he tries to make every interaction with his children as meaningful as possible. Indeed, he goes out of his way to find things to do with his kids.
---
We definitely have changed the way we live as far as intensity. We don't take time for granted. We just can't. We don't have that option.
–Amy Christensen
---
"You talk to them as if you wanted them to remember that thing forever," he said.
"We definitely have changed the way we live as far as intensity," Amy said. "We don't take time for granted. We just can't. We don't have that option."
The disease steals time as surely as it steals away the body. ALS progressively shuts down nerve cells that control muscles.
Commenting on the frustration of living — and perhaps dying — with a disease that remains a mystery to science, Seth said, "I have had no treatments that have altered the course of my case."
"We've searched the world," Amy said. "That's what you do."
Seth is luckier than most ALS victims. They usually die in two to five years. Gehrig, the beloved baseball player whose name is forever linked to the disease, had less than two years to live when he made his famous retirement speech at Yankee Stadium. Exactly 75 years ago this Fourth of July, Gehrig told his fans, "Today I consider myself the luckiest man on the face of the earth."
Seth may be luckier. He's had Lou Gehrig's disease for five years already, and it hasn't progressed significantly.
"My progression has been a gift in many ways," he said as he watched his children playing in the backyard. "It's been much slower than the typical patient, and we're grateful for that."
The researchers: Hope in the database
"What about pulling your arm up toward you, if you're able?" Dr. Summer Gibson asked as she gave Seth a neurological exam. "OK. Excellent," she said as he slowly lifted his arm.
Gibson is one of many scientists around the world trying to fit together the pieces of the ALS puzzle. That includes a major research effort at the University of Utah, where funding from the Muscular Dystrophy Association supports an ALS clinic.
---
You can't sit in clinic, watch these patients, work with our families, and not want to find an actual cure. My goal is not to find a gene. My goal is to find a cure.
–Dr. Summer Gibson, U. ALS clinic
---
"Some people with this disease do live a really long time," Gibson said. "And that's one of the mysteries that we don't understand."
Such cases of long-term survival with ALS are very rare. Few victims have been lucky enough to live into their 70s, as famed physicist Stephen Hawking has.
The larger point is that scientists don't really understand why ALS affects its victims in so many different ways, and why so many so many different genes seem to play a role. They don't know if it will be possible to isolate a single genetic defect at the root of the disease.
Even if they can't zero in on a single gene, Seth said, he hopes researchers will eventually sort out the genetic variations that lead to different types of ALS. That might lead to individualized treatments and better forecasting of the course of the disease.
While taking a break from her neurology exams, Gibson said, "You can't sit in clinic, watch these patients, work with our families, and not want to find an actual cure. My goal is not to find a gene. My goal is to find a cure."
For the past two years, University of Utah researchers have been collecting blood samples from ALS patients. In a campus laboratory, they extract DNA from the blood, looking for genetic clues. The goal is to find genes that ALS victims have in common.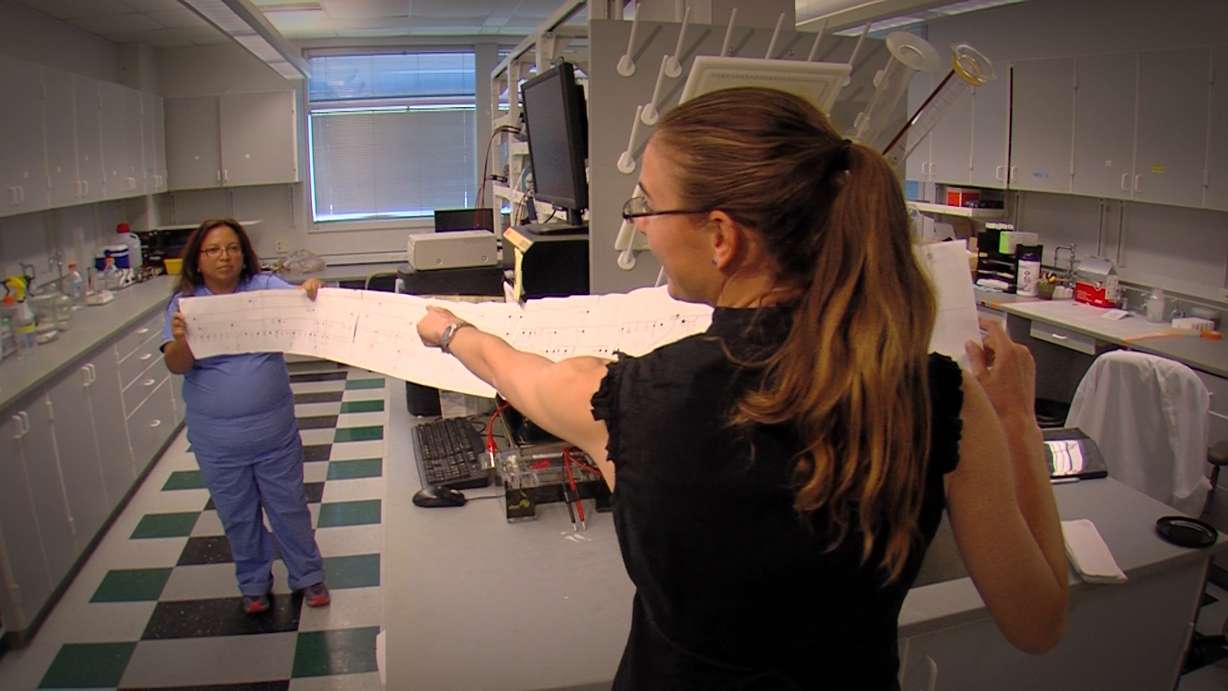 #doc_pic
One of their most potent research tools is a computer archive known as the Utah Population Database. It combines Utah health records, including the Utah Cancer Registry, with genealogical data compiled by The Church of Jesus Christ of Latter-day Saints.
The data allow researchers to reconstruct sprawling family trees, tracing relatives back through many generations and across many branches loaded with distant cousins. They're looking for relatives who also suffered from ALS, and the more distantly related they are, the better it is for the research.
"When people are really close and they're siblings," Gibson said, "they share so much. But when they're way spread down the line, then they share very little."
Pointing down the length of a family tree chart that stretched halfway across her laboratory, Gibson said, "What we do is try to link people that are distantly related that may not know their cousin, way over there, but may share genes in common that may cause the same disease."
If victims share just a few genes, researchers may be able to isolate the ones that cause ALS. That may lead to the development of new drugs for ALS patients. It's part of a worldwide effort that Gibson hopes will lead to a drug that cures all forms of the disease.
"I think it will happen," Gibson said. "It's just a matter of when."
The project: A man, a boy, a car
Seth is savoring the time he has left, not knowing if he can expect a lot of time or just a little. Lately he's been working on a very special project with his 13-year- old son, Sam. It all began when Sam informed his dad that he wished he could have a 1968 Camaro.
"In the typical life," Seth said, "you'd sort of blow that off and go, 'Yeah, we all do.'"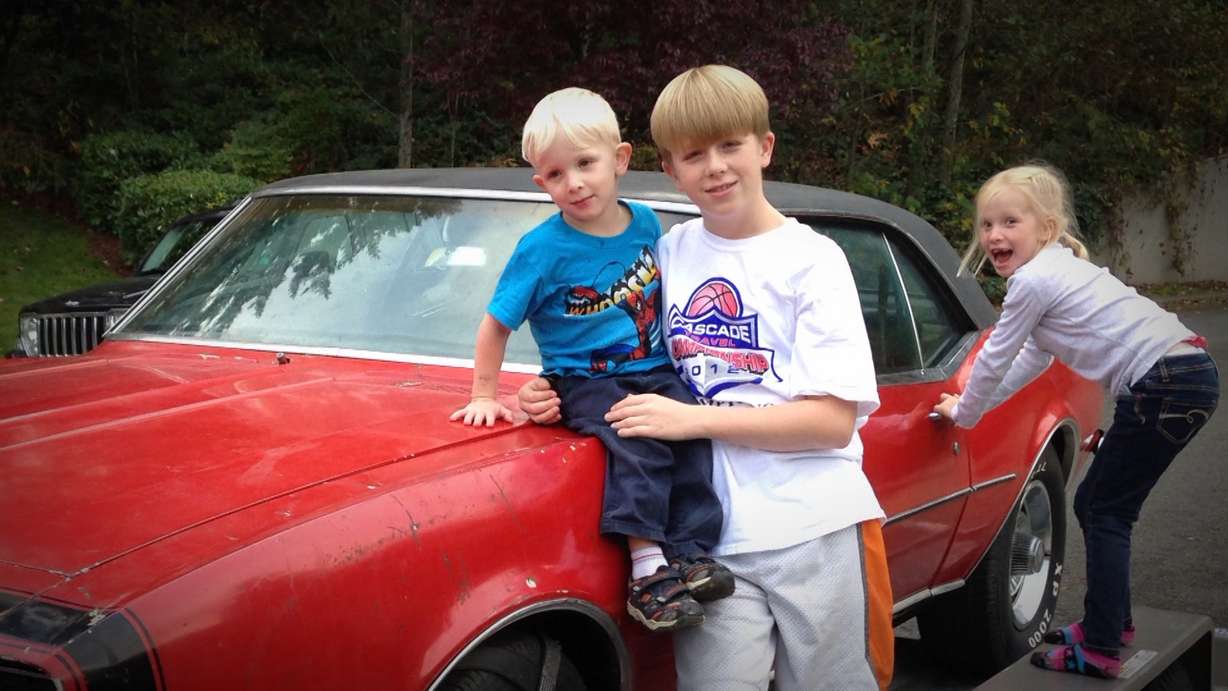 #car_pic
But instead of blowing off the idea, they went out and bought a '68 Camaro. Now they're working together, father and son, to restore it. The Utah Auto Body Association is playing a major role: The organization adopted the Christensens' '68 Camaro as their project of the year.
The hope is that father and son might someday hit the road together, perhaps entering some car shows, with the restored automobile.
"This car project has always been about Sam and I having a chance to work together and to have time … ," Seth said, unable to complete the sentence.
His voice broke as he bowed his head and seemed to be near tears. Amy wiped away her own tears as the couple contemplated the uncertainty of not knowing how long the family would have a dad.
The Christensens said their hope has always stemmed from their religious faith, but they find hope in science, too.
"We can crack this puzzle," Seth said, "and (I hope) that I will be one of the last diagnosed who have this."
When asked if he believes the disease will be literally killed off someday, Seth said, "Completely. I believe that."
×
Photos
Related links
Related stories
Most recent Utah stories