Estimated read time: 4-5 minutes
This archived news story is available only for your personal, non-commercial use. Information in the story may be outdated or superseded by additional information. Reading or replaying the story in its archived form does not constitute a republication of the story.
SALT LAKE CITY — Mariah Genck stood in her kitchen on a Saturday night four months ago washing dishes with Tanner Larsen. Though they had met months earlier, it was their first date.
Genck, 19, was immediately drawn to Larsen and his desire to evolve from a good person to a great person, she said. The two talked for hours, and Genck said she didn't want him to leave.
She invited Larsen, 22, to join her at the St. Vincent de Paul Dining Room the following Monday where she regularly fed those without a home.
The couple continued washing dishes together each week at the soup kitchen as their relationship deepened.
Larsen said he knew that first Saturday night he would marry Genck. His friends led Genck on a scavenger hunt from the location of their first date, first kiss, to the dining room, and then the library where he proposed.
They couple plans to be married Saturday in The Church of Jesus Christ of Latter-day Saints' Bountiful Temple.
On Friday, men and women looking for a hot meal and comfort attended a luncheon at Pioneer Park that would normally just be shared with friends and family of the bride and groom.
"Sweet Mariah had the luncheon all planned, and she came to me and she said, 'I want to feed the homeless,'" said Elisa Vuyk, Larsen's mother.
Friends and strangers moved through the food line to live music, filling the space between tables covered in white cloth, each with a centerpiece of a small log and angel wings.
Vuyk said she initially was nervous about what the family would think of opting out of a traditional luncheon.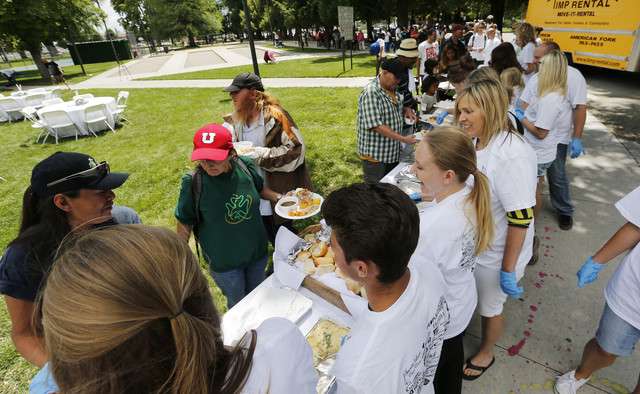 "Someone said to me, 'You're going to go from such a sacred wedding to feeding the homeless?'
"I said, 'That's it. Because this is so sacred. This is a sacred thing, and they go feed the homeless every week,'" she said. "I thought, you know, I'm going to make this happen for them."
Vuyk, executive director of the Giver Alliance, teamed with Catholic Community Services and Angels in Action and many donors for the luncheon they called a Celebration of Love, Angels in Action.
Genck and Larsen are made for each other, Vuyk said. They both love America and the Constitution. They value education, service and love.
"I wish every young couple could actually be so outward focused," Vuyk said. "They care so much about other people. I know they're going to care about each other as well."
Robert J. Strickland sat at one of the tables enjoying what he said was the best baked potato he'd had in an long time.
"It's wonderful," he said. "All the support, it is simply amazing."
Strickland said a struggle with alcohol left him homeless a year ago.
"They're doing a good thing for a person in my situation and many others," he said.
Susan Turner also attended the luncheon Friday and said the couple's hearts are in the right place.
"It's nice to celebrate a happy occasion when your life is down a little bit," she said.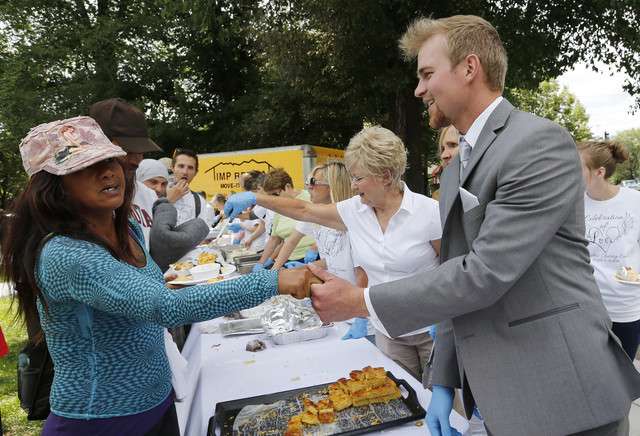 For Turner and her boyfriend, Tim Covet, the luncheon was more than just good food and merriment.
"We actually met in this park while being homeless. So this is kind of fun for us as a couple just to kind of say, 'Aw, love," she said, smiling at Covet.
Larsen said his soon-to-be bride has the best heart of anyone he's met. She is his inspiration, he said.
"Life has a tendency to beat the dreams out of you, the dreams and your aspirations," Larsen said.
"I had big dreams and aspirations as a kid to make a difference in the world and do great things. I think most people do. But then they just let life squish it out of them. They just get busy," he said. "(Genck) kind of reminded me of a whole bunch of those things that were important to me deep down, that I really wasn't giving attention to because I was just getting caught up in life."
Genck said Larsen is her best friend and her hero.
"I just love how good he is and how he shines with the light of Christ," she said. "That's so important to me. His eyes are my favorite feature of him because I can see who he is inside. And I just love it."
Larsen said he and Genck will continue to serve in the soup kitchen. That is how their relationship began — in the kitchen doing dishes together.
"That's how it's going to continue," he said. "Washing dishes."
×
Photos