This archived news story is available only for your personal, non-commercial use. Information in the story may be outdated or superseded by additional information. Reading or replaying the story in its archived form does not constitute a republication of the story.
WEST JORDAN — A pianist whose life has been shaped by heart- related illnesses is using his talents to help a boy waiting for a heart transplant.
Paul Cardall, a No. 1 Billboard pianist from Utah, is hosting a benefit concert for 6-year- old Teagan Dash Pettit Monday. Teagan was born with hypoplastic left heart syndrome and is currently on the waiting list for a heart transplant to save his life, according to his mother, Brytten Pettit.
"Paul himself had a heart transplant about five years ago and he approached us and asked us if he could do this concert for us because he's a friend of ours and he wants to promote congenital heart defect awareness," she said.
Teagan underwent three open heart surgeries before suffering severe complications and developing plastic bronchitis. Pettit said a heart transplant is the only option left to help save his life. He has been on the heart transplant list for 61 days and is currently designated as a 1A, which is the list's most urgent status.
The spunky 6-year-old plays the drums and loves superheroes, according to his mom. His middle name, "Dash," comes from the speedy character in "The Incredibles."
Heart of a Child Benefit Concert
Location: Copper Hills High School
Silent Auction and Pizza: 6:30 p.m.
Concert: 7:30 p.m.
Pettit said she hopes a heart will become available to save her son.
"We're not praying for anyone else to go through what we're trying not to go through, which is having to bury a child, but we're trying to help people say yes when they are asked to donate their child's organs," she said. "I know it's going to be asking them a lot on their very worst day to save my child, but it would just be the greatest gift we could ever receive — a true miracle."
Teagan has spent most of the past year in the hospital, including his birthday in March. During that time, Cardall has come to visit the boy.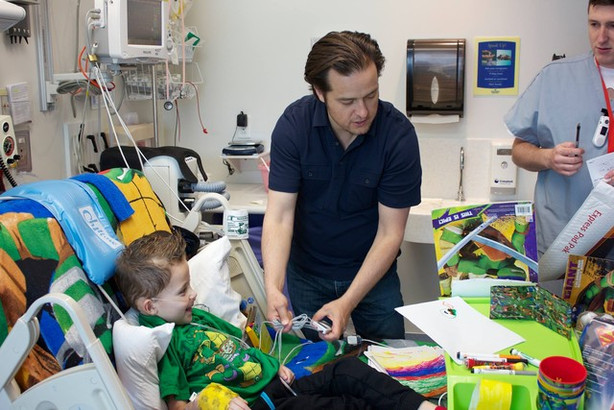 Pettit became friends with Cardall while she was serving as the president of Intermountain Healing Hearts, a support group for families dealing with congenital heart defects. She spoke at a benefit gala held to help Cardall receive a heart transplant, and they have stayed connected over the years.
Cardall was also born with life-threatening congenital disease and has battled heart illness throughout his life, according to his bio. He said his experiences have influenced his music and he has continued to promote various causes involving congenital heart disease.
Monday's concert will be held at Copper Hills High School. A silent auction will start at 6:30 p.m. The concert, which also will feature "American Idol" contestant Kenzie Hall, will begin at 7:30 p.m.
Tickets can be purchased online or at the door.
×
Photos
Related Links