Estimated read time: 2-3 minutes
This archived news story is available only for your personal, non-commercial use. Information in the story may be outdated or superseded by additional information. Reading or replaying the story in its archived form does not constitute a republication of the story.
PROVO — Water can bounce like a ball off of a new waterproof surface created by researchers at Brigham Young University.
The super-hydrophobic surface has a lot of unique applications for future technologies, including self-cleaning products, researchers said. The waterproof surface could be used on automobile surface coatings, window glass and solar panels, among other products.
"What happens is if you put water on one of these surfaces, it will bead up and actually pick up the dirt as it becomes a ball," mechanical engineering professor Julie Crockett said. "Then it will just roll off instead of dragging the dirt down the surface."
Crockett and her colleague Dan Maynes have been studying the way water interacts with super-hydrophobic surfaces for decades. They recently published a study on their findings in the journal Physics of Fluids.
The surfaces are created by combining etchings of micro-scale features that aren't visible to the human eye with a chemical coating like Teflon. The result is a thin super-hydrophobic surface that can more efficiently repel water.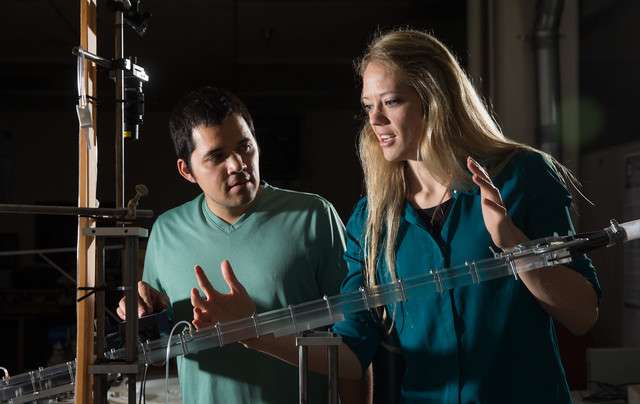 "Think of it as regular waterproof material on steroids," Maynes said.
A future application for the surface could be to improve clean energy. Researchers said a common problem with solar panels is keeping the surface clean, so the super-hydrophobic surface could help dirt run off of the panels. The surfaces could also improve the condensation process at power plants, researchers said.
Other applications include preventing ice from forming on the wings of airplanes during winter and reducing the drag on objects that interact with water, researchers said.
"If you have a ship or a torpedo or something moving through water and you want to reduce the drag, which of course is of great interest to the Navy, then these types of surfaces have opportunities to make them faster because there is less resistance to them," Maynes said.
Crockett and Maynes plan to continue researching the super-hydrophobic surfaces so they can learn more about the physics involved and fully understand their potential. They are receiving funding from the National Science Foundation.
"We recognize that there are many applications, but without understanding the dynamics of how water will move on these surfaces the difference applications can't really be optimized," Crockett said.
×
Photos
Most recent Utah stories