SALT LAKE CITY — The rockets' red glare may be beautiful, but the smoke it creates isn't.
Salt Lake City Mayor Ralph Becker wants to cancel next year's city-sponsored fireworks shows at Jordan Park on the Fourth of July and at Liberty Park on Pioneer Day because of both the air pollution they create and a tight budget. But City Council Chairman Charlie Luke said the fireworks displays bring people together.
The City Council is expected to debate the issue when it looks at the city's proposed 2014-2015 budget during its meeting on Tuesday, June 3.
"It makes us all more aware of things that we do as a city, that the community does that affects our air pollution and that is, I think, our biggest threat to both our health and our economic prosperity," Salt Lake City Mayor Ralph Becker said. "And we are going to have to look at almost everything we do that contributes to that air pollution, and this is one of them from where the city is financially contributing to air pollution."
David Everitt, the mayor's chief of staff, said the office has heard from residents who want the city to keep funding the fireworks, and those who think it's time for the city to stop its funding because of the air-quality issues.
Eliminating the shows would save the city about $25,000.
Luke doesn't think canceling the shows makes sense.
"If we really are going to be looking at air quality as justification for behavior modification then, to me, it would make more sense to have the communal environment, the community setting at a community fireworks display," Luke said, "encouraging people to enjoy the fireworks there as opposed to setting them off in your neighborhoods."
Having people put together their own fireworks displays not only increases the chances someone might get hurt, but also increases the risk of fire, Luke added.
State officials aren't sure if canceling the shows at Jordan and Liberty parks next year would actually improve the air, given the displays in other cities and ballparks.
Typically, the day after fireworks shows the Department of Environmental Quality records spikes in PM2.5 levels and ozone levels. Last year on July 5, pollution levels for PM2.5 and ozone exceeded federal health standards.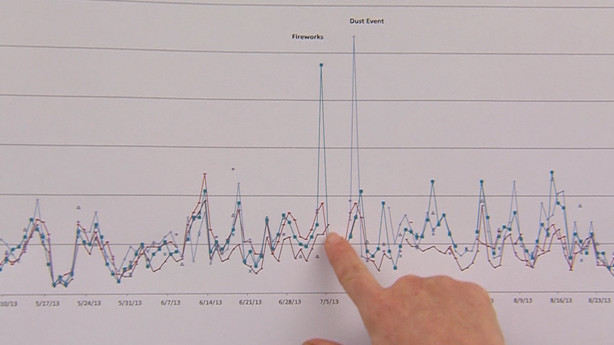 "The small particles that people breathe, it can lodge in your lungs, so it is a health concern," said Donna Spangler with the DEQ.
She said there are short-term acute problems. The pollution doesn't linger very long. "We're breathing it as the fireworks are going," she said.
Fireworks pollution is not pervasive like the winter inversions.
"If you have a big, concentrated area where there are a lot of fireworks, then you are going to see the spikes in that particular area," Spangler said.
But cumulative exposure for sensitive people can cause respiratory problems. Backyard fireworks typically present a greater risk than public shows.
"If you're a child, and you're lighting that sparkler, that child is being exposed to that type of pollution directly," Spangler said. "Now you are immediately impacted because you are very close to the fireworks."
Department of Environmental Quality officials plan to monitor the fireworks this summer and analyze the pollution. They say it remains to be seen if canceling a show will make a big difference.
"My gut instinct is that we will see some improvement, but we would have to analyze that data," Spangler said.
The mayor wants a healthy discussion on what people are willing to give up in order to breathe cleaner air. Part of that discussion is looking at other ways to celebrate those holidays.
"Some of the things that are happening with laser lights and other kinds of illumination techniques are really impressive," Becker said. "And that may be a way to illuminate the sky, (and) not have both the noise and the air pollution effects."
Contributing: Peter Samore


×
Photos
Related Stories