Estimated read time: 5-6 minutes
This archived news story is available only for your personal, non-commercial use. Information in the story may be outdated or superseded by additional information. Reading or replaying the story in its archived form does not constitute a republication of the story.
BLANDING — Utah was once again the contentious stage for people taking a stand over what happens on public lands, when a fervent few dozen off-roaders embarked on an illegal ride Saturday into San Juan County's Recapture Canyon.
In 2008, it was Timothy DeChristopher who broke a federal law over what he feared would happen on land outside of national parks — drilling for oil and natural gas.
Six years later, it is a San Juan County commissioner who organized an illegal ATV ride to vent their frustration over what isn't happening — access.
DeChristopher was convicted for monkeywrenching a Bureau of Land Management oil and gas lease auction and sent to federal prison.
San Juan County Commissioner Phil Lyman ultimately urged riders to avoid illegal portions of the land Saturday, arguing that the ride had achieved its goal in raising awareness. Still, a bunch of ATV enthusiasts flouted federal trespassing laws and ventured into banned areas.
Juan Palma, Utah director of the BLM, said agents noted the illegal activity on the closed ATV trail and the agency will pursue applicable charges.
"We know from the archaeological record left behind in Recapture Canyon that the area was previously occupied for at least 2,000 years," Palma said in a statement. "Illegal ATV use within Recapture Canyon may have damaged many of these archaeological resources — all of which hold the history and tell the story of the first farmers in the Four Corners region."
The ride was organized by Lyman in protest of what he says is the agonizingly slow decision-making process of the BLM. The county is seeking right-of-way for a recreational trail in Recapture Canyon — a process that began more than seven years ago.
"People are hugely frustrated," said San Juan County Commissioner Bruce Adams. ATV trail closures, the threatened listing of the Gunnison sage grouse and a county with only 10 percent of its lands in private or state ownership is leaving residents and officials feeling pinched by the federal government at every turn, he added.
"People are ready to draw a line in the sand, they're ready to push back."
---
That's what we're here for, is to do the hard things and stand up and do what's right — and tell the federal government we've had enough.
–Cade Lewis, protest rider
---
This latest tempest in the West over federal land management policies drew a sympathetic audience with the Cliven Bundy family, who went toe to toe with BLM officials last month over unpaid grazing fees and a threat to seize their cattle.
Ryan Bundy, Cliven's son, made the drive from the family's southern Nevada ranch to lend Lyman his moral support, and rev up the crowd in the process.
Depite Lyman's urging to ride where it was legal to do so, Ryan Bundy rode in a prohibited portion of the land. He said staying where it was legal to ride defeated the purpose of the protest.
"Doing that accomplishes nothing," he said. "It basically shows cowardice to the federal government, toward the Bureau of Land Management. If we're here to make a stand, then for heaven's sake, let's make a stand."
Cade Lewis also participated in the ride Saturday and opted to go onto illegal land.
"That's what we're here for, is to do the hard things and stand up and do what's right — and tell the federal government we've had enough," Lewis said.
San Juan County Sheriff Rick Eldridge said deputies from three counties were present Saturday, but focused on keeping the peace, not enforcing any boundaries.
"Any citations, that will come from the BLM," Eldridge said. "They're the ones that closed the road."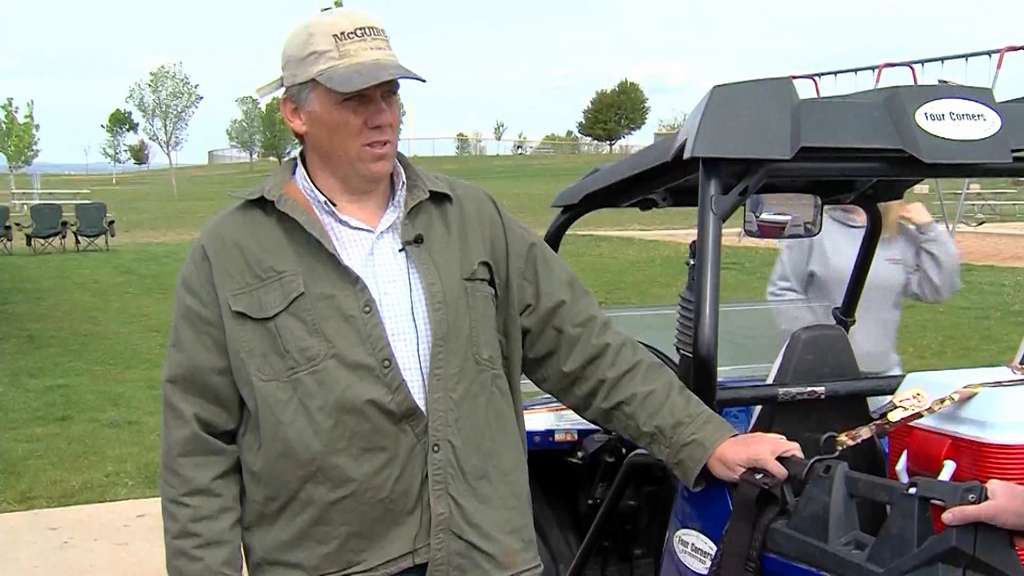 Some people who planned to attend the rally at Blanding's Centennial Park and observe the ride afterward decided to stay away.
"There was a small cadre of folks who know the canyon well and have been actively involved in garnering the limited protection it has with the closure," said Rose Chilcoat, associate director of the Great Old Broads for Wilderness. "We did not want to come to be part of the rally but to be a witness, to be a voice for the canyon and the values of the canyon."
She said news that Bundy-associated militia were going to show up led her to cancel their attendance.
"These people are nothing more than domestic terrorists. They are anarchists and are bringing violence to our streets. It is time for the FBI and U.S. marshals to step in. ... One stray bullet could be a tragedy and we just don't need that."
The 11-mile Recapture Canyon trail was closed to motorized access in 2007 by the BLM. Critics says the closure was arbitrary and unnecessary, thwarting the review process BLM must go through under the National Environmental Policy Act. Groups supporting the closure said the agency had to act swiftly because of the illegal road improvements that were tearing up the canyon and causing irreparable damage to precious Anasazi resources.
"Vehicle damage to vegetation and riparian areas can be repaired over time. Damage to archaeological sites is permanent and the information about our collective past is then lost forever," said Jerry Spangler, executive director of the Colorado Plateau Archaeological Alliance, a Utah-based organization that advocates for the protection of archaeological sites on public lands.
Spangler said the Recapture Canyon trail passes through six nationally significant archaeological sites that include residences and storage structures, as well as three religious structures known as kivas.
The canyon, he added, has "tremendous" spiritual significance to Puebloan groups such as Hopi and Zuni and to the Navajo.
"(The ride) is nothing short of a slap in the face to Native Americans who treasure the cultural resources of that canyon as part of their past and present," he said.
×
Photos
Related stories
Most recent Utah stories