Estimated read time: 3-4 minutes
This archived news story is available only for your personal, non-commercial use. Information in the story may be outdated or superseded by additional information. Reading or replaying the story in its archived form does not constitute a republication of the story.
SALT LAKE CITY — A BYU alumnus created a video that may be the new anthem for nerds everywhere, and it's blowing up the Internet.
Keith Allen, self-proclaimed nerd, had a vision. This vision included a parody video with great production values, strong vocals, killer costumes, choreographed dance breaks and nerds — lots of nerds.
Allen said he had the idea for his recently rising viral video "Talk Nerdy to Me" — a parody based on rapper Jason Derulo's "Talk Dirty to Me" — in February.
"I've always dabbled in film stuff, shooting videos with friends," Allen said. "I've dabbled in rap and lyrics also — I've been doing that for a couple of years."
Allen said when he had the idea for the parody, he didn't want it to be a slapdash affair that he "recorded in the kitchen" and "shot in the backyard."
"I had this vision for tons of costumes, tons of places, a really cool song that people would want to listen to, not even just on the video," he said. "Because I knew it had the potential to blow up if it was done correctly (with) high-quality sound and audio and high-quality video."
Allen's first step was recruiting a "wicked good singer" to carry the vocals, saying there was no point in making the video if it wasn't top-notch. He approached his friend Keith Evans, who he had met in late 2013 when they performed together in the musical "In the Heights" at Hale Center Theater Orem.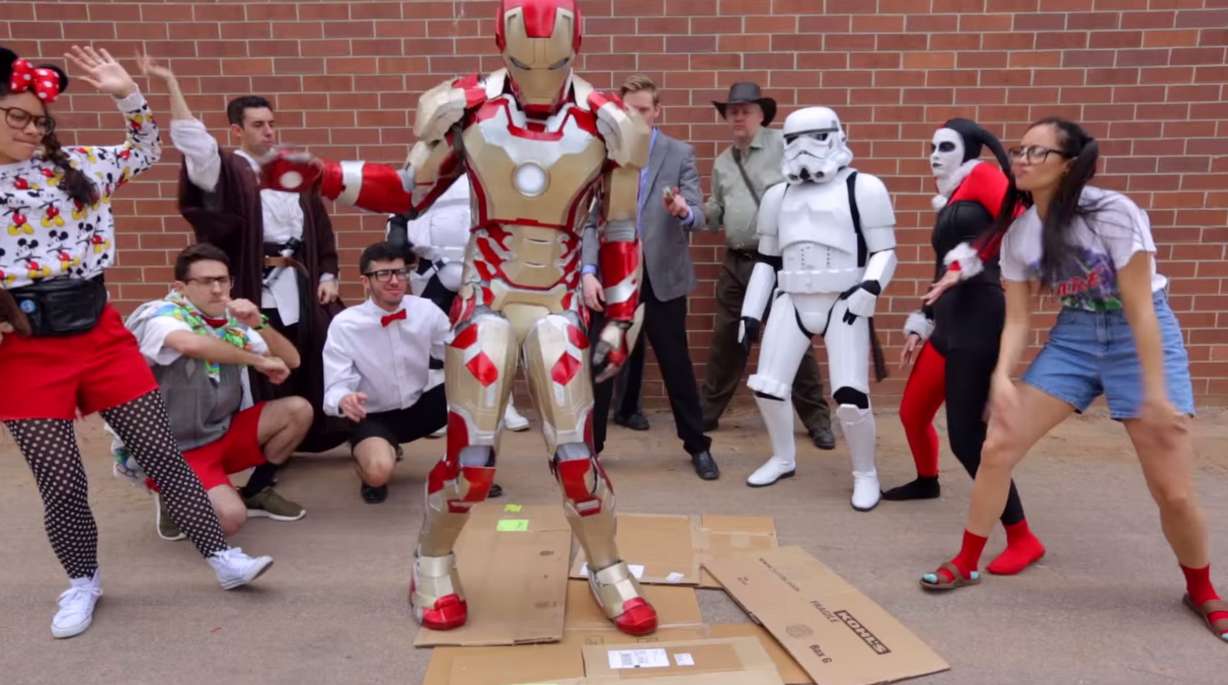 Evans, a former member of BYU's Vocal Point, was immediately excited about the project. So Allen sat down the same night and wrote the lyrics in about five hours, he said. His only regret was that he could only fit so many "nerd references" into the song.
"I wrote the lyrics and sent them to him and he said, 'Oh, this is fantastic, let's do it!'" Allen said.
Allen and Evans recorded the vocals with a homemade recording booth in Allen's bedroom. Then Allen "mixed up and tweaked" the song, including the addition of sound bites from the classic Super Mario Bros. and Zelda video games.
Shooting the video was all about networking and finding friends who embraced their nerd side and had costumes to prove it. Allen found friends with costumes that ranged from "Lord of the Rings" and "Star Wars" to "Harry Potter" and "Doctor Who."
"I wanted the costumes to be really high quality. I wanted this to be top, top quality where people would say, 'Man, this was well done,'" Allen said.
And Allen said without his friends stepping in, bringing costumes and adding choreography, his video wouldn't have happened.
Related Story
"I really couldn't have done it without any of them. It was a total team effort," he said.
Allen said making "Talk Nerdy to Me" was fun, but he was also testing the waters for more projects in the same vein. He thought that if this video did well, he would consider doing bigger things with some of his other ideas for music and videos.
And the video has certainly done well. It gleaned 800 views the first night it was posted, and two days later it had received over 100,000 views. Not only has it has caught the Internet's attention, but Allen said that "Good Morning America" contacted him about the video on Thursday.
Wherever his success takes him, in the very least Allen has given us a catchy, danceable song that allows us to show our nerd side with pride.
×
Related links
Related stories
Most recent Utah stories