Estimated read time: 2-3 minutes
This archived news story is available only for your personal, non-commercial use. Information in the story may be outdated or superseded by additional information. Reading or replaying the story in its archived form does not constitute a republication of the story.
SOUTH JORDAN — A passionate pigeon fancier feuding with the city over harboring hundreds of birds could soon lose his unique backyard loft and gazebo to a wrecking ball.
Justice Court Judge Clinton Balmforth issued an order Wednesday allowing South Jordan to remove Boris Majnaric's pigeons and tear down the two dwellings.
"I would much rather you hurt me than my birds and my place," Majnaric told the judge.
After the court hearing, city prosecutor Ed Montgomery declined to say how quickly the city would act. He referred questions to South Jordan spokesman Chip Dawson.
Dawson responded to a telephone call with an email saying the city has no additional comments "as this involves a court matter and there is pending litigation."
A lawyer for Majnaric intends to ask Balmforth to stay his order while he files an appeal in district court. Majnaric also has a lawsuit pending in federal court.
"I don't want them to come in and start killing these birds," Majnaric said.
---
"I have no control over those pigeons. I cannot say, "You're not from my 40. You're out.'" - Boris Majnaric
---
Balmforth's decision was the latest turn in the ongoing saga involving Majnaric, his neighbors and the city. Neighbors complained nearly three years ago about the pigeonswhich have numbered more than 300 at times, living in Majnaric's backyard.
"Rather than stomp Mr. Majnaric down, there is a way to cooperate," Majnaric, a 74-year-old retired school teacher, told the judge.
But Balmforth had no interest in allowing more time.
"When the word of a person means nothing, no resolution is possible," he said.
Montgomery told the judge Majnaric has continuously failed to comply with a city law that allows no more than 40 adult birds at a residence. Majnaric said he's tried to get the number down, but each time he has birds taken away, new ones move in, and pigeons always return to their place of birth.
"I have no control over those pigeons," he said. "I cannot say, "You're not from my 40. You're out.'"
Dawson last month said the city does not ascribe random birds to Majnaric.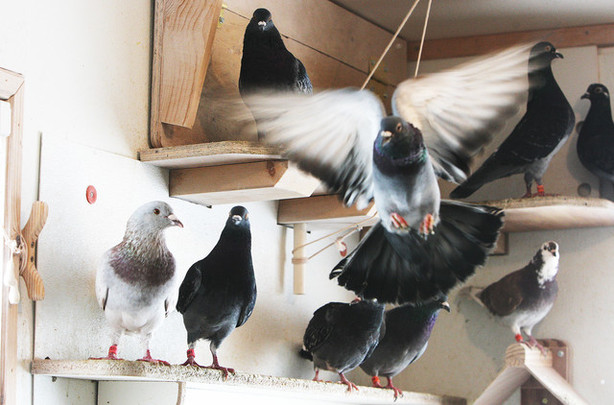 South Jordan charged Majnaric last August with three class B misdemeanors related to the size of his flock, banding and registering pigeons and keeping them in a coop. The case is pending.
Majnaric continues to maintain that after he built his house in 1996 a city official pointed him to a South Jordan ordinance permitting "reasonable and manageable" number of birds. Although the law has changed over the years, he said his house, which abuts a field filled with sheep, should be grandfathered in.
Majnaric began raising pigeons after he retired to fulfill a childhood dream that started in his native Croatia when his parents gave him two birds. He built a four-room, 384-square-foot loft and a nesting gazebo for his pigeons. He lives alone and says the birds are his best friends.
"Life isn't worth living unless it's rewarding," Majnaric said. "The only reward I have in my life is the birds."
×
Photos
Related Stories