This archived news story is available only for your personal, non-commercial use. Information in the story may be outdated or superseded by additional information. Reading or replaying the story in its archived form does not constitute a republication of the story.
SOUTH SALT LAKE — A 15-month-old girl taken away from her mother nearly three months ago was reunited with her Wednesday.
"I just want to say thanks to everybody. I'm so glad she's back," Danielle Larsen said while holding her daughter, Sophea, shortly after being reunited with her at Unified Police Department headquarters.
Salt Lake County Sheriff Jim Winder said Jamie Webb, 39, the man who is believed to have taken the young girl and kept her away from her mother since February, dropped off the child at his father's house Wednesday. His father then called police.
The girl appeared to have been "very well cared for" and did not show any signs of being physically harmed, Winder said.
Investigators believe Webb, who is considered a transient, was constantly changing locations and moving around with Sophea for the past couple of months, staying with different friends and relatives across the Salt Lake Valley.
Until the story of the girl's disappearance recently received a lot of media attention, Winder said he believes the people Webb was staying with thought he had custodial rights to Sophea.
"'We thought he was supposed to have the kid,'" Winder said was what was being told to his officers. "People were watching what was happening in the media and realized this was not as it had been reported to them.
---
What we do know is the child has been to multiple locations. We believe that the suspect in this case has been in close proximity (to her). We do believe he is the one who dropped the child off (Wednesday).
–Sheriff Jim Winder
---
"What we do know is the child has been to multiple locations. We believe that the suspect in this case has been in close proximity (to her). We do believe he is the one who dropped the child off (Wednesday). I will say in these situations sometimes we can vilify people. I want to thank the gentleman for dropping this child off," he said. "Now we can take a breath and resolve these matters in a civil and rational way. There are always two sides to a story."
Sophea went missing on Feb. 18 after Webb assaulted Larsen in a domestic dispute, according to court documents. Webb put Larsen in a chokehold and strangled her so she had difficulty breathing, swallowing and even seeing, according to the charges.
Neither Webb nor Larsen lived at that West Valley home where the alleged assault occurred, according to police. What was still unclear to detectives as of Wednesday was whether Webb is Sophea's biological father.
According to court documents, Webb filed for a petition for a paternity test in February. Larsen filed a petition against Webb for another paternity test in April.
Because of the uncertainty over parental issues, West Valley City spokeswoman Roxanne Vainuku said it was not considered a kidnapping case. Plus, Larsen told West Valley police that she did not believe Webb would harm Sophea, Vainuku said.
Still, detectives attempted to look for Webb. In March, because of the incident in February, Webb was charged in 3rd District Court with aggravated assault and domestic violence in the presence of a child, both third-degree felonies.
West Valley police amped up their search for Webb after that arrest warrant was issued, Vainuku said. Because of the frequency he was moving between houses, they did not find him.
Last week, Unified police also became involved in the case. On Tuesday, Larsen obtained a writ of assistance from the court and presented it to the Unified Police Department. With that, officers were allowed to get Sophea using any force necessary.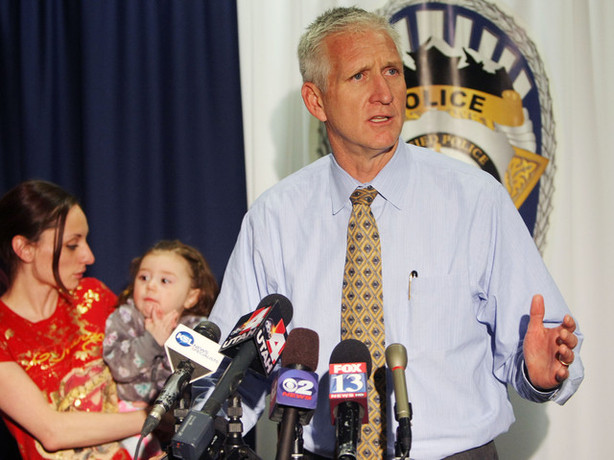 A Unified police detective Tuesday checked out a home at 6781 W. Bridle Farms Road, Taylorsville, were Webb was known to frequent. The detective spotted Webb's car and attempted to make contact with him. But he ran out a back door and disappeared, Unified Police Lt. Justin Hoyal said.
Inside the vehicle, detectives did not find the child but did find items belonging to her, such as a child seat and toys.
Because Sophea was not with Webb, that's when Unified police issued an Endangered Missing Advisory.
On Wednesday, Winder praised Larsen for going through all the proper channels.
"She has gone through all the right steps with a significant amount of frustration. The system is by far not perfect," he said. "The fact of the matter is this has taken a significant amount of time."
Webb was not in custody as of Wednesday afternoon. Winder said there was still an arrest warrant for aggravated assault out against him. But whether he would now face additional charges of kidnapping was yet to be determined.
"We are continuing to evaluate that situation. Right now, we are interested only in the aggravated assault charge. We are going to look at all the circumstances involved in this case and we will make a determination," he said.
Winder said the best thing now would be for Webb to surrender to police so they can hear his side of the story.
Contributing: Whitney Evans and Haley Smith
×
Photos
Related Stories