SALT LAKE CITY — Last year, temperatures were blazing hot. The year before that, it snowed. This year, rain fell nearly all day Saturday.
But organizers of the Japanese Festival were determined that the show would go on, said chairwoman Marion Hori.
While attendance was somewhat down from previous years, Hori noted that food sales were brisk all day. "This is our chapter booth and we ran out of food," she said.
She estimated that about 1,000 people turned out Saturday — "pretty good for a rainy day."
The festival, now in its ninth year, is an opportunity for the Japanese community to share its art, food, culture and history with Utahns, Hori said.
A fairly sizable part of an indoor display was devoted to displays portraying several families' experiences at the Topaz internment camp near Delta. More than 8,000 Japanese Americans residing on the West Coast were ordered into the camp after the bombing of Pearl Harbor by the Japanese in 1941.
Topaz officially opened on Nov. 1, 1942, closing in October of 1945 at the end of World War II. People held at the camps had little but the clothes on their backs when they were allowed to leave at the end of the war, Hori said.
Hori's family was held in a camp in Arkansas and moved to Utah when they were released at the end of the war. Her father found work with a farmer in northern Utah. "I remember living in a barn," she said, explaining that the family eventually moved into a house provided by the farmer.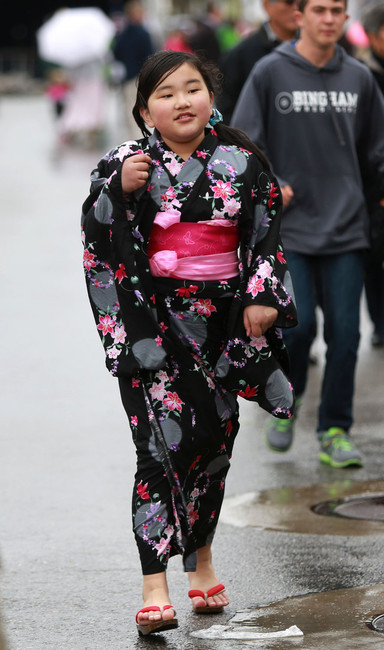 The festival enables Japanese-Americans to keep that history alive for future generations. "They (children) probably learn more here than they do from their parents," she said.
Otherwise, the festival was a treat for the senses, whether festivalgoers were partaking in traditional tea ceremonies or enjoying teriyaki dishes or sushi. Dance performances, karate and judo demonstrations, drumming and other musical entertainment was provided throughout the day on two stages at the free festival.
Meanwhile, traditional art forms such as calligraphy, ikebana (floral display) and Japanese dolls were also on display.
Kenneth and Jeannette Seely brought their children to the event to enjoy festival food, take in musical performances and to learn more about Japanese culture.
"I spent two years in Japan (as missionary for the LDS Church). I came here today hoping to get some traditional festival food," he said.
Mission accomplished, he said, munching a small tray of takoyaki, a ball-shaped snack filled with diced octopus.
"I want to share this with my family," he said.
"Our kids really do love the culture," added Jeannette Seely.


×
Photos
Related Stories