SALT LAKE CITY — Western GOP leaders say a defiant Nevada cattleman's showdown with the Bureau of Land Management flouts the law and can't be endorsed, but Cliven Bundy's frustration is emblematic of the larger problem of federal land ownership in the West.
"I think most Nevadans and most Americans are rule-of-law individuals," Nevada state Sen. Mark Hutchison said Friday at the Western Republican Leadership Conference in Salt Lake City.
"We believe the law ought to be followed, and it ought to be honored by both individuals and also the state and federal governments," Hutchison said. "I think it is good a lesson in Bunkerville that everyone ought to follow the law, including the federal government."
But Hutchison said the emotional imbroglio featuring trespassing cows, more than $1 million in back grazing fees and an armed showdown with government agents speaks to conflict inherent with a federal, distant landlord.
"What we saw in Bunkerville is a symptom of the federal government having far too much control of the land in Nevada," Hutchison said, pointing out that 80 percent of the state is composed of federal lands.
Federal land management policies in the West have been under the harsh glare of scrutiny when the BLM began impounding the Mormon rancher's cattle in early April over his refusal to pay grazing fees in a decades-long dispute.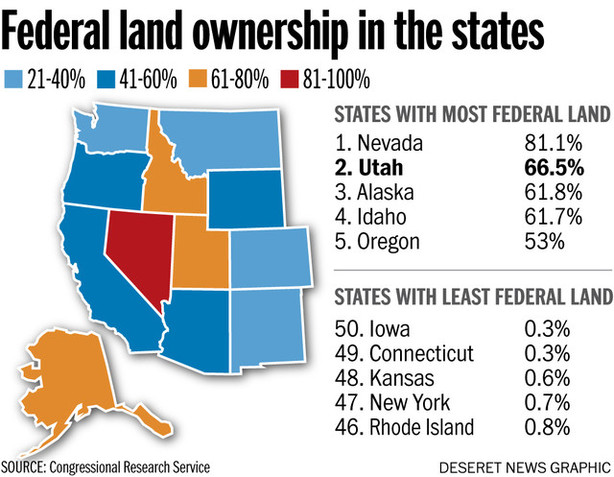 A subsequent showdown between Bundy's supporters and BLM agents that came to fisticuffs still threatens to boil over, even after the agency backed off execution of a court order that directed the removal of Bundy's 900 cattle from federal land about 80 miles northeast of Las Vegas.
While tension still simmers over the unresolved dispute, panelists at Friday's discussion at the Grand America Hotel said Western states feel disenfranchised over their own destiny because they have no say over what happens on land within their own borders.
Rep. Ken Ivory, R-West Jordan, and the architect of the Transfer of Public Lands Act in Utah, said the uneasy landlord-tenant relationship between the Western states and the federal government breeds failure.
"Because the federal government laid a terrible foundation, whatever house you build on it is going to be bad," Ivory said.
Rep. Rob Bishop, R-Utah, said the Bureau of Land Management grew out of a budgeting process that doomed it to fail because even though its holdings are 44 percent of the land controlled by the Interior Department, it is the National Park Service that gets the bulk of the funding.
"And that land controlled by the BLM is all west of Denver. You won't find much of it back east," Bishop said, adding that East Coast Americans have a far different idea about what "constitutes" public lands.
"To them, all public land means a pretty tree by a pretty lake. Everything is Yellowstone. To me, public land is a sagebrush," he said.
---
What we saw in Bunkerville is a symptom of the federal government having far too much control of the land in Nevada.
–Sen. Mark Hutchison
---
Bishop said that notion of "public land" scenery helps to drive the sentiment that somehow it is OK for the federal government to spend billions on managing land based on the "false premise that the West needs to be protected from itself."
Western states are fed up, trying to change that in a political movement that is steadily building support.
In Hutchison's home state of Nevada, a legislatively created task force has detailed a list of recommendations on what steps might be taken in the effort to gain control over more public lands.
The Republican National Committee in January endorsed a resolution calling on the federal government to honor the transfer of public lands to Western states, and a coalition of those states is mustering a "strength in numbers" strategy to move their demands forward.
Both Hutchison and Ivory say all a curious citizen has to do to understand the unfairness that comes with the disparate federal land ownership in the West compared with the East is to look at map.
"This isn't hard," Ivory said. "The story of the map tells itself."


×
Photos
Related Stories