SALT LAKE CITY — The National Parks have had a great year. Their first album went to number 13 on iTunes, they've been playing shows all over Utah and they're on track to take their smooth, folksy sound nationwide through more touring and an eventual second album release. The National Parks will be playing at Thanksgiving Point on April 12 with Mates of State and Joshua James, as well as kicking off the Rooftop Concert Series in Provo May 2.
KSL: What's your origin story? How long have you been playing music, what inspired you to create a band, etc.?
Brady Parks: I've been playing music and writing songs ever since I can remember. I've always felt connected to music and always dreamed of having a band and playing on stage.
KSL: How did you find the members of your band?
Parks: I started as a solo artist when I first moved to Provo. I was doing a lot of the open mic stuff and then Corey Fox at Velour suggested I try fleshing out some of my songs with a full band. I met Sydney (McFarlane) through mutual friends and we connected right away. We were just on the same page with the music, so the development of the band's sound came really naturally. Since then, we've been really fortunate to first meet Paige (Wagner) and then later Bae (Sorenson) who are both really talented violinists, and that has become a distinct aspect of our music.
KSL: What inspires you? Who are your musical influences?
Parks: We draw a lot of inspiration from the world around us. Everything from "big" ideas like love, nature or spirituality to the little moments from everyday aspects of life seem to find their way into our songs. As far as bands go, I think we all have similar tastes. Since I started writing, my main influences have been Bon Iver, Fleet Foxes, Isaac Russell and Joshua James, just to name a handful.
KSL: What do you tell yourself before a performance?
Parks: We have developed a sort of pre-show ritual. Before we take the stage we come together for a spiritual thought and a prayer. It seems to calm our nerves and help put everything into perspective. It helps us all remember why we are playing music and think about how far we've come. We then huddle up and tell ourselves to give it all we got, to hold nothing back and to go crazy.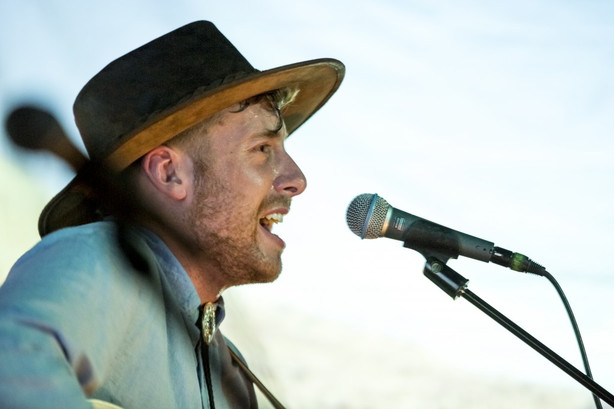 KSL: What is your five-year-plan with your music?
Parks: This is something we feel so passionate about for so many reasons. In addition to a handful of Utah shows this summer, we will be on the road quite a bit — playing shows along the West Coast as well as in the Midwestern U.S. We've already started writing songs for a second album so that will likely come together some time next year. Opportunities come and go really quickly in this industry, so it's hard to predict beyond that, but we love what we are doing and we want to keep going as far as we can.
KSL: What has been the most exciting thing to happen in your career to date?
Parks: We released our debut album "Young" in September 2013 and right away it began climbing up the iTunes chart. It reached as high as No. 13 and we were thrilled and humbled at the response to our album from people all over the U.S., and even in a number of other countries. It's also been really exciting to share the stage with some incredible musicians like Joshua James or Tyler Glenn. It's pretty surreal to be on the same bill as performers like that because we've been fans of their music for a long time.
KSL: Who have you most enjoyed collaborating with, and who is your dream collaboration?
Parks: We've had the chance to work with a lot of different people, so it's hard to pinpoint one that has been our favorite. We live in a place that is saturated with ultra-talented musicians, which is exciting and inspiring. My personal dream collaboration would be with Justin Vernon.
×
Related Links
Related Stories