This archived news story is available only for your personal, non-commercial use. Information in the story may be outdated or superseded by additional information. Reading or replaying the story in its archived form does not constitute a republication of the story.
PROVO — Fictionist started in Provo, but the band has performed from Los Angeles to Brooklyn. It played at SXSW in Austin, Texas, in 2010, where it made a splash on the national scene — being featured in Rolling Stone and opening for Imagine Dragons on their country-wide tour. But despite the success they've found, members of the band have kept it cool and their heads above Hollywood.
Amanda Taylor: What's your origin story? How long have you been playing music, what inspired you to create a band, etc.?
Stuart Maxfield: I've been making music for longer than I can remember. I started playing the violin at 6, and started playing in my first band on the electric bass when I was 12. Playing music is something that I have always done. I'm not sure that I can tie my involvement in music to a single decision.
Amanda: Give me the thousand-foot view of your sound and style.
Maxfield: Interesting, textural, lyrical. We draw a lot of inspiration from both classic and contemporary groups. Nothing is off-limits. There is a sort of musicians' flair to what we do. It is rock, though rock can mean so many things. Radiohead plays rock, The National plays rock, Zepplin played rock. Fictionist hovers somewhere in there I guess. I've been told that there is a singer songwriter sensibility in our lyrical approach. I'm always interested in the way something can be tweaked or the way something familiar can be turned on its head.
Amanda: How did you find the members of your band?
Maxfield: I knew Rob and Brandon going way back to high school in Salt Lake City. I met Jacob, who introduced me to Aaron, who are both from the Sacramento area. I like to think my bandmates found me, I love those dudes.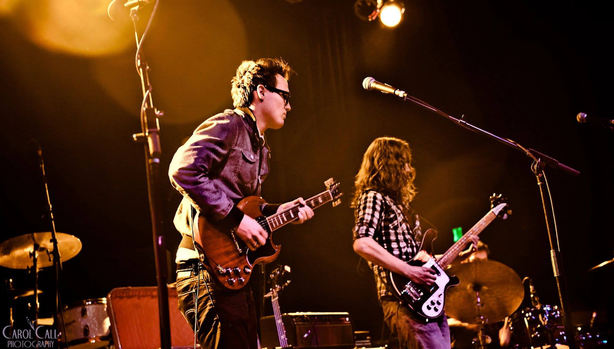 Amanda: What inspires you? Who are your musical influences?
Maxfield: Good art inspires me. Life inspires me. Songwriting is an emotional response I have to the life I live. When things cause me to feel, that's when I write. Musically I find myself inspired by everyone from Bob Dylan to Andrew Bird to Bono. I'm a person that doesn't have too many favorite bands. I love anything that's good. My favorite writer recently is Matt from The National. I'm drawn in by his writing. One day I hope to hang with him and talk shop.
Amanda: What do you tell yourself before a performance?
Maxfield: Nothing! My best performances happen when I haven't wasted all my attention on getting pumped up or whatever. The less expectations I have, and sometimes the less aware I am of my surroundings the better. Good performances come from a primal place for me. Embracing the moment with the audience is key.
Amanda: What is your five-year-plan with your music?
Maxfield: Make good music. No plan. I have found that when I do truly good work things happen. In the near future, we will be releasing an EP and an album of the material that we have been working with Nate ( Pyfer — a local producer who has worked with Parlor Hawk and Mideau, among others) on. We are all so excited about it.
Amanda: What has been the most exciting thing to happen in your career to date?
Maxfield: I'm not sure I could say the most exciting thing, but recording this last record has been the culmination of a lot of hard work and vision. It's always exciting to see our artistic whims come to fruition. I had a ton of fun playing with Imagine Dragons for big crowds. I'm pumped to be playing with Vampire Weekend coming up and this Friday at Velour.
×
Related Links
Related Stories