SANDY — Robby Calandrelli is focused as the whistle blows, signaling the beginning of the game.
Unable to see, Robby uses his fingers to feel along the thin, raised line on the floor of the court to make sure he's in position in front of the goal.
He hears the 3-pound ball bouncing toward him, a bell jangling inside, and stretches his body out along the floor to block the shot before jumping to his feet and sending the ball flying back across the court.
Robby, a soft-spoken 13-year-old, used to hate gym class. He felt he couldn't participate and didn't dare try. But you wouldn't guess it watching him compete with his team Friday morning in the state goalball tournament, an event organized by the Utah Foundation for the Blind and Visually Impaired.
Here, Robby finds other young people who understand life with a major vision impairment. In the five years he has played, his family has watched with delight as Robby's confidence has grown both on and off the court.
"I like coming to competitions because there are kids from different counties you can play with," Robby said. "People sit on the sidelines and talk about the tournament or the game. Most everyone on my team is my friend."
The game is popular worldwide and is a Paralympic event. Some members of the nine teams that competed Friday at the Copperview Community Center are completely blind, while others, like Robby, have limited sight.
To level the playing field, participants wear blacked-out goggles, many of which are personalized with flamboyant patterns or decorative tape.
Three at a time, players space out across the long goal and work together to block and return passes as quickly as possible.
On the sidelines, Robby's mother, Tamiko Calandrelli, watches each play intently. She and the rest of the crowd remain silent so the players can hear each other and keep track of the ball. It's not long before Robby's teammate scores the first goal, and the crowd cheers briefly and enthusiastically. Moments later, Robby scores a second goal.
"He's more willing to try things now that he's done this for a couple years. He's willing to try other sports that he wouldn't before," Calandrelli said, listing basketball and kickball among her son's new interests.
This is Robby's first year competing with an older team, having graduated from the younger league. He's got a good example in teammate Megan Palmer, 17, who offered encouragement and advice throughout Robby's first game.
"When you have newer kids with you, you want to talk to them and make sure they're in the game and make sure you know where they are so you can help them the best," said Palmer, who relates to the anxiety not only of playing in her first tournament but of being 13 and blind. "It gives you the confidence of 'look at me. I'm actually doing something. I'm helping my friends.'"
Between games, Palmer wanders the hall congratulating other players, exchanging high-fives and hugs. She attributes much of the team's confidence to coach Karlee Peterson, 21, who also grew up playing goalball.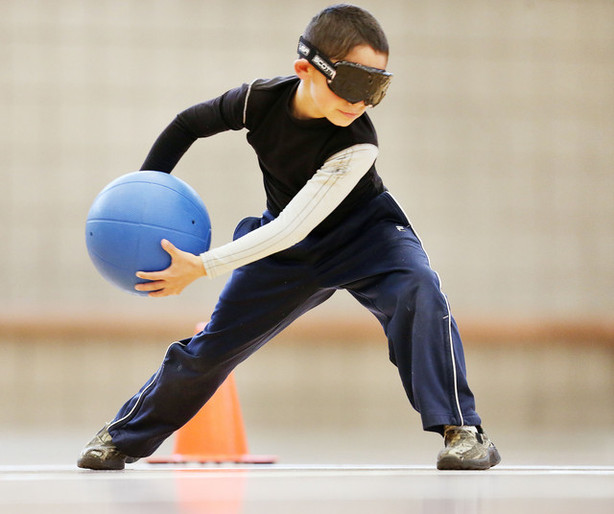 "I hated it at first," Peterson said. "I'm glad (my mom and coach) pushed me to do it, because I don't know where I would be if they hadn't. … I was just scared of it at first."
Through high school, Peterson found solace and identity through goalball and said she hopes her team will do the same.
"You can be a part of a team, and these kids can experience that," Peterson said. "A lot of my friends were on the swim team and played basketball and always talked about their experiences, and it was nice to always have goalball to turn to so I could have that experience."
In a neighboring gym, two young teams are facing off in a more relaxed match. The game moves slower, and the elementary school-age kids are prone to moments of giggling and fidgeting in between plays.
Jennifer Chantry volunteers as a line coach as her 8-year-old daughter, Megan, plays. Chantry has already watched her 13-year-old daughter, Elizabeth, compete with the older children next door, and her face lights up as her younger daughter saves a shot. This is Megan's first year on the team.
The two girls are legally blind and have the same hereditary vision impairment as their mother.
"I like the chance that they have a chance to try something that they've never done before," Chantry said. "Sometimes my girls are scared because of their vision to try something new."
Chantry said she hopes playing goalball is filling a void for her daughters, who are sometimes discouraged that they can't keep up with their brothers playing football or basketball in the yard.
"Typical sports aren't easy for (Megan), so she loves having something that's her own and that she's good at," Chantry said. "She loves showing her brothers how to play and what to do."
Megan's enthusiasm is infectious. Her family has rallied around her, the youngest child, to prepare for her first goalball tournament.
"We sometimes go as a family and practice with the girls, and they get to be the ones telling the boys what to do," Chantry says with a grin. "Just watching them do well — like Liz scored some goals in her first game, and watching Megan score and block and do what she has been practicing — has been really fun."

×
Photos
Related Stories