Estimated read time: 3-4 minutes
This archived news story is available only for your personal, non-commercial use. Information in the story may be outdated or superseded by additional information. Reading or replaying the story in its archived form does not constitute a republication of the story.
SALT LAKE CITY — Dr. Shawn Gurtcheff calls Carter Brown a miracle baby, and that is not a term she uses loosely.
Gurtcheff is a reproductive endocrinologist at the Utah Fertility Center and has known the four-month old from the time he was just a cell.
"I like to think that maybe I had a little bit to do with that miracle," Gurtcheff said.
Gurtcheff said Carter's parents' hope, faith and perseverance ultimately led to his successful birth.
Carter's mother is television journalist Kathryn Brown. She has researched a lot of topics, but none as thoroughly as infertility — a condition she and her husband faced for several years.
"I am the oldest of seven kids, I came from a big family. I always wanted to have a big family," Brown said.
When she began in vitro fertilization treatments, doctors gave her less than a five percent chance at a successful pregnancy.
"You have to know everything you possibly can," she said after her fourth embryo transfer had failed in January 2013.
KSL began following Brown's struggle to have a baby as part of a special report on the many challenges couples face when they seek fertility treatments. Infertility affects 15 percent of all couples in the U.S. Only those who have gone through it can fully grasp the gut-wrenching process.
"Those months of going through all the fertility treatments were really stressful," said Kathryn's husband Kurt Brown.
Kathryn tried every protocol, supplement or treatment option she could find. The Browns said one thing kept them going.
"Honestly our faith kept us going. We felt like we were supposed to have at least one baby of our own, and we had been prayerful about it and we felt like we needed to keep trying," Kathryn said.
And luckily they found a doctor who agreed to keep trying with them.
"We pushed the limits together and they pushed me. And clearly it was worth it," Gurtcheff said.
Last spring, the Browns finally got a positive result on a pregnancy test.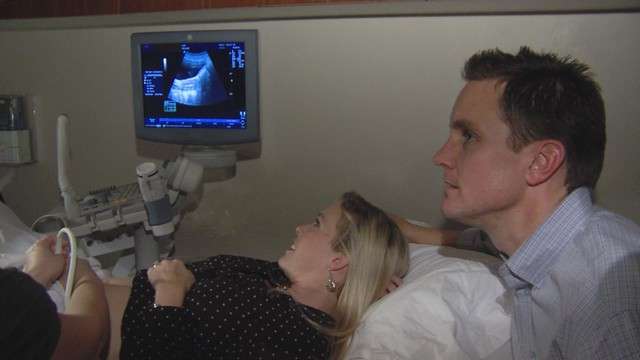 "It was hard to believe it really worked," Kathryn said.
They broke the news to family and friends at a barbecue and thanked them for their prayers.
"We have been the recipient of thousands of prayers," Kurt told the group.
Kathryn said there were lots of tears and cheers. Some of the biggest cheers have come from Gurtcheff.
"I think science can only do so much and medicine is not black and white. There is so much art to this, and there is also an amazing connection between the mind and the body," Gurtcheff said.
The Browns said they are grateful for the power of faith.
"It's taxing physically, emotionally, financially. It's expensive. It's hard, but so worth it. So worth it," Kurt said, cradling his son.
Kathryn said nothing compares to being a mother. "I love being a mom. It's the best job I've ever had."
Her advice to other couples considering fertility treatments is to first figure out how strongly they feel about having a baby then empower themselves with all the information they can get.
"If you really feel strongly and in your gut feel like this is the right path for you to take, then go for it and really try to drive your own fertility plan."
×
Photos
Related stories
Most recent Utah stories