Estimated read time: 3-4 minutes
This archived news story is available only for your personal, non-commercial use. Information in the story may be outdated or superseded by additional information. Reading or replaying the story in its archived form does not constitute a republication of the story.
This story is sponsored by Harmons. Want to talk to us in person? Stop by your local Harmons today for fun, friendly food advice.
Every week one of the chefs from Harmons Grocery Stores will be answering your toughest culinary questions. No question is too big or too small and each week we'll award a pair of Harmons cooking school passes to one lucky viewer whose question is selected. Email your questions to askachef@harmonsgrocery.com.
This week's question comes from Misty:
"With my busy schedule I love to use our crockpot to make dinner. However, my family is starting to get bored with the same old chili and soup recipes. Do you have a any fun new ideas I can try?"
With work, school, kids and other time commitments, many families find making dinner a daunting task. Instead of spending another night ordering pizza or hitting the drive-through, crockpot cooking allows you to throw all of your ingredients in the pot, set it and forget it.
By the time you are ready for dinner your house will be filled with the aroma of a delicious home cooked meal, and all you'll have left to do is enjoy (before doing the dishes that is).
Here are a couple of our favorite crockpot recipes: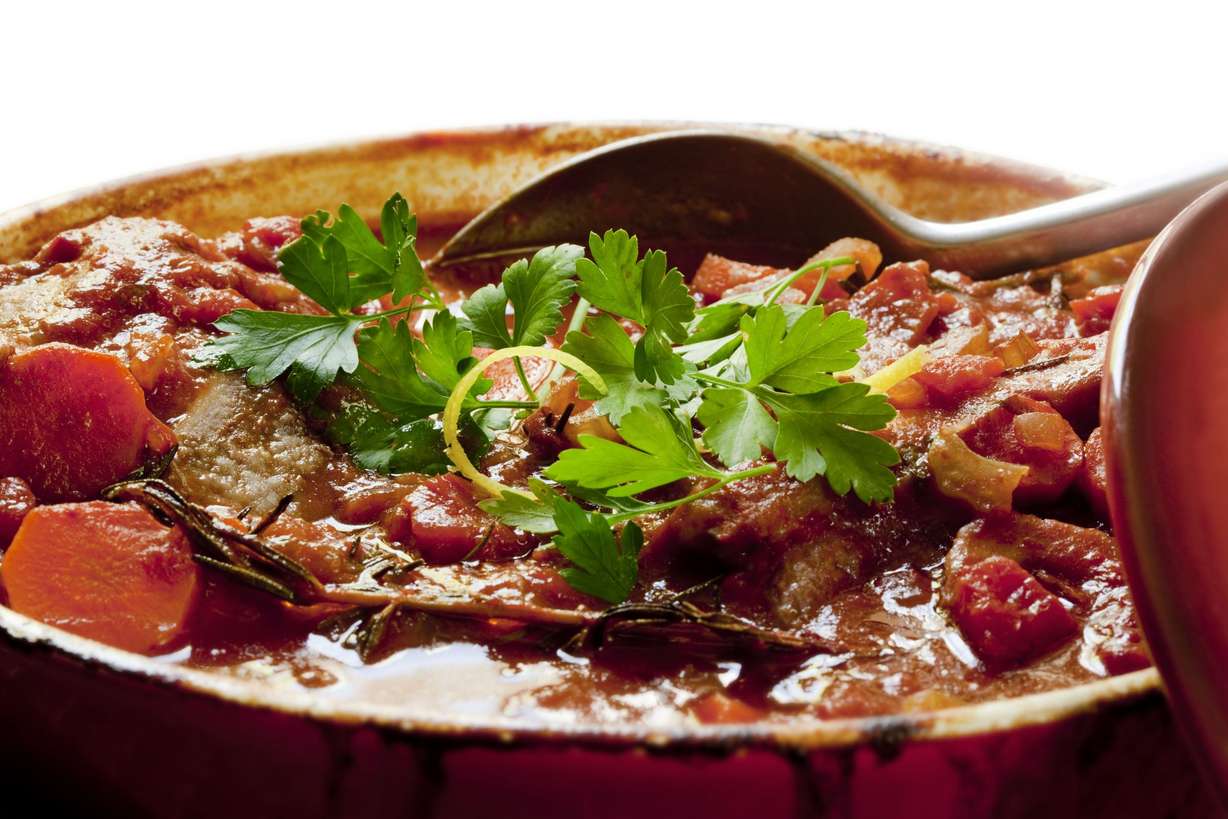 Crockpot Beef Shank (Serves: 4-6) Ingredients:
4 to 6 beef shanks
1 whole onion (chopped)
4 carrots (chopped)
4 celery stocks (chopped)
2 cloves garlic (crushed)
1/8 C. olive oil
2 C. red wine or apple juice, grape or even beer
3 C. stock (beef or vegetable)
1 Tbs. dry parsley
Salt and pepper to taste Directions:
1. Set your crockpot to its highest setting and add the oil and garlic. Allow the garlic to cook and become aromatic.
2. Add the beef shanks to the pot and cook for 2 to 3 minutes on each side.
3. Add the onion, celery and carrots let them cook for about 6 to 8 minutes.
4. Add the salt, pepper and dry parsley then stir to mix everything evenly throughout the crockpot.
5. Add all the liquid to the crockpot then turn the heat to low and cover.
6. Allow at least 5 to 6 hours for simmering or until the meat begins to separate from the bone.
* Tip: If you would like to add a gravy over the top of the meat, remove the shanks from the crockpot then strain the remaining liquid to remove any chunks. Set the liquid aside.
In a medium sauce pan cook equal parts flour and butter to make a roux then add the strained liquid and allow the gravy to reduce. Drizzle over meat as desired.
Adobo Chicken (Serves: 4-6)
Ingredients:
1 to 1.5 pounds bone in, skin-on, chicken breast/thighs/legs
2 teaspoons canola oil
1/2 cup yellow onion, sliced thin
2 tablespoons garlic, sliced thin
2 tablespoons all-purpose flour
1 bay leaf
1 cup chicken stock/broth
16 ounces tomato sauce
Salt and pepper, to taste Directions:
1. Heat pan over medium-high heat.
2. Season chicken with salt and pepper and 1 teaspoon of the canola oil.
3. Place chicken, skin side down and brown well, approximately 3 to 4 minutes or until chicken freely releases from pan. Turn over and brown on second side.
4. Remove chicken from pan and place in crockpot bowl. Reduce heat to medium.
5. Add remaining canola oil to pan and allow to heat.
6. Add onions and garlic and allow to soften.Season with salt and pepper.
7. Add flour and stir to coat onions and garlic well.
8. Cook for approximately 1 minute to allow time for starch to cook off.
9. Next add chicken stock, tomato sauce and bay leaf.
10. Increase heat to high and bring to a boil.
11. Pour over chicken in crockpot bowl.
12. Set to high and cook approximately 2 to 2.5 hours or until internal temperature of chicken reaches 165F.
13. Serve with white rice or couscous.
For even more delicious crockpot recipes, check out our upcoming "Not Your Mother's Crockpot" class on March 11th. You can also visit the Harmons Grocery blog for more delicious ideas.
Check out other Ask a Harmons Chef articles here.
×
Most recent Utah stories