Estimated read time: 3-4 minutes
This archived news story is available only for your personal, non-commercial use. Information in the story may be outdated or superseded by additional information. Reading or replaying the story in its archived form does not constitute a republication of the story.
SALT LAKE CITY — Colorado native Lea Nightwalker, 27, was first introduced to skating by watching her older brother and sister at their skating lessons.
"Since I was the youngest, I always got dragged around with my mom," Nightwalker said. "I watched my sister from the stands and kind of danced along with the music."
Nightwalker wanted to be like her older sister, so when Nightwalker was 6 years old, her mother signed her up for lessons.
"I took to it, and that was kind of the end of that. I've been skating ever since," she said.
But during her senior year of high school, Nightwalker realized that her goals and dreams connected with competing on the ice were coming to a close.
"That had always been my dream, just to continue competitive skating. And it was just kind of falling apart and I was like, 'Oh no, what am I going to do now?' " Nightwalker said.
She sent an audition video to Disney on Ice and was cast as Violet from "The Incredibles," a principal role. She initially thought it was an amazing opportunity, so she took the job. But it wasn't a Disney-inspired happily ever after at the time.
"I don't think I was ready to do what I agreed to do. I took it because it was a good option, and I didn't really think it through," she said. "I wasn't ready for it and it was a really hard year for me."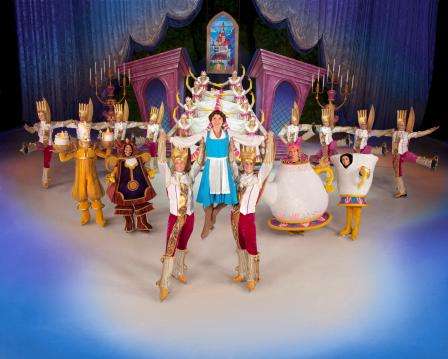 Nightwalker quit skating with Disney on Ice and went back to school.
"I was really sad at home, because I wasn't skating anymore. I tried to skate for myself, but it's not the same," Nightwaker said. "There wasn't very much fulfillment out of it."
But that difficult and unsure period in her life is what pushed her to remember what she really loved: being on the ice.
"I realized I loved to skate and I'm good at it and I'm still young enough that my body still can skate. So I decided to come back," she said. "I've had a bigger appreciation for what I do, and I just really love getting on the ice. And I'll go back to school and finish all that when I can't do this anymore."
Nightwalker has been skating for Disney on Ice on and off for five years, and she loves it. But the love doesn't end there.
During her current Disney on Ice tour,"Rockin' Ever After," Nightwalker alternates playing Belle with ensemble roles every other week, which she loves, she said. Additionally, she recently became engaged to fellow performer Jordan Brauninger.
"He actually plays Gaston normally. When I'm not in Belle, I play one of Gaston's flirts. But when I'm in Belle, he plays my prince," Nightwalker said.
Nightwalker loves the fulfillment and fun of performing on the ice for excited kids and family. But right now, the best part of the tour is sharing her experiences with her fiancé.
"I love traveling and it's great to always have him to be with me. We get to see everything together and get to experience everything together. It works great, surprisingly," she laughed. "It's not too much."
You can see Nightwalker skate with her prince, along with Ariel, Merida Rapunzel and Mickey's whole gang in "Rockin' Ever After," March 5-9 at the EnergySolutions Arena in Salt Lake. Tickets range from $20-$50 and can be purchased at the EnergySolutions box office or by calling 1-800-888-TIXX.
×
Photos
Related links
Related stories
Most recent Utah stories