This archived news story is available only for your personal, non-commercial use. Information in the story may be outdated or superseded by additional information. Reading or replaying the story in its archived form does not constitute a republication of the story.
SALT LAKE CITY — Families can join Mickey and Minnie Mouse on a trip around the world without ever leaving Utah.
Passport Adventure, one of the longest running Disney on Ice shows, takes guests to visit favorite Disney characters in their natural habitats, from Simba's Pride Lands to Lilo and Stitch's Hawaii. They will run a total of nine shows from Nov. 6-10 in the Energy Solutions Arena.
Ensemble skater Allen Shannon has traveled the world with Disney on Ice for four years and said this is the most popular show he's been in. His favorite Disney movie is "The Lion King," and he said Simba and Nala's paired skating is beautiful.
"Every show they finish the number and the crowd just goes ecstatic," Shannon said. "I see it every day, and every day I'm still like 'Wow, that's really amazing.' In shows it's easy to see something every day and be like 'oh, ok that's good.' To still have that 'wow' moment every day is amazing."
As an ensemble member, Shannon gets to play multiple roles throughout the show, but he said he has the most fun playing a pirate, when Mickey and Minnie's tour takes the audience to meet Peter Pan in London and then Neverland. He said Peter Pan even flies through the air.
The show also takes the audience under the sea with the Little Mermaid.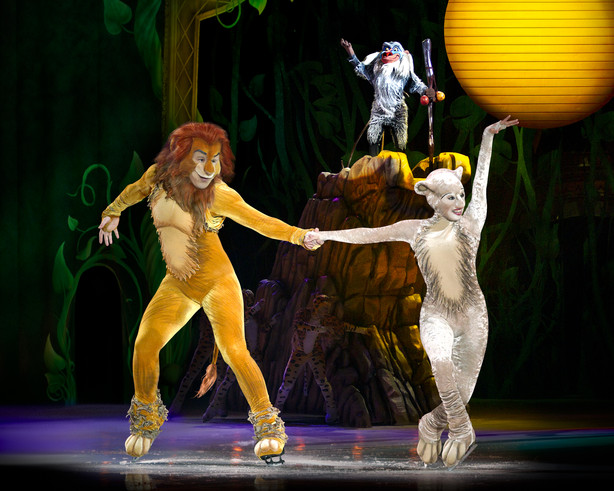 "I've been to Salt Lake City a couple of times and I love the city because every time we've played there people have loved it," Shannon said. "They will definitely like this one."
Shannon said he still remembers the first time he went to his first Disney on Ice show, "The Jungle Book," when he was 10 or 12 years old.
"I hadn't even started skating yet, and I remember watching that show and thinking 'that is pretty cool,' " he said. "At the time, being a kid and being engrossed in all of it... you just think the people are out there having fun."
Shannon said he hadn't thought much about joining Disney on Ice until a coach suggested it. Joining the Disney team has allowed him to travel through Europe, South America and parts of Asia. This year, he said he'll be touring the United States and Canada.
He started getting into skating at age 13 when his grandparents moved to Oklahoma and a nearby college offered ice skating classes for home school students. He did some hockey and speed skating, but fell in love with the tricks of figure skating, he said. After taking a break for a few years, he came back and ended up trying out for Disney.
Show Times
Nov. 6-7: 7 p.m.
Nov. 8: 4 p.m., 7:30 p.m.
Nov. 9 11:30 a.m., 3 p.m., 6:30 p.m.
Nov. 10 1 p.m., 4:30 p.m.
"I've been loving it ever since," Shannon said. "Now it's been four years and it's awesome. I look back on my life and I go 'wow,' I didn't realize I'd ever get to do all of that travel. It's something that I just love and I work with great people. I'm extremely blessed to be able to work with this company."
His most memorable skating experience was in Sweden, he said.
"I remember just looking around in the arena, I think it was a sold out show, and I thought 'Wow, how great it is to be a part of something that brings so much joy," Shannon said. "A lot of people hate their jobs and I get to perform for kids and families. To see their faces and see them be happy, it kind of brings you to a whole different level of appreciation for life and being able to be a part of something like that."
Tickets for Passport Adventure range from $20-37 and can be purchased at the EnergySolutions Box Office or 1-800-888-TIXX.
×
Photos
Related Stories