PARK CITY — Flour made out of bananas is soon to hit grocery store shelves in the United States.
The new alternative for gluten-free cooking is being introduced by Park City-based company WEDO. The banana flour can be used as a direct substitute for regular flour, said creator David Wintzer.
"We're the first and only to do banana flour in the states, so a lot of people who are very involved and conscious about what they eat and the food industry have never heard about it before," he said. "They're very intrigued by something new on their product list. The reaction has been pretty welcoming. People want to get it, want to test it, want to try it and see what it actually can do."
Bananas are the only ingredient in banana flour — in order to turn it into flour, the bananas are peeled, dried and ground. The flour has almost no taste because the company uses green, unripe bananas in which the sugar hasn't yet to develop.
"It doesn't have like that banana taste that you think," Wintzer said. "You're not going to make a cookie with a banana flavor in it. It has almost like a whole-wheat, earthy flavor to it."
Related Story
The creators have had fun experimenting with the banana flour to make everything from battered chicken and calamari to waffles. The flour has a high starch value, so they have also found success using it as a thickening agent. They've worked with restaurants and bakeries, who used the banana flour to thicken their soups, dressings and sauces.
Wintzer said they are also researching the health benefits. In addition to having high levels of potassium, banana flour is one of the only foods in the world to contain resistant starch. Resistant starch is believed to help people retain nutrition longer and support nutrition, he said.
He first encountered banana flour while he was working in Kenya with the non-profit YouthLinc to distribute micro-loans to a group of 25 women in the Women Entrepreneurs Development Organization. One of the small businesses he helped was a banana flour factory.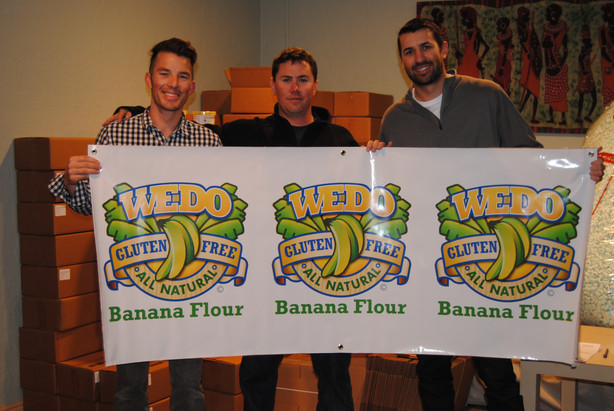 Thinking banana flour could do well in the U.S., he told his friend about the idea when he got home and they entered a business contest at Westminster College. They used the prize money to invest in the business and the women in Kenya became their first supplier.
"Because the women in Africa kind of sparked this idea for me, the whole business was built upon giving back," Wintzer said. "We call it 'buy one, feed one' and for every one purchase, we provide one meal for a child in need."
He said that even though banana flour is new in the U.S., it is becoming increasingly popular in developing countries.
"In a most of these developing countries there's an abundance of bananas that are getting thrown away, so a lot of the crop is going to waste and they're looking for alternative uses to turn the bananas into something else," he said.
Finding quality banana suppliers has been the biggest challenge for WEDO. They have been working on the product for three years, traveling to developing countries around the world to find the right partner after their relationship with the women in Kenya came to an end.
---
People want to get it, want to test it, want to try it and see what it actually can do.
–David Wintzer
---
They were able to ship their banana flour to consumers for the first time after a sample shipment arrived just before Christmas from Ecuador. The feedback for the banana flour was really positive, Wintzer said.
"Over the course of two years we had a lot of people find us organically online, so we had a pretty big list of a couple hundred people that were waiting for the flour and they were all excited when we got it to them," he said.
Now, their product will be on the shelves at Harmons and a few other stores in Park City and California. The suggested retail price for a one-pound container of banana flour is $7.99. The company is using a campaign on Kickstarter to help fund its move into grocery stores nationwide.
Eventually the creators hope to roll out different product lines with mixes, energy bars and pasta.
×
Photos
Related Links