SALT LAKE CITY — A 6-year-old boy has been hospitalized after an attack by a neighbor's pit bull.
April Hancock said she was watching out a window Wednesday evening as her son, Wyatt Abraham, was playing soccer in a neighbor's yard and the dog snapped its chain. The dog's owner wrestled the animal off, but released it as Wyatt began to run away, and the dog attacked again, Hancock said.
Wyatt was severely bitten on his face, requiring hours of reconstructive surgery, and another surgery is scheduled for deep puncture wounds to his arm.
"I figured, 'The owner's outside. He'll be OK,'" Hancock said. "His whole lip was torn off. You could see his gums and his teeth, and it was in pieces. His cheek was hanging off. He was missing a little piece of his arm."
Wyatt is also wearing a neck brace in case of a possible fracture, Hancock said. He will remain at Primary Children's Hospital for at least two weeks and will require speech therapy.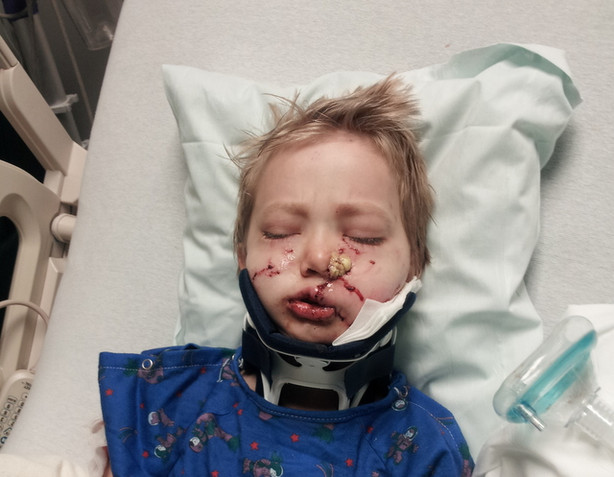 Officers from Salt Lake County Animal Services responded to the home near 500 South and 1000 West, and the owner voluntarily surrendered the dog, according to an animal services spokeswoman. The dog, which has no recorded history of attacks, was euthanized.
The dog's owner was also cited, animal services reported.
Hancock said she has only lived in the neighborhood for a month, and she usually brings her son inside when the dog is out. She said she fears the owner has attempted to sic the dog on her family.
"We were moving our stuff in and he was saying, 'Oh, get 'em. Get 'em. Oh, good boy,'" Hancock said. "We got in a fight over him trying to sic his dog on our dog because we have pit bulls as well."
Wyatt is good spirits as he recovers, Hancock said, though he says he now only likes his own dog and became startled during a dog food commercial.
×
Photos