This archived news story is available only for your personal, non-commercial use. Information in the story may be outdated or superseded by additional information. Reading or replaying the story in its archived form does not constitute a republication of the story.
SALT LAKE CITY — How would you like to buy a used car from a dealer only to have it break down within a few miles? Then you discover you can't get your money back.
It's a common complaint that reminds consumers they have practically no protections when buying a used car, unless a dealer offers something specific. One buyer's right: Vehicles purchased from a new or used car dealer must pass state inspection. Otherwise, "as is" means "as is."
"As I went up the road, the car made a thud noise and just stopped in the middle of the road," said Diana McDonald.
She said that "thud" spelled the end of the road for her car's engine.
"The engine seized, the drive shaft was bent," she explained.
McDonald had bought the car three days earlier. She was trying to get plates on it when the thud happened.
"I had only gone to my house, which is only two miles away, and back two times. I went to the Farmington DMV, and that's when it broke down on me," she said.
McDonald did get the engine replaced, she said without any help from the dealer. But she believes there must be some sort of lemon law requiring dealers to provide a replacement or refund.
Absoutely not. "As is" means "as is." Utah's so-called lemon law only applies to new cars.
"It doesn't apply to used vehicles," said Jon Rogers, who has practiced consumer law for more than 20 years.
He said he gets calls nearly every day from people who've purchased used cars that broke down.
"What I consistently hear is 'The dealer won't help me,' " he said.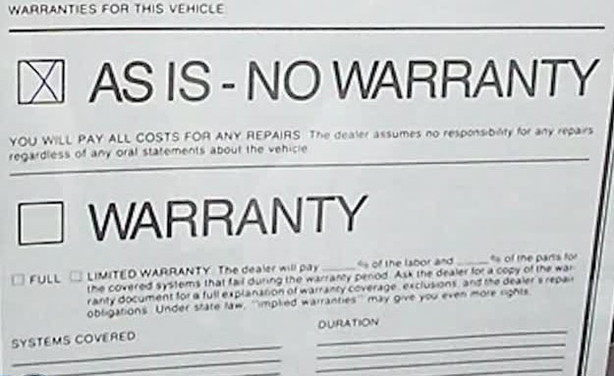 Many years ago, when used car buyers complained, Congress passed a law requiring car dealers to post a Buyers Guide in every used car they sell. The guide must spell out if the car is being sold "as is" or with some sort of used-car warranty.
Dealers apparently make every used car "as is." Some might offer a side warranty, but otherwise "as is" means just that.
"A consumer who buys a vehicle 'as is,' with no specific service contract or warranty, and leaves and breaks down, they may have just paid $5,000 for a hunk of metal," Rogers said.
A big exception is if a dealer knows there is a mechanical problem, Rogers said. They must not misrepresent it.
"You can argue that was fraud, they represented something to induce you to buy a particular product and it turned out not to be true," he said.
However, proving misrepresentation can be difficult. And in reality, there is no such thing as a verbal warranty or promise to fix something when the only thing actually in writing is "as is."
"Get it in writing on the document of sale," Rogers advised, "and get a copy of anything you sign."
Also, there is no automatic three-day right to cancel the deal.
×
Photos
Related Links