PROVO — Prior to the Cougars' bowl matchup with the Washington Huskies, BYU head coach Bronco Mendenhall said, "I am already calling this season a success."
His team went on to struggle in the bowl and ended up losing by its widest margin of defeat on the season. This article will provide arguments for why 2013 was a successful season and why it was not and allow readers to decide for themselves.
Why 2013 was a success for BYU football
The Cougars made a bowl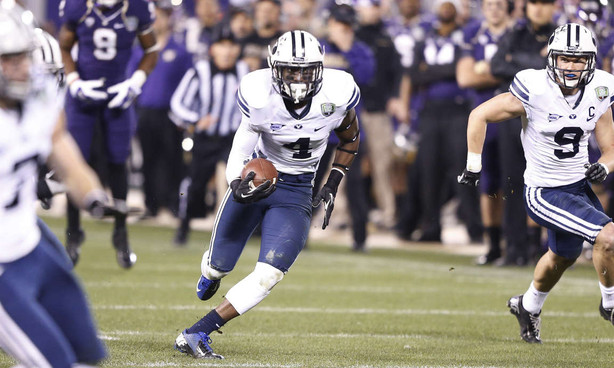 Heading into the 2013 season, some doomsayers projected that this would be the first season that the Cougars would fail to make a bowl game under Mendenhall. These prognosticators based their predictions on BYU's imposing schedule and the fact that they were implementing a new offense.
Despite the difficult schedule and the adjustments to a radically different offensive scheme (with a completely new offensive staff), BYU became bowl eligibile just eight games into the season, marking the ninth consecutive time it would play in the postseason under Mendenhall — an impressive feat.
The Cougars beat six bowl teams
Although the 2012 and 2013 BYU football teams finished with the same record (8-5), they were vastly different in that the 2013 team beat much better competition. The 2012 team only beat three bowl teams and primarily got to its record by feeding on mediocre competition. The 2013 team beat six teams that played in bowls, including three from BCS conferences. Of these six teams, all but Georgia Tech had eight or more wins.
The Cougars established an offensive identity
In Brandon Doman's two years as offensive coordinator, it was often unclear what type of offense the Cougars were running. Identifying the schemes and goals of the offense was a difficult endeavor. In 2013, the Cougars had a much clearer offensive identity.
Offensive coordinator Robert Anae even gave the offense a motto — "Go Fast, Go Hard." BYU ran a frantic-paced, run-first scheme predicated as much on the quarterback's ability to run the ball as his passing efficiency. While the results were mixed, the fact that there was rhyme and reason to the offense was a step in the right direction.
The Cougars identified a quarterback and leader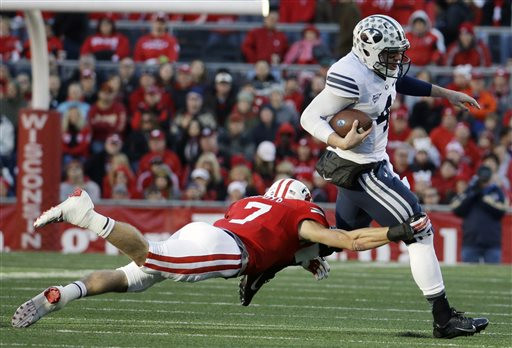 In 2010, 2011 and 2012, BYU struggled to find a consistent quarterback and leader. Riley Nelson was a fiery competitor and earned the respect from his teammates for his courage, but his play was erratic and his poor decision-making and playing at much less than 100 percent often hurt his team.
Jake Heaps never came anywhere close to reaching his potential as a passer and seemed to have lost the trust of his teammates. In 2013, Taysom Hill emerged as BYU's clear choice as the quarterback and leader of the offense.
Hill appeared to have Nelson's toughness and competitive drive with much more talent to work with. His teammates defended him to the fans and media when he got off to a slow start passing the ball and clearly showed that they acknowledged him as their leader. Hill had an excellent 2013 as a runner and slowly developed into an efficient enough passer to keep opponents honest.
Why 2013 was not a success for BYU football
The Cougars lost their bowl
While it is impressive that the Cougars made their ninth straight bowl game, the loss to Washington in the Fight Hunger Bowl ended the season on a sour note.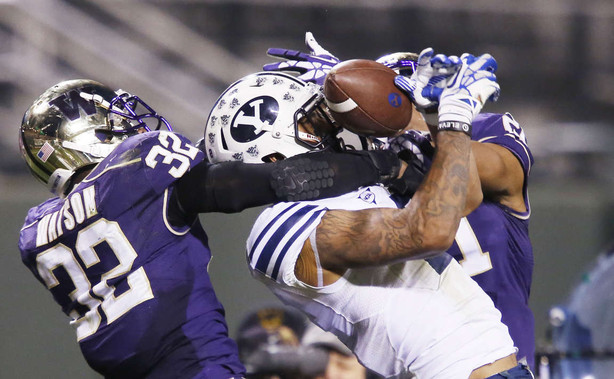 Washington came into the game as a team engulfed in chaos with its head coach bolting to USC and a defensive coach being accused of violating NCAA rules. Still, the Huskies ran away with the game in the second half and ended BYU's season in a disappointing fashion. A win over Washington would have made the Cougars a fringe top 25 team.
No marquee wins
BYU beat a lot of solid, but not great, teams in 2013. It beat a seven-win team, four eight-win teams, and a nine-win team (which needed 14 games to reach that total).
The Cougars trounced one top-25 team, but that team went on to finish with an 8-5 record. In perhaps its biggest two statement games of the season, Wisconsin and Notre Dame, BYU failed to show up and was handled fairly easily.
The Cougars lost to Utah … again
Despite having two weeks to prepare for their bitter rivals, the Cougars still came out flat against the Utes. By halftime, they had yet to put a point on the board. In the second half, the Cougars made a game of it and pulled within a touchdown. But, as would be a theme all year, they blew several red-zone opportunities and would walk away with another rivalry loss — their fourth in a row.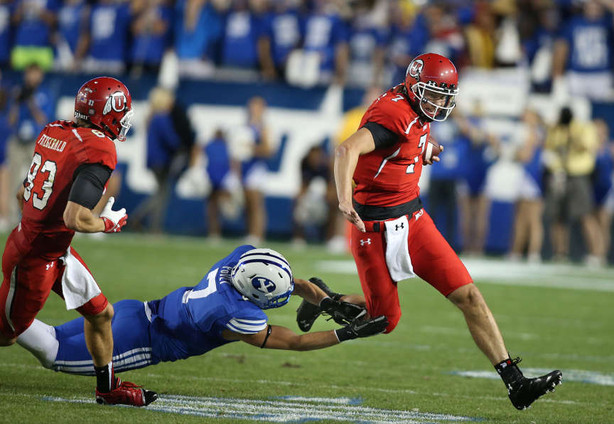 The defense regressed
In some ways, it was probably inevitable that the defense would regress. 2012's defensive unit was arguably the best ever assembled in Provo, and it lost a player who would be taken with the fifth overall pick in the NFL draft. Still, with the return of all-everything linebacker Kyle Van Noy, fans were hopeful that the 2013 defense would be dominant again.
Although it was still solid, particularly in points allowed, the Cougar defense took significant steps backwards in almost all statistical categories. While the overhaul of the offensive philosophy was a radical adjustment for the offense, it appears that it also had a major effect on the defense.
Summary
How 2013 will be remembered by Cougar faithful will depend largely on how BYU plays in 2014. If BYU returns to the top 20 in 2014 and Taysom Hill becomes a bonafide awards candidate, 2013 will most likely be remembered as a transitional year in which the Cougars worked out the kinks of a brand new offense and found their leader and star. If BYU has a rough 2014, this year may go down as the year that Mendenhall shook everything up but was unable to move the program forward.


Dylan Cannon is a contributor to KSL.com and can be reached at his Twitter account @DylanCannon11.
×