Estimated read time: 3-4 minutes
This archived news story is available only for your personal, non-commercial use. Information in the story may be outdated or superseded by additional information. Reading or replaying the story in its archived form does not constitute a republication of the story.
ROCKVILLE, Washington County — The bodies of two people killed when a massive boulder smashed into their home Thursday afternoon have been recovered.
The bodies of Jeff Elsey, 58, and Maureen Morris, 65, were recovered Friday afternoon. The couple had moved to the small town of Rockville about six years ago and were well-known in the community.
"Really, it's just a state of total unbelief and shock," Rockville Mayor Dan McGuire said, describing the town's residents as "numb."
"It's been tough to see the people show up and crumble into tears. It's been hard for the whole canyon," Springdale Police Chief Kurt Wright added.
Elsey worked at the Cable Mountain Lodge in Springdale.
"Our thoughts and prayers go out to those affected by the tragic loss we have all suffered in Rockville tonight," stated a post on the lodge's Facebook page. "All of us at the lodge were blessed to share many great moments with these two wonderful, kind people."
Elsey, who's originally from Orange, Calif., previously worked at Zion National Park in 2007 and 2008 as seasonal help.
"The staff at Zion is heartbroken over the loss and we are keeping his family and friends in our thoughts," Zion spokeswoman Alyssa Baltrus said in a prepared statement.
Morris' Facebook page was filled with numerous pictures of the couple's new grandson, born in August. Morris, also from Orange, posted pictures Saturday of heavy snowfall around her home.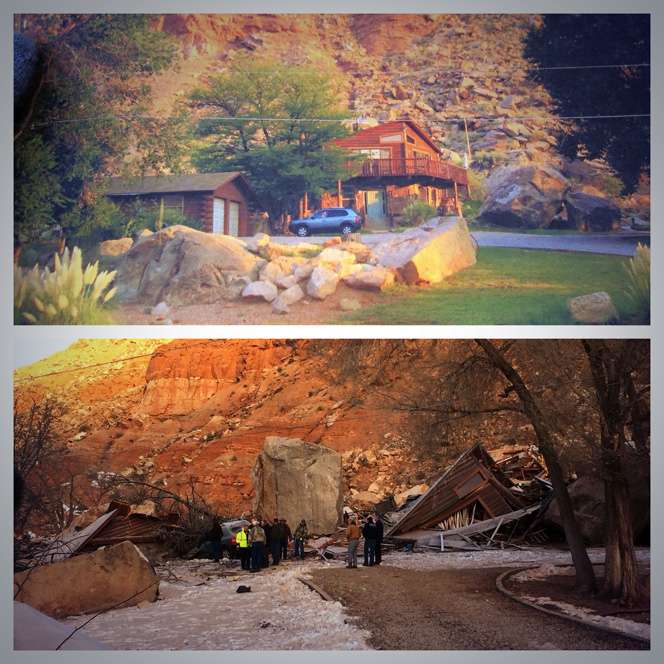 A rock slide on state Route 9 on the west side of Rockville on Thursday afternoon sent several large boulders down the mountain.
Elsey and Morris' two-story home sat at the base of the mountain. At least one of the rocks that smashed down on the home was larger than a semitrailer, McGuire said.
"I cannot accept it," he said. "I just can't understand that it could happen."
McGuire said he believes the house was built before Rockville was incorporated. The latest census statistics showed Rockville had fewer than 250 residents.
McGuire said Elsey and Morris, like all residents, were aware of the potential risk of a rock slide.
"It's just one of those things everybody always talks about but never imagines will ever happen, have two people killed," he said.
But like a handful of others who have homes in that area, the couple was willing to take that risk.
"Through conversation with other people, (Elsey and Morris) actually said, 'If the rocks want to take me, let it happen.' So that was the attitude they had, that most people have," the mayor said. "We live in a dangerous area. On one side of the highway is the river, and we get floods. And on the other side is the mountain."
Officers say the boulder likely became loose as frost and ice around it began to thaw Thursday.
The boulder traveled about a quarter-mile down the mountain, Wright said, hitting the house that sits about 50 yards from state Route 9. A second large boulder landed in the yard, and others were scattered around the house, he said.
Members of the Utah Geological Survey were flown to the top of the mesa where the rocks came from to observe the ground. Based on what they found, two other homes remained evacuated Friday because there was a "very real threat of rocks coming down," McGuire said.
Those three people were staying in St. George, he said.
×
Photos
Related stories
Most recent Utah stories