Estimated read time: 3-4 minutes
This archived news story is available only for your personal, non-commercial use. Information in the story may be outdated or superseded by additional information. Reading or replaying the story in its archived form does not constitute a republication of the story.
SALT LAKE CITY — More than 70 third-graders at Nibley Park School excitedly thumbed through brand-new dictionaries with their names on them Wednesday morning.
After a dictionary chase contest to find the word "lexicon," the students had time to flip through their dictionaries. Some bounced from definition to definition, while others wondered at the periodic table. Some students, such as Nathaniel Bronson, tried to copy the alphabet in sign language.
Third-grader Joel Clemens looked up the word "birthday" and read about the presidents of the United States. He recently finished reading all 50 books in the "Magic Tree House" series and said he sometimes finds words he doesn't know.
"I try to sound it out or something. I'll use my dictionary to look up words I don't know, so I can learn more words," Joel said.
The dictionaries were distributed by the Sugar House Rotary Club as part of a nationwide dictionary project.
"I have dictionaries available, but they're really excited to know that they're going to have one in their desk they can use," said Brooke Williams, a third-grade teacher at Nibley Park.
The Dictionary Project, headquartered in Charleston, S.C., was founded by Mary French in 1998. Rotary clubs, which have literacy as a main focus, and other nonprofit organizations across the nation participate in the distribution of more than 2 million dictionaries a year.
Joel shared his dictionary findings with classmates Kadeem Bennett and Edgar Martin Del Campo. Edgar said he likes to read a lot and had fun looking up words in his new dictionary. He looked up "reporter" while waiting for his turn to be interviewed.
"Quarter: A coin worth 25 cents," Joel read. "Lexicon: A dictionary word list. Now I'm going to try to look up how many presidents there are. Easy!"
Edgar quickly found out that there have been 44 presidents — matching the number of schools the Sugar House Rotary Club is distributing dictionaries to this year. The club is one of 43 participating in Utah with the goal of giving dictionaries to each of the 54,000 third-grade students in the state.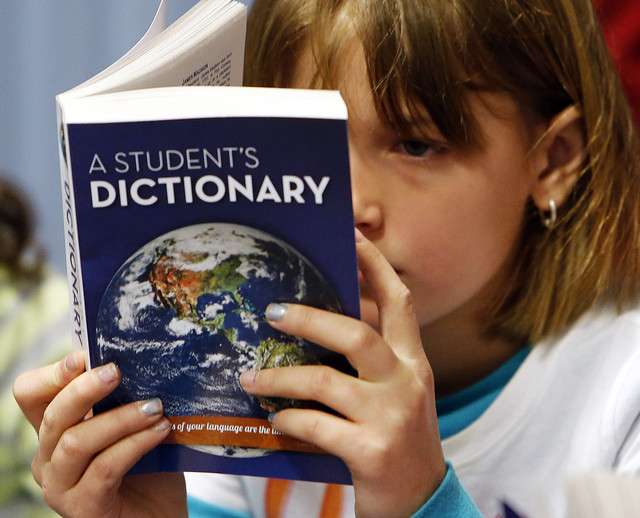 "Third-graders are targeted because the educators tell us that up until the third grade, the children are learning to read, and from that point on, they are reading to learn," said Wally Brown, a Rotarian involved with the project. "This is when they can really take off with their learning."
When asked if a hard copy of a dictionary is still useful, Brown said the kids can't all run to a computer and definitely don't all have smartphones or even access to a computer at home. For some students, it's the only English book in their home.
"These kids are going to be looking up a lot on the computer and it's quicker, but … there's just something about holding a book in your hand," said Tillie Young, a four-year project volunteer whose husband is a Rotarian.
Rose Mitchell, 8, was excited to have a dictionary all her own. She proudly showed off her name on the first page and quickly rattled off that she learned that the state of Virginia was named after "Queen Elizabeth of England."
Rose said she'll use the dictionary to look up words she doesn't know when she's reading the novel "Fablehaven" by Utah author Brandon Mull.
Her friend, Ainslee Zumwalt, said the people who brought the dictionaries are "really super nice" and that she felt "joyful."
"It's kind of cool because you can look words up in books when you don't know what the word means," Ainslee said. "I can look words up I don't understand in books, because you can understand them better instead of just skipping them."
×
Photos
Related links
Related stories
Most recent Utah stories